Over the weekend, Greg and I presented at the New York Travel & Adventure Show in New York City. Living in the middle of nowhere about 3 hours from Manhattan, I usually drive to the city, but this time I decided to drive a shorter distance to Albany, NY and take Amtrak to New York City. That turned 3hrs of travel time into a little over 3.5hrs, but it also meant 2.5hrs of time to get work done since I didn't need to be driving. When I was booking my ticket, Greg asked me if I was using points. I responded that I was earning points (in other words, I didn't have any Amtrak points, so I was paying cash). He later reminded me that I sure did have Amtrak points because JetBlue points transfer to Amtrak. Doh! I have a pile of JetBlue points collecting dust and this would have been a great use of some of them.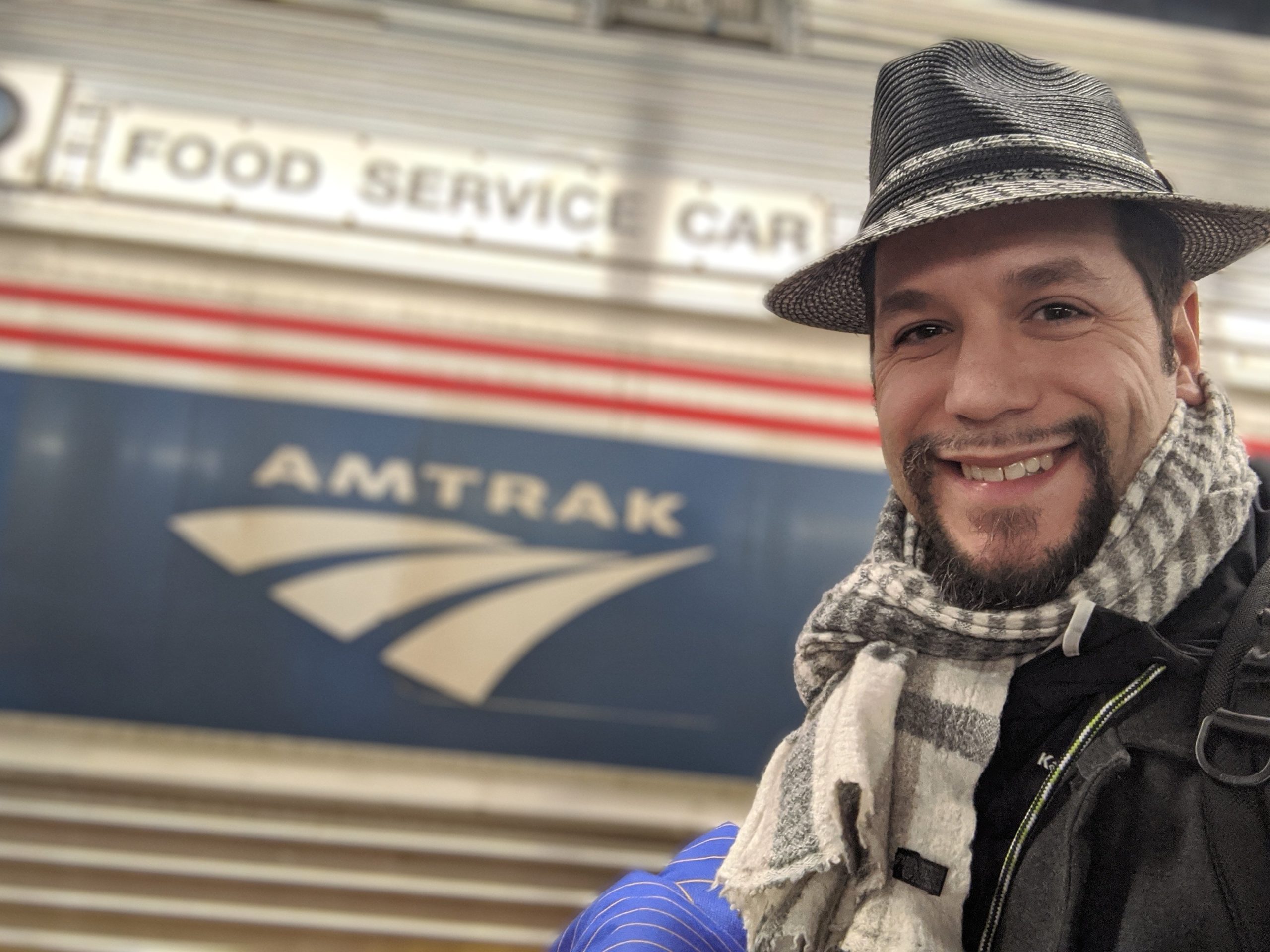 Greg long ago wrote about the conversion from JetBlue to Amtrak (after Benjy did at Miles to Memories). I read that post and I distinctly remember thinking that's a nugget of wisdom to file away for a rainy day. Rain was in the forecast over the weekend, but I guess I forgot my TrueBlue umbrella.
My decision to book Amtrak was a last-minute one. I booked two or three hours before getting on the train and I wanted to sit in business class. Amtrak business class isn't anything spectacular, and this was a short trip, but as I've mostly been living my life isolated in the mountains of upstate New York, I was fine with paying a small premium to keep a little extra space. I was pretty happy when I scored a single seat on the left side of the 1-2 seating configuration.
Since I was booking at the last minute, prices weren't very cheap. I didn't take screen shots of the trains I booked, so for this post example, I pulled up Amtrak and recreated the same prices for the same trip departing tomorrow and coming back in a few days. This is exactly what I paid: $193 round trip (the outbound was $107 and return was $86).
Like I said, it wasn't cheap, but I was willing to pay the price to have a mobile office in both directions rather than being stuck at the wheel not getting anything done.
However, it wasn't until dinner on Saturday night that Greg reminded me how silly I was for paying cash for my ticket. I have long known that Amtrak points are valuable. I used some Amtrak points to ride the Pacific Surfliner along the California coast a couple of years ago and it was very enjoyable.
However, I only had a few hundred Amtrak points in my account on Friday when I went to book this trip to New York City, so I hadn't even looked up the cost in terms of points. Dates this week with cash prices that were exactly the same as what I paid ($107 on the way out and $86 on the way back) show that it would have cost about 6,850 points round trip.
That's a value of just over 2.8c per point, which is a little shy of the 2.9c per point figure that we have historically quoted for Amtrak points, but that's still obviously a great point value (and one that long made their credit card valuable for frequent rail riders, though they no longer have a card available for new applicants).
When I told Greg that I didn't have any Amtrak points, he reminded me that I could have transferred from JetBlue. JetBlue TrueBlue points transfer to Amtrak 2:1, which means that I would have needed to transfer about 13,700 JetBlue points to Amtrak to get the 6,850 needed for this trip. Trading 13.7K JetBlue points for my $193 ticket wouldn't have been a bad trade at all, yielding about 1.41c per TrueBlue point. That's about the same as what one would expect when redeeming for JetBlue flights.
In my case, I am sitting on a pile of JetBlue points thanks in no small part to a couple of Lowe's Visa Gift Card sales last year. JetBlue's shopping portal features a card-linked offer for Lowe's where you can earn 3 miles per dollar spent at Lowe's. Even apart from that deal, I've been sitting on part of my pile of TrueBlue points for years. I don't think I have flown JetBlue in about 8 years. I like JetBlue, they just never align with my plans.
And so I would have been thrilled to have moved 13.7K JetBlue points to Amtrak — if only my memory had served me better and I had kept Greg's nugget of wisdom closer to the top of mind. Moving forward, I certainly will keep that top of mind. I also realized that I have several family members who shop at Lowe's pretty often and would probably be happy to link up their cards and earn some JetBlue and/or Amtrak points, so I'll have to pass that tip around.
It's worth mentioning that even if I didn't have JetBlue points on hand, I could have transferred 1:1 from many different transferable currencies to JetBlue, getting the same net result of about 1.4c per point, which certainly isn't bad.
Greg pointed out a key side benefit of the JetBlue-to-Amtrak conversion: it keeps your Amtrak points alive, pushing out the expiration date of your Amtrak points upon transfer. That wouldn't have mattered much for me here since I was earning points on my paid ticket anyway, but I'll have to set a phone reminder to make a transfer when expiration is nearing.
How to transfer points
Transferring points from JetBlue to Amtrak is really easy. Just start at Points.com and create an account or sign in. You'll be prompted to create your Points Loyalty wallet by choosing your programs.
I only added JetBlue and Amtrak since those were all I needed for this exchange (and I don't anticipate doing exchanges with other programs because they are usually of very poor value). Note that when you click "View all programs", you have to scroll to the bottom of the list to find Amtrak.
You simply add your name and loyalty number in each account and Points.com links up the account balances and shows them in your loyalty wallet.
Clicking on either program brings you to a page with a tab to "exchange".
From there it was just a matter of choosing how many points to transfer. Points.com lets you transfer in increments of 100 points (with a 1,000 point minimum), so I could have transferred almost exactly what I needed to book my trip, orphaning as few points as possible at Amtrak.
The process was very simple, but not instant. Greg reported that points moved reasonably fast, though I made a token transfer of 1,000 JetBlue points to 500 Amtrak points for the purposes of this post, and as of the moment of publication they haven't yet transferred over, so it wouldn't have been fast enough for me to have booked my last-minute trip. Points.com says it can take up to 5 days.
It's worth mentioning that Points.com also says you can exchange of a maximum total of 50,000 JetBlue TrueBlue points per year in aggregate, so this isn't an unlimited path to Amtrak points.
Bottom line
The funny thing about all of this is that we were speaking a the New York Travel & Adventure Show about the best awards bookable today and I drove home a point about unlocking value via partner awards. In hindsight, a slide about transferring JetBlue to Amtrak to get solid value for train travel probably would have been useful for some of the members in the audience even if not the most valuable of the awards we discussed. There are so many partnerships to keep in mind in this hobby that we all forget one now and then. I definitely wish I'd have remembered this one, but I am also excited to rediscover it. I previously viewed my JetBlue balance as points that will "maybe be useful someday", but now I'm ready to dive full steam ahead into a family trip by train, unlocking good value from points that were otherwise unused.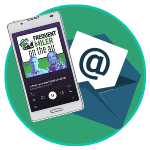 Want to learn more about miles and points?
Subscribe to email updates
 or check out 
our podcast
 on your favorite podcast platform.