One Mile at a Time reports that T-Mobile is overhauling plans and eliminating the ONE Plus International plan tomorrow (Friday, 8/10/18). To be clear, they aren't getting rid of international access — but this is the plan that my wife and I use and I find it valuable enough that I really hope it stays grandfathered for the foreseeable future. If you read this post and you are interested in the ONE Plus International add-on, you can still get it today (Thursday, August 9th) and Lucky quotes T-Mobile as saying you'll be able to keep it as long as you keep the plan. But you likely only have hours left to add it if you want it.
T-Mobile ONE still has unlimited 2G data abroad and other good features
The T-Mobile ONE plan has long allowed for unlimited 2G data in well over 100 countries. Recently, they expanded that to 210 countries & regions. While the speed is slow, it's awfully convenient to land, turn on your phone, and be connected before your plane reaches the gate. Simple things like hailing an Uber have worked well for me abroad thanks to this feature. Nothing on this plan is changing to my knowledge.
In fact, T-Mobile ONE remains a pretty good value at $40 per line if you have a family plan with 4+ lines, coming with all of these features:
New $5/day add on for LTE data & unlimited calls / texts
As seen above, T-Mobile ONE comes with unlimited talk, text and up to 5GB of 4G LTE data in Mexico and Canada, but only 2G speeds in the rest of the 210 countries/regions where you get service. Recently, T-Mobile introduced an option to pay $5 per day for 512MB of high-speed / LTE data in those 210 countries plus unlimited talk and text. That's pretty cool and a better deal than what AT&T or Verizon offer in terms of cost (and it's a much better deal in terms of coverage). The advantage here over basic T-Mobile ONE coverage is that you get the 512MB of LTE coverage rather than 2G (though if you run out of LTE coverage, you'll still have unlimited 2G).
The two buy-up plans over T-Mobile ONE that are available today
In addition to T-Mobile ONE, there are currently two other T-Mobile plans: T-Mobile One Plus and T-Mobile One Plus International. Here's what they add:
T-Mobile One Plus
This plan is not going away. For an additional $10 per line per month right now (cost is increasing – see below), you add the following features:
So you get unlimited Gogo in-flight Wi-Fi, HD streaming, 10GB of 4G LTE mobile hotspot (regular T-Mobile ONE only includes 3G hotspot) and double the data speed abroad (double the speed of 2G is still slowish, but slightly less painful). That said, I'm not sure I see a huge value-add for most people here unless you fly often on Gogo-enabled flights or you use enough hotspot to want 4G LTE but not enough to eclipse 10GB per month. Note that this add-on will increase to $15/line/mo starting August 10, 2018.
***T-Mobile One Plus International***
This is the plan being discontinued and this is the plan my wife and I have. Unfortunately, the image T-Mobile is showing on their site (seen near the top of this post) doesn't emphasize the value-add on this upgrade – so I went into my account on my phone and took a screen shot of the explanation within my plan:
To recap the key benefits of this plan that is going away tomorrow (Friday, August 10th):
Unlimited 4G LTE hotspot in the US
Unlimited 4G LTE in Canada and Mexico
Unlimited stateside international talk (unlimited calls from the U.S., Mexico and Canada to landlines in 70+ countries and mobile numbers in 30+ countries)
I've found this to be a phenomenal value for the unlimited 4G LTE hotspot alone (within the US). T-Mobile notes in the fine print that you might be throttled (have your data speed slowed) if you use more than 50GB per month. In the average month, I use 25GB+ of 4G LTE hotspot on just my line since I use it as my primary Internet connection (I'm typing this post right now on my laptop connected to my phone). To be clear, my total usage is more like 35-40GB — I use 25GB of hotspot because I can. My wife has ONE Plus International on her line also, so she uses her phone to connect to video conferences for her job. Since T-Mobile ONE also allows for unlimited streaming entertainment, we really just use our phones for Internet access.
We live in a rural area, and in our case, T-Mobile has been more reliable in terms of consistency of connection than taditional providers. In fact, at our home, the only option for home Internet access is Verizon DSL — and after years of having major problems a couple of times per year that required hours of aggravation with Verizon and sometimes a week or two missing work, we've been thrilled to have awesome, reliable, fast 4G LTE access.
At a cost of $50 per month (two lines at $25 each), this has been well worthwhile for our family. I don't ever connect to hotel or other public Wi-Fi since I don't need to and therefore (hopefully) incur less risk in terms of connection security. I hate to log into credit card accounts or anything sensitive like that via public Wi-Fi and have been happy to do so via my phone without fear of caps.
While I haven't yet made use of the unlimited 4G LTE in Canada and Mexico nor the stateside international calling, I could definitely see where both could certainly be valuable. While Google Voice and other VoIP services make international calling pretty cheap these days, not paying for it is obviously a better deal if you frequently call numbers included with the plan. If you're planning to live in Canada or Mexico, T-Mobile is likely to eventually shut you down — but if you just live near the border and travel for business or pleasure to those countries frequently, it's surely a convenient feature to have.
Obviously, this plan doesn't add $25 worth of value for everyone, but I'm happy not to have to worry about paying for a separate home Internet connection. And the reason I'm posting about this now is because this feature is being discontinued for new customers Friday, August 10, 2018. Lucky quotes T-Mobile saying that existing customers can keep it as long as they keep their line, and I'm hopeful I'll be grandfathered into this for a long time into the future.
Bottom line
If the T-Mobile ONE Plus International package is something that would provide good value for you, it looks like you have a very limited amount of time to add that feaute on a T-Mobile ONE plan. The add-ons won't be worth $25 per line per month for everyone, but they certainly are for me – and I'll hope to hang on to them as long as I can.
H/T: One Mile at a Time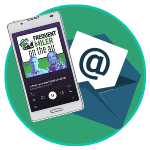 Want to learn more about miles and points?
Subscribe to email updates
 or check out 
our podcast
 on your favorite podcast platform.