I've written quite a bit about "free" cruises lately, and over the past couple of days my wife and I have booked a couple of those offers. In this post, I wanted to share our experience booking the "free" MSC cruise offer from Rivers casino elite status and matching elite status to MSC for additional perks. I should note that I often have a hard time describing these cruise match offers well: the "free" cruises aren't really free, but calling them "discounted" sounds to me like one of the many marketing emails you might receive saying "up to $650 off!" which we all know isn't really a discount but just a marketing ploy. In this case, the hype seems mostly real: the free MSC cruise offers are truly pretty close to free – as you'll see.
Gratuities are not included
With all of the free cruise offers I've written about, you'll pay additional money for daily gratuities (or what MSC calls "hotel service charges"). Typically, gratuities are automatically added to your folio during the cruise at a cost of $14-$17 per person per day depending on the cruise line.
MSC lists their automatically billed service charges on this page. I booked a European cruise. At the time of writing, service charges for European cruises are:
12 Euro per day per adult (age 12 and older)
6 Euro per day per child (age 2-12)
No service charge for children under 2 years old
Caribbean cruises bump the numbers up to $14.50 per adult per day / $7.25 per child per day. It is possible to get services charges removed from your bill and/or to change what you pay for these, though I just stick with the cruise line recommendations.
Booking the free MSC Cruise from Rivers Philadelphia status
Success with a balcony cabin on a European cruise
I previously wrote a guide to How to cruise for free by gaming status matches that explains the path to match from Caesars Diamond or MGM Gold to free cruises through status matches in Atlantic City and Philadelphia. See that post for more detail.
In Atlantic City, you can get a free Caribbean cruise of up to 7 nights with Ocean Prime status. I have that offer but have not yet booked that cruise.
In Philadelphia, it is possible to match to status with Rivers casino and get a complimentary cruise of up to 10 nights anywhere MSC sails. There are two matching paths, one of which could be done right away, and one which takes a few days:
Match Caesars Diamond or MGM Gold to Rivers Platinum. This gives you a complimentary ocean view cabin on a cruise of up to 10 nights anywhere MSC sails.or
Match Hard Rock Rock Royalty (which you can get in Atlantic City with a match from Caesars Diamond or MGM Gold) to Philadelphia Live Black. This match is not instant — the agent at the Philadelphia Live casino will take a picture of your Hard Rock Rock Royalty card and you will have to log in to your MyLiveRewards account a few days later (either on the website or app) to know when you have been upgraded to Black status. This typically takes 3-6 days. Then, go back to Philadelphia Live to pick up your physical Black card and bring that to Rivers to match to Rivers Black. Rivers Black gives you a complimentary balcony cabin instead of ocean view.
Again, there is more detail about all of the above in How to get free cruises by gaming status matches. We have had one report of someone who matched at another Rivers casino, but I don't know whether all Rivers locations offer a match or what statuses they may match. We do know about the Philadelphia location.
My wife didn't want to return to Philadelphia a second time, so she cut to the chase and matched Caesars Diamond to Rivers Platinum. I did the match to Philadelphia Live and returned to Philadelphia to match to Rivers Black just last week.
Our understanding based on data points from our Frequent Miler Insiders Facebook Group, the Miles Talk Facebook Group and Miles Talk's Status Match Merry Go Round post was that:
There are no port taxes on complimentary MSC cruises
You must pay a $400 deposit that you get back as a $400 onboard credit. This onboard credit can be used for almost anything on board — drinks, upgraded dining, or even in the casino (you could load it to a slot machine for instance).
The complimentary cruise is for 2 passengers
My wife and I had called about a month ago to inquire about an MSC cruise (from the Ocean Prime match). On that previous call, we had learned that if we wanted more than 2 passengers in the room, there was an additional person fee of $359 per additional person in the cabin beyond two people. Rather than pay an extra $718 to bring our kids, we decided to just book two rooms on the same cruise — my balcony room and my wife's ocean view room. If I could book a balcony cabin for myself + one son but choose a balcony room that was capable of accommodating 4 passengers, then we could probably all sleep in one room (and I can use the ocean view room as a floating office during the trip!).
In order to figure out which room(s) would accommodate 4 people, I did a dummy booking and looked at room layouts. More on selecting your free room in another section of this post. For this section, the key is that I had pre-selected balcony rooms on the cruise we wanted that would work for our needs.
I began by making a dummy booking (going through the booking steps online as if making a normal paid booking just to check prices and availability). There were three different kinds of balcony rooms: a "Deluxe" balcony that was included in the standard balcony price, a "Premium Balcony" category that cost an additional $40 per passenger and a second "Premium Balcony" category that cost an additional $80 per passenger. Again, this was when searching for a normal paid booking.
Only those "Premium Balcony" rooms costing an extra $80 per passenger seemed to have cabins available with both a pullman bed and a sofa bed on the ship we were considering. I assumed we were going to have to pay an extra $160 on top of the $400 deposit in order to get one of those rooms ($80 x 2 passengers officially in the room), so I expected my cost to book to be at least $560 — that's the $400 deposit that would come back as onboard credit plus what I assumed would be a $160 upgrade fee (plus service charges).
Just a few days after matching at Rivers, I called MSC at 1-844-MSC-PLAY and booked my balcony cabin. There were a few interesting takeaways from my phone call.
First up, I booked a cruise in Europe — so while the Ocean Prime offer is only valid on a Caribbean cruise, it seems that the Rivers Platinum or Rivers Black offer is valid anywhere MSC sails (as advertised). There were a number of European itineraries that looked great.
Second, I was told that the Rivers free cruise offer had to be booked and sailed by February 1, 2024 (my rep seemed to be reading a script rather than telling me about the offer from memory, so I think this info is accurate).
As it turned out, this offer was basically as good as advertised: I could have booked a balcony room "to be assigned" for just the $400 deposit. That is to say that it was free to book a balcony room that the cruise line would assign later based on availability (this is what they call the "Bella experience"). If I wanted to choose my balcony cabin, I had to pay an additional supplement of $59 for the "Fantastica experience". This experience also included a couple of other small benefits like being able to select your preferred dining time and free delivery for room service breakfast. Given that we have toddlers, we need early dining, so that seemed worthwhile.
After I agreed that I'd like the Fantastica experience, I asked about the specific cabin I wanted (one of the cabins that would have been +$80 per passenger). The agent confirmed that it was available — and to my pleasant surprise, she didn't mention any additional charge beyond the $59 to select a room (the "Fantastica experience") — in other words, no $160 upcharge. That sounded Fantastica to me.
Sure enough, I went through the rest of the booking process and it was smooth sailing. She asked for my MSC Voyagers number, which I gladly provided since I have MSC Diamond status from an MSC status match (more on that in another section below). You can read about it in a coming section, but you want to do this match if you currently have top tier Hyatt or Hilton elite status.
The entire call took 30 minutes and 25 seconds. I paid my $459 and received my email confirmation. The agent said that the initial confirmation would say that there is a balance due but not to worry about it as I would receive a second confirmation once the "back office" had processed it. I wondered a bit whether I would have an issue since I was booking so soon after matching. However, I have now received 3 confirmation emails and none of them say that I owe anything more, so I think I'm good to go.
I should also note that I had read some grumblings about the cruise benefit perhaps only being for players who had earned Rivers status through play rather than through matching. I don't know for sure that MSC won't pull my reservation later on, but so far so good.
Confusing customer service on ocean view booking
Later the same day, my wife called to book her ocean view offer and had a different experience.
First of all, at the time when my wife first called, we knew that there were no ocean view cabins available for sale, so she had intended to ask for an interior room instead. That was fine since we didn't really plan on using that room much anyway.
My wife explained to the MSC rep that she had Rivers Philadelphia Platinum status and that she understood that would get her a complimentary cruise with MSC. The next few things that happened were odd.
The rep took my wife's name and said that she didn't see that my wife had the free cruise offer….but then the agent continued forward with asking questions to put together the booking anyway.
Update: The agent first searched for the offer by name. When she didn't find the offer under my wife's name, she searched by her Rivers account number and then found the offer. The same happened when we later helped a family member book a cruise. So if they aren't seeing the offer for you, maybe try having them search by Rivers account number.
Eventually, when they got to the specific cruise we had chosen, the representative said that the entire months of July and August were blackout dates for all European cruises and that my wife would have to pay an additional $500 to cruise during those months (which seems more like a green-out than a black-out, but who am I?). The MSC agent maintained that the $500 blackout date fee would apply even if my wife booked an interior room (alternatively, if my wife wanted a balcony cabin, there would be an additional supplement for a balcony upgrade on top of the blackout date fee).
The agent went on to cite a  different blackout period for Caribbean cruises (sorry, didn't catch what it was as we were already tuning her out) and blackout dates everywhere at Christmas & New Year's. My wife explained that her husband had already booked a room with no such fee and the agent claimed that I would get charged the "blackout date fee" fee retroactively. I'm not buying it. That said, while I don't really think the agent was right about that, MSC does have a poor customer service reputation. We'll see what happens.
Needless to say, we politely thanked the agent and hung up without booking. I often say that I don't take a single customer service agent's word as law because agents are so frequently incorrect. We hadn't heard of this blackout date fee from any other agent in a few calls to MSC, so either all of the previous agents failed to mention it or this last agent was wrong. It was worth another shot with someone else.
My wife called back again the next day to try again with a different agent. We had noticed that a single ocean view cabin had opened up on the sailing and hoped that she could perhaps snag that room (less because of the ocean view than the potential for upgrade. I've seen some reports of MSC Diamond members getting automatically upgraded to balcony rooms shortly before departure and I figured that having her one category below a balcony room positioned her for that if availability allows).
Much to our delight, the process was much simpler with the second agent. My wife had no choice about the $59 Fantastica experience — she had to pay for that if she wanted Ocean View (maybe MSC is smart enough to know that you're kind of choosing your own room if there is only one left, so they're going to charge you for it?). She could have booked an interior room for no "Fantastica" charge. but since we wanted the dining time choice and in the hopes of a later upgrade, she paid the $59 for the ocean view room (and of course the $400 deposit that she gets as onboard credit). There was no mention of blackout dates.
To be clear, my wife had called a couple of weeks ago when we first did the Rivers match just to price out the cost of additional passengers and an upgrade to a balcony and there had been no mention of blackout dates on that call (despite asking about the same summertime cruise) and there was no mention of it on my call. I had previously called a couple of times asking questions about the offer from Ocean Prime and nobody ever mentioned blackout dates. I'm generally not apt to believe something I've only heard from a single rep, so I think that the summertime blackout dates are fake news…though Christmas and New Year's Eve being blacked out seems reasonable to me, so who knows?
At the end of the day, we each paid $59 to assign our cabins and each paid $400 for $400 in credit that we can essentially cash out in the casino (and I'm sure we'd have played some anyway).
In our case, MSC's service charges work out to be not bad: they charge a service fee of 12 Euro per adult per night and 6 Euro per child (age 2-12) per night. That's a total of 36 Euro per night for the four of us (less than $40 per night at today's exchange rate). So that'll be $400 all-in on gratuities.
For reference, the cabin that I booked would have been just under $4,000 (plus $200 in gratuities for two people) for the itinerary we selected:
My wife's ocean view cabin would have been just under $3,000 (plus $200 in gratuities for 2 people). Had we booked four of us in a single cabin, it would have come to a total price of $5,019 + $400 in gratuities.
Getting $5,400 to $7400 worth of cruise (depending on whether you count one room or two) for what is effectively $400 in gratuities + $118 in the "Fantastica upgrade" fee seems like a slamming deal to me. We've also put down $800 in total deposits ($400 for each room), but since that could be loaded in the casino (and cashed out whenever you choose to stop playing), that money feels like spending cash that we could spend but don't have to.
I know that MSC has a reputation as being poor at customer service and lower quality in some ways. I accept that the ship may disappoint, but Europe probably won't….particularly at this price point for transportation from port to port, lodging, meals, and some entertainment.
MSC Status Match
If you have hotel elite status, you'll want to match to MSC Voyagers Club before you try to book your cruise. You can request a status match here.
MSC's status match is separate from the free cruise offers that you get with casino status but is rather elite status in MSC's Voyagers Club loyalty program. See benefits of MSC elite levels here:
Note that my understanding is that you do not get the additional onboard credit when booking a "free" cruise offer, but you do get the other listed benefits (reports I've read indicate that the complimentary gift is usually a bottle of Prosecco).
The key benefits of Diamond status include a complimentary tasting menu at a specialty restaurant on board, the "Diamond party" (which I understand is like a cocktail reception with the crew) and priority embarkation / disembarkation. As noted above, I have also read some reports of Diamond members getting upgraded from ocean view to balcony rooms in the days before departure, though I wouldn't count on balcony rooms being available (rather one should be pleasantly surprised if it happens).
The nice thing here is that MSC is matching hotel elite status from many different programs. It seems like MSC used to publish a chart showing what you'd get by matching from various hotel programs but they no longer do. This blog post points to some data points (including from 2023) indicating the following matches:
Hilton Diamond –> MSC Diamond (my wife did this!)
Hyatt Globalist –> MSC Diamond (not listed on that site, but I did this in February!)
Hilton Gold –> MSC Gold
Marriott Platinum / Titanium –> MSC Gold (seems low to me and DP is from 2020)
IHG Diamond –> MSC Gold
Wyndham Diamond –> MSC Gold
There are some other hotel statuses and a number of cruises statuses listed at that resource.
As noted above, my wife successfully matched from Hilton Diamond to MSC Diamond. That's awesome news for Hilton Aspire cardholders. Additionally, I can report that on the last day before my Hyatt Globalist status expired in February, I matched Hyatt Globalist to MSC Diamond thanks to a reader reaching out and alerting me to this match while sharing information about the Atlantic City matching.
I think it was totally worth matching before booking because we should end up getting a tasting menu for the four of us in a specialty restaurant and I imagine that we'll take advantage of the priority boarding and perhaps disembarkation. I have a sweet tooth, so a chocolate gift certainly won't ruin my cruise :-). Overall, it seemed like a good deal.
I was pleasantly surprised with the speed of the match. In both my case and my wife's case, the match came through same-day within a few hours. I'm sure that if they get a ton of requests that speed may slow down.
If anyone gets different data points than what is shown above, please let us know in the comments. I believe that the status match is a one-time deal, so you'll want to submit your highest level of hotel or cruise line elite status. They do not match airline status.
I should add that I've read that it can be very difficult to attach your MSC number after booking a cruise, so you ideally want to match first so that you can attach your MSC number during the booking process.
Choosing a room on a free cruise
Anyone who has followed my posts about the free cruise offers knows that I am relatively new to cruising, but I have been on 3 cruises since last fall. If you're new to the game like me, here are some tips on picking your cabin.
First of all, I start out by going through the motions of a dummy booking on the cruise line website, entering dates / locations to see which cruises are available that interest me. Once I narrow it down to one I'd like to book, I continue through the motions of a dummy booking, choosing my desired room category to find out which cabin numbers are available.
Once I know which cabin numbers are available, I usually Google the name of the ship and the words "deck plan". This will yield search results where you can view the layout of each deck and see what is above and below any given floor. For instance, this is an example from CruiseMapper.com of a deck plan for a Carnival ship.
I use a deck plan like that to decide where I don't want to be. For instance, in the Carnival deck layout above, the pool is on Deck 9. I know that deck will likely be noisy / high traffic, so I wouldn't choose a cabin on Deck 8, where I assume we might hear some of that noise. Similarly, the forward part of Deck 4 has the main theater. I therefore wouldn't want a cabin in the forward part of Deck 5 since I imagine we might get some noise from the music during the shows. I always pull up a deck plan while researching and then again before getting on the phone with a booking agent in case they don't see the cabin I want but offer something else.
Keep in mind that in some cases, not every room will be available when booking a complimentary cabin. On some cruises you may be stuck with an obstructed view or only cabins in certain areas of the ship. I like to get an idea of which cabins are available so that I know what I might be able to request — but I keep that deck plan up on my computer for reference if need be. In our limited experience booking with MSC, anything that was available on the website was available to book with the casino offer.
Bottom line
I've written quite a bit about "free" cruise offers thanks to casino status matching. I think the Rivers Casino cruise offer is my favorite one to date since it appears to be possible to book any MSC sailing in the world of up to 10 nights. Given cruises in Europe, Asia, Australia, South America, and Africa/Middle East, MSC has a wide range of cruises that may be of interest. Again, I am setting expectations accordingly for the ship itself, but some of the itineraries that can be booked with this offer look pretty cool. Cooler still is the fact that there are no fees beyond a $59 fee if you want to choose your room and the deposit that you get back as onboard credit. Without even taxes to pay, this match is certainly worth the trip to Atlantic City and Philadelphia assuming that it continues to hold up as advertised.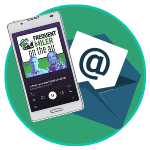 Want to learn more about miles and points?
Subscribe to email updates
 or check out 
our podcast
 on your favorite podcast platform.