The PayPal app is out with a new offer giving $10 off when spending $35 or more at Phillips 66, Conoco and 76. This should stack with cards offering bonused spend at gas stations or with PayPal which includes a number of cards that offer 5% in rotating categories each quarter.
The Deal
Get $10 off your next purchase at Phillips 66, Conoco or 76 when spending $35+ at those gas stations with the PayPal app.
Key Terms
"Qualification Period": Starts at 12:01 a.m. ET, on July 1, 2022, and ends at 11:59 p.m. ET on December 31, 2022.
"Redemption Period": Starts at 12:01 a.m. ET, on July 1, 2022, and ends at 11:59 p.m. ET on January 31, 2023.
"Reward": $10 voucher that will be viewable in the "Offers" section of the Eligible Participant's Valid Account for personal or premier accounts. For business accounts, the Reward will only be visible during checkout and on the purchase transaction receipt(s).
Only 100,000 Rewards are available during the Offer Period; Rewards will no longer be awarded once the limit is reached.
How to Qualify: Eligible Participants must complete a purchase in-store or pay at the pump that is $35 or more using PayPal.
How to Redeem: Once received, activated (where applicable), and qualified for, the Reward will be applied automatically to the Eligible Participant's Eligible Purchase that qualified for the Reward. The Reward must be redeemed during the Redemption Period and may only be redeemed as described in these terms & conditions.
There is a limit of one (1) Reward per Valid Account.
Quick Thoughts
This offer is a little confusing. When first seeing it in the PayPal app, I thought it meant that you'd get $10 off instantly when spending $35+ using the PayPal app at Phillips 66, Conoco or 76. When reading the terms more fully though, I noticed that the qualification date for this offer ends on December 31 and the redemption date ends on January 31, making it seem like you have to make a $35+ purchase and then you'll get a $10 reward to use for a future purchase, making it a little less interesting because it'd mean you only get $10 off when filling up twice.
However, reading the offer description again made it seem like the $10 is applied on your first purchase as it says the following:
Shop in a Phillips 66, Conoco, or 76 store and pay with a PayPal QR code. We'll automatically apply your discount.
I'm therefore hopeful that you'll get $10 off on your first purchase of $35 which would be preferable.
Update: It's been confirmed in the comments below that you get a $10 reward in the PayPal app that expires on January 31, 2023 after spending $35, so it's not an instant discount.
I believe PayPal passes on the merchant coding of the purchase, so paying with a card that earns more at gas stations should mean you earn bonus points on the purchase. Now that Q3 has just started, Chase Freedom, Freedom Flex and Citi Dividend cards are all earning 5% cashback. The Discover It card is also earning 5% cashback on PayPal purchases this quarter, so that's another good payment option if you don't have other cards that earn more on gas purchases like the Wyndham Rewards Earner Business card.
To use this offer, you have to pay using the PayPal app at the pump or in-store. I've never tried using the PayPal app at the pump at Phillips 66, Conoco or 76, so I'm not sure if that's even possible or if you'd have to go inside to pay for gas. When paying you have to have them scan a QR code generated in the PayPal app. To obtain that, on the home screen tap the QR code image in the top-right corner, then tap 'Show To Pay.' You might need to update your payment preferences in the app to select which card PayPal should automatically take payment from.
If you do take advantage of this offer, please let us know in the comments below if you do indeed get $10 off immediately or if it adds a $10 reward to your account that requires another purchase at one of the three eligible gas station chains.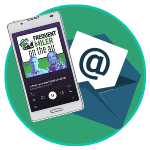 Want to learn more about miles and points?
Subscribe to email updates
 or check out 
our podcast
 on your favorite podcast platform.