Recently 1-800-Flowers reappeared as an Amex Offer:
Unlike many Amex offers, this one is not available for signup through social media channels such as Twitter or Facebook. Instead, you have to receive the offer under the "Amex Offers For You" tab on your online Amex account.
With these "Amex Offers For You" offers, you're only supposed to be able to signup one card for each promotion. If you click the "Save Offer" button next to an offer, that offer will disappear from other cards that you have linked to the same online account. Luckily there's an easy workaround:
For each Amex card that has the offer, open your Amex account in a separate tab in your browser.
In each tab, select one Amex credit card to view and select the "Amex Offers For You" tab. Make sure the offer in question is visible, but do not yet click "Save Offer"
Only once you have the offer showing in each tab for each credit card should you then go back to each tab and click "Save Offer".
More details can be found here: Maximizing Amex Sync offers. Part 1: sync multiple cards.
Why should we care about this Amex offer?
With 1800Flowers, it's possible to stack multiple deals in order to get fantastically large rewards for ordering flowers or gifts. Sometimes it can be worth doing even if you don't value the flowers or gifts at all.
This Amex offer could be a great opportunity because I'd like to do the following:
Go through Discover Deals or Savings Star to 1800Flowers for 20% cash back.
Buy a $50 gift card and pay with an Amex card registered to the offer shown above. Repeat for each registered Amex card.
Wait for the next 1800Flowers promo offering 1500 miles per $30 or larger order (I'm hoping to see this offer return before Valentine's Day… We'll see)
Make sure to enroll in the 1800Flowers Passport program to get free shipping and handling on all orders.
Place orders $30 at a time (that's the minimum required for the 1500 mile offer) and use gift cards as much as possible (1800Flowers.com only allows one gift card per order)
This would be awesome because gift cards would be at least half off ($15 back from Amex + $10 back from an online portal). And, when paying with an Amex business card, you would get an additional 5% back thanks to OPEN Savings.
Then, when buying items from 1800Flowers, one could get up to 50 miles per dollar (if the 1500 mile promo returns). Since the dollars spent would be with gift cards bought at half price (or less), the total earnings would approach 100 miles per dollar.
Earnings would be slightly less than 100X because the gift cards could not be used in full on each $30 order. For example, the first $30 order would use $30 of a $50 gift card, but then the next order would use the $20 balance. The $10 remainder would have to go on a credit card. You cannot use more than one gift card per order.
You could optimize the final $10 by using a registered Amex card for which you have not yet earned the $15 credit. The $50 spend requirement is cumulative, so if you use the Amex card for five $10 charges, you'll get $15 back.
Why gift cards?
You might wonder why bother with gift cards? Why not just shop through a portal to 1800Flowers, apply a promo code to earn miles, and then pay with a registered Amex credit card? The reason is that you cannot earn portal rewards and promo miles on the same order. I've tried many times and each time the portal rewards were later clawed back. Please see: 1800Flowers portal claw back.
By buying gift cards, it's possible to stack all three opportunities: earn portal rewards and Amex rebates when buying gift cards, then earn promo miles when ordering gifts and paying with gift cards.
One big snag
1800Flowers seems to have stopped offering gift cards online. They still have a link at the bottom of each page for gift cards (here), but the website doesn't show the ability to buy them. This is strange because I've bought them in the past and even saw the ability to buy them as recently as January 14th. Now, the same page I bought from before shows the gift card as unavailable:
Hopefully the ability will return soon!
Another option for half off gift cards
Another way to get 1800Flowers gift cards at half price is to buy from sites like Groupon or Amazon Local. In fact, Amazon Local currently lists $30 gift credits for 1800Baskets for half price:
1800Baskets is part of 1800Flowers, so the $30 credit can be used at 1800Flowers.com. Unfortunately, there are a couple of pesky little details:
Limit 2 vouchers per purchaser

Voucher cannot be combined with any other coupons or promotions
That second point is the deal breaker. Sometimes they don't have the certificates coded correctly and it is possible to apply promo codes in addition to using this gift credit, but most of the time it doesn't work. I tested the above promotion and used the gift credit to send a box of fruit to Food Gatherers (see "How to feed the hungry and fly for free"). I tried to apply a few different promo codes in order to earn miles but had not luck. This was displayed each time:
So, you can't earn huge numbers of miles when using these Amazon Local deals, but you can get fantastic savings. Here's what I did:
I went through TopCashBack to Amazon Local for 6% cash back
I bought a $30 gift credit for $15
I went through Discover Deals to 1800Flowers for 20% cash back to place my $30 order
If all goes well, I should get:
90 cents from TopCashBack
$6 from Discover Deals
So, my total cost for a $30 order will be: $15 – $6 – $0.90 = $8.10. That's a 73% discount!
See also: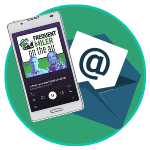 Want to learn more about miles and points?
Subscribe to email updates
 or check out 
our podcast
 on your favorite podcast platform.