Mother's Day is coming up next weekend and for even more people than usual right now it's not going to be possible to meet up with your mom to give her a gift.
Enter 1-800-Flowers. Over the years we've shared ways you could stack deals to save money and/or get rewarded and this year is no exception thanks to a bunch of offers that are currently available.
By stacking Amex Offers with shopping portals, card-linked programs and more, it should be possible to place almost free orders. In some cases, the rewards you earn might actually make it a profitable venture – here's how.
1) 1-800-Flowers Amex Offer – Spend $50 & Get $15 Or 1,500 Membership Rewards
There are two versions of a 1-800-Flowers Amex Offer at the moment – one giving $15 back when spending $50+ and another giving 1,500 Membership Rewards instead.
There's a couple of good features with this offer. First, you can do each offer twice and you can load the statement credit and Membership Rewards versions to separate cards, meaning you can take advantage of this offer up to four times per person.
Second, this works on one or more transactions which could prove useful if you click through from Acorns rather than a shopping portal.
If you don't have this offer on any personal Amex cards (or don't have any Amex cards in the first place), there are targeted Chase Offers/BankAmeriDeals for 1-800-Flowers, although they're not quite as rewarding as these Amex Offers. There's also a different type of 1-800-Flowers Amex Offer on some business cards, but it's not quite as rewarding.
2) Dosh – 15% Cashback
Next up we have the Dosh app which is offering 15% cashback on 1-800-Flowers orders. To use this offer, make sure the American Express card you've loaded the Amex Offer to is linked to your Dosh account. Don't click the link to the store in the Dosh app though – you only need to have your card linked.
If you're new to Dosh, feel free to sign up using one of our referral links. We'll earn $5 when you sign up and connect and verify your first card, but I'm not entirely sure what you'll receive as a signup bonus. It used to be $5, then they reduced it to $1 a couple of months ago, but I'm not sure if it's gone back up now or not.
3) Drop – 10,000 Points (Worth $10) When Spending $75+
The Drop app is offering 10,000 points when spending $75 or more with a card linked in the app. This won't be useful for cheaper orders, but seeing as it's a card-linked offer the $75 can include taxes and delivery fees.
If you're new to Drop, you can earn 5,000 points (worth $5) when signing up with a referral link and after earning 1,000 points. Here's my referral link (you might need to enter referral code tmtf2) – I'll also receive 5,000 points.
4a) Shopping Portal – 20%+ Cashback Or 15x+ Miles/Points
As things stand right now, you can earn 20% cashback at 1-800-Flowers when clicking through from TopCashback, 15x through the United shopping portal or 10x through the Chase Freedom portal. Rakuten is offering 15%/15x which is also worth considering if you have a Membership Rewards-earning Rakuten account.
Those rates are likely to increase in the coming days though. When looking at last year's rates on Cashback Monitor, cashback rates were 24-30% and airline portal rates went as high as 30%. It might therefore be worth waiting a day or two to place an order if you want to try and get a higher rate.
4b) Acorns Found Money – $10 $5 Cashback On $20+ Orders
Update 5/4/20: Since publishing the post yesterday, Acorns has dropped the rate from $10 to $5 which makes it much less enticing as an option. As a result, you'll nearly always be better off clicking through from a shopping portal.
~
At certain times in the past, I think you could pay with an Acorns-linked card to earn cashback with them. Unfortunately they've changed that so that you now have to click through from Acorns which means it's not possible to stack with a shopping portal.
If you're spending $50 or more, $10 cashback from Acorns means you'll be earning 20% or less, so clicking through from a shopping portal will likely be better.
The nice thing about the Acorns offer is that it works on smaller orders of $20+. If you can find eligible items from 1-800-Flowers that are that cheap, $10 from Acorns would mean you're earning up to 50% cashback making Acorns a better option than a regular shopping portal. Something important to note is that purchases of alcohol, cookie cards and popcorn cards are excluded, so that rules out some potentially cheaper items.
Even if you're not planning on clicking through from Acorns, I'd still link your Amex card to your Acorns account anyway just in case the terms of their offer are incorrect and all you need to do is pay with a linked card.
If you're new to Acorns, feel free to use one of our referral codes with our thanks – you'll get $5 as will we when you invest at least $5:
5) Free Shipping – Shoprunner or Celebrations Passport
Depending on what you're ordering, you might be able to get free shipping with Shoprunner. Many cards (e.g. American Express) come with free Shoprunner membership, although not all items sold by 1-800 Flowers are Shoprunner-eligible.
If you'll be placing a number of orders, it might be worthwhile spending $29.99 to get a Celebrations Passport membership from 1-800-Flowers. That provides free shipping, no service charge on eligible orders and no minimum order sizes. That latter point could be particularly useful if you'll be placing multiple ~$20 orders after clicking through from Acorns.
I'm assuming payment for a Celebrations Passport membership is processed by 1-800-Flowers, so that can count towards the $50 of spend to trigger the Amex Offer.
Update 5/4/20: It looks like there might be issues with using Shoprunner for 1-800-Flowers orders right now. Here's what Jan commented below:
Strangely, I looked last night and could not find shoprunner offers (and a site search didn't bring up anything). Finally called and was told there was a problem with shoprunner working on the 1-800 site. Of course, he offered to waive the delivery fee, but then I'd lose the 20% topcashback. The shoprunner site still lists 1800Flowers as a merchant, but somehow the way the rep spoke it made me think it was not a temporary thing. And the words shoprunner still cannot be found on the 1-800 site tonight.
6) Promo Codes
There are various promo codes floating around which can offer you discounts, bonus airline miles, etc. The problem with using those codes is that it's often not possible to stack those with free shipping, plus using them might mean that earnings through a shopping portal won't track properly.
You'd therefore need to calculate whether the savings from a promo code would exceed the value you'd get from shopping portals and free shipping. In the majority of cases it won't be, although there might be the odd exception.
Any Others?
Those are all the stacking opportunities we can think of, but are there any other stacking opportunities not listed, such as other card-linked programs? If so, please let us know in the comments below.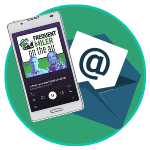 Want to learn more about miles and points?
Subscribe to email updates
 or check out 
our podcast
 on your favorite podcast platform.