Quill's has another targeted Chase Offer, this time offering 10% back on up to $250 in purchases.  This offer seems often be on business cards, which is exciting as it's stackable with the Ink Plus and Ink Cash's 5x office supply bonus if you find it there.
If you are new to Quill, it's an online-only office supply store owned by Staples and it sells essentially the same assortment of gift cards online, including Visa gift cards up to $300 in value. Note that ordering gift cards is much easier when initially signing up as a business account, as opposed to a personal account.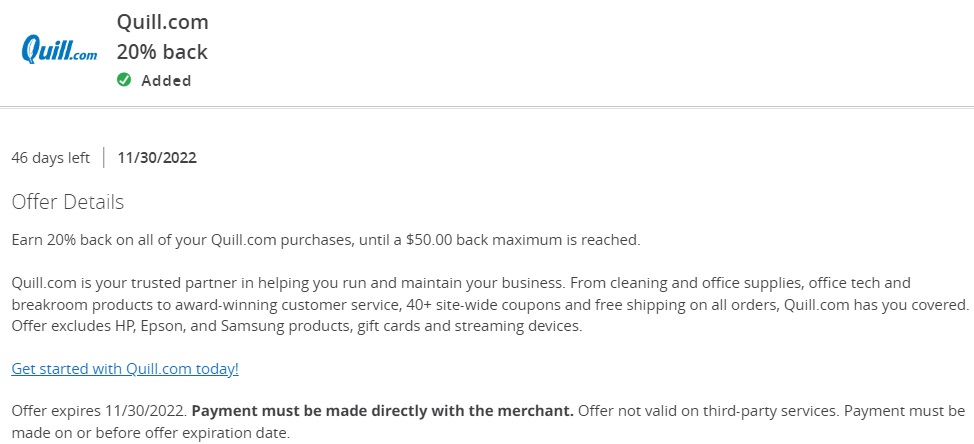 The Deal
Chase Offer: 20% back on up to $250 in spend at Quill.com.
Key Terms
Expires November 30, 2022.
Payment must be made directly with the merchant.
Maximum cash back is $50 (20%), can be in one or more purchases.
Offer not valid on third-party delivery services.
Quick Thoughts
This is one of my favorite Chase Offers when it comes around, although it's a bit of a bummer that this time it's capped at $250, instead of the usual $300.
Still, a $300 Visa gift card comes with an $8.95 purchase fee, so the $25 back makes for an immediate $16.05 profit. If you are lucky enough to have the 20%, you'd get $41.05 back.
For me, these are usually targeted to on my Ink Plus and Ink Cash cards that earn 5x at office supply stores. In that case, it will also earn another 1,545 Ultimate Rewards points on the purchase. Pretty nifty for a five minute deal. Also, unlike American Express, Chase offers can be redeemed on multiple cards. I've never been targted on more than card, but if you have more than one offer, use it!
Do note that you can only order gift cards if you have a business account on Quill.com. You can change the settings in your account from Personal to Business, but in the past, folks have had much more success getting orders to go through by creating a business account from the get-go (and Quill has never seemed to mind someone having two accounts under different e-mails). I've had to actually call customer service a couple of times to get gift card orders to process.
Quill is featured on multiple shopping portals, so it's worth clicking through one even though on some a qgift card purchase won't track.
(h/t: GC Galore)