This morning, I wrote about some of my annoyances with Southwest flight credits. One of the problems with Southwest flight credits has long been that they are tied to the passenger named on the original itinerary — when you book a "Wanna Get Away" fare and cancel it, you can only use the resulting credit for a new ticket for the same passenger. Wanna Get Away Plus fares have debuted this week, and one of the great new features of this slightly more expensive fare is that a flight credit created from a Wanna Get Away Plus fare can be transferred one time to someone else. A hot tip came in today from a couple of readers: if you're stuck with a Wanna Get Away flight credit (that can only be used for the passenger named on the original itinerary), use it to book a Wanna Get Away Plus fare to increase your flexibility.
I originally wrote this morning's post about Southwest flight credits last week, before the debut of Wanna Get Away Plus fares. It hadn't dawned on me since they launched this week that these might be a path to much more flexible flight credits, but a couple of readers pointed out how valuable this new fare class can be.
If you've read this morning's post, you know that my wife was left with a $265 Southwest flight credit in her name (that expires on 6/11/22) based on a cancelled Wanna Get Away fare itinerary.
As you can see, her credit was nontransferable. It couldn't be used to book a flight for anyone but her. Just for a screen shot for this post, she tried to use it for a flight for me and she could not.
Based on reader tips like this one about how to make this more flexible, I hunted around until I found a Wanna Get Away Plus fare that was about the same price as the amount of credit we had. My wife's credit was $265.96, so I found a flight that cost $269 (in hindsight, I didn't need to spend time looking for something so close in price — by cancelling within 24 hours, any overage paid on our credit card could be refunded to the original method of payment anyway).
As you can see in the bottom right corner of that screen shot, a Wanna Get Away Plus fare is eligible for a transferable flight credit.
Sure enough, it worked. She booked a Wanna Get Away Plus fare and then cancelled. Afterwards, she returned to her account to see that the flight credit was now eligible for transfer to someone else.
Clicking the link to transfer to someone else brings up the form to transfer the flight credit to someone else. Note that you'll need the recipient's name, email address, and Rapid Rewards account number in order to transfer the flight credit. I don't know whether the recipient also receives the sender's Rapid Rewards account number in the ensuing email.
The process seems very simple. This increases the flexibility of flight credits quite a bit. Unfortunately, we still won't be able to make use of the flight credit for ourselves before the expiration date, but at least now we can check with friends and family to see if we can find someone who can.
Overall, this is a great new feature of the Wanna Get Away Plus fare. I'd still rather Southwest let you just book a flight for anyone with the money they collected from you, but this should increase the flexibility enough to make those expiring flight credits a bit easier to use before expiration for most people.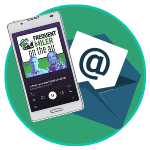 Want to learn more about miles and points?
Subscribe to email updates
 or check out 
our podcast
 on your favorite podcast platform.