Note: As of October 13, 2015, the Target REDcard (REDbird) can only be loaded with cash in-store at Target. Gift cards and/or debit cards no longer work to load REDcard. For more info, see: Here is the REDbird memo, "Cash is the only tender guests can use"
As of May 6, 2015, Target no longer accepts credit cards for in-store REDbird reloads. For more information, please see "REDbird Post Memo Answers", and "REDbird grounded. Now what?"
REDbird, the new Target Prepaid REDcard, is a terrific new alternative to Bluebird and Serve.  Like Bluebird and Serve, REDbird is a prepaid reloadable card and is a reasonable fee-free checking account alternative.  In addition to no-fees, it offers 5% off all Target purchases and fee free shipping from Target.com.  Best of all, it allows free credit debit card reloads at Target and free bill pay (see "REDcard changes everything").
REDbird is different, at different times
One unusual feature of REDbird is that it works a bit differently depending upon which stage of its life cycle its in.  When you first buy it, the card is little more than a gift card.  Once you register it online, it gets additional capabilities.  And, once you receive your permanent card in the mail, it can do even more.  To help explain this, I teamed up with Travel Is Free to develop a fun infographic, shown below.
Note that the ability to load REDbird with credit cards is an almost too good to be true benefit since it makes it incredibly easy to earn credit card rewards for free.  So, no one will be surprised if Target someday takes away that capability.  We don't know if that will happen within weeks or years, but it is likely to happen someday.  UPDATE: It happened.  See: REDbird grounded. Now what?
See more cool stuff
If you enjoyed this infographic and want to see more, see Travel is Free's InfoGraphics page.
Read more about REDbird:
Also: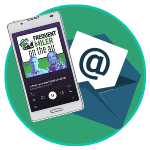 Want to learn more about miles and points?
Subscribe to email updates
 or check out 
our podcast
 on your favorite podcast platform.