Note: As of October 13, 2015, the Target REDcard (REDbird) can only be loaded with cash in-store at Target. Gift cards and/or debit cards no longer work to load REDcard. For more info, see: Here is the REDbird memo, "Cash is the only tender guests can use"
As of May 6, 2015, Target no longer accepts credit cards for in-store REDbird reloads. For more information, please see "REDbird Post Memo Answers", and "REDbird grounded. Now what?"
In the past two weeks, since REDbird (AKA the Target Prepaid REDcard) was launched, I've experimented to see what it can and can't do.  Here's what I found so far…
Background
REDbird is a prepaid card very similar to Bluebird and Serve. As such, it has capabilities that make it very attractive to those who like to earn credit card rewards.  To catch up on the basics, please see: REDcard changes everything.
Initial Purchase Limits: 1 per day
When buying a temporary REDbird card at Target, the register requires that the cashier scan and type in your drivers license details and then it requires that you enter your Social Security number, phone number, and date of birth.
If you want to buy the card for someone else, that's fine.  They can register the card online in their own name (see Online Registration, below).
One problem I've found is that the register only allows you to buy one temporary card per calendar day.  This is inconvenient since the card is currently only available in select stores (see "How to find REDbird") and so it makes sense to buy temp cards for multiple friends and relatives.
With a helpful cashier, we experimented with ways to get around the one card per day limit.  Changing my address didn't help.  However, when I accidentally typed in an incorrect digit in my SSN, the purchase (of a second card) went through successfully.
Online Registration
Despite having to put in all of your personal info at the store, its necessary to do so again online to register the card.  This is a good thing since we've found that a person other than the one who bought the card can register it.  So, if a friend sent you a temporary card, you can register it with your own name, address, SSN, etc.
One confusing part, is the first screen when registering where it asks for your card information and date of birth:
If you enter the date of birth of the person who bought the temporary card, the next screen will prepopulate with that person's details (address, etc.), which can then be changed.
A good alternative option (which was suggested to me by several readers) is to simply leave that field blank.  If you leave Date of Birth blank, you can proceed with registration without seeing the card purchaser's personal information.  I can now personally confirm that this works.
Reload Anywhere (in the US)
I know I've answered this before, but I keep getting questions about this.  YES, if you (or a friend) buy a temporary card at a participating Target store, you can reload it at any Target store in the US.  Note though that some stores in North Carolina seem to be having technical difficulties with both the purchase and reload of cards.
Life-cycle Limits
In the post, "The REDbird Life-cycle [Infographic]," I showed that REDbird has multiple stages (thanks again to Travel is Free for the infographic artistry, by the way).  As a temporary un-registered card, REDbird can be loaded up to $500 at purchase time, but then works only work as a credit card.  As a temporary, registered card, REDbird can be loaded up to $1500 and has ATM capabilities.  One the permanent card arrives and is activated, the card gains its full abilities.  At each stage, the card has the following limits:
Temporary, unregistered: $500 load (at time of purchase)
Temporary, registered: $1500
Permanent, activated: $1000 per transaction; $2500 per day; $5000 per month
Here's the new part:
Limits are inclusive of the amounts loaded in the preceding stage
This is confusing, but here's what I believe to be true based on my experiments:
The temporary registered card limit of $1500 includes the amount put on the un-registered card at purchase time.  So, if you loaded $500 initially, you'll only be able to add $1000 more to the temporary registered card.
The permanent activated card limit of $5000 per month includes the amount put on the card when it was temporary and registered, but does not include the amount put on the card at first purchase.
Example:
Buy temp card and load $500 at time of purchase.
Once card is registered online, you can add up to $1000 more to the card.
If permanent card arrives and is activated in the same month as the previous loads, then you can add up to $4000 more that month.
I'll be interested to hear if anyone has different experiences than those I described above.
REDbird Doesn't AmexSync
I tried syncing REDbird to Twitter via Amex so that I could sign up for Amex Sync promotions, but it didn't work.  Of the three related cards (Bluebird, REDbird, and Serve), Serve remains the only one (so far) that works with Amex Sync promotions.  Please see: Maximizing Amex Sync offers. Part 1: sync multiple cards.
Read more about REDbird:
Also: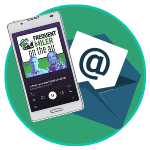 Want to learn more about miles and points?
Subscribe to email updates
 or check out 
our podcast
 on your favorite podcast platform.