Giftcards.com launched a new sale on virtual Visa gift cards yesterday. Before you get too excited though, it's not as generous as their more recent Visa gift card deals, although it might still make sense for some.
The Deal
Save 5% when buying $100 virtual Visa gift cards from Giftcards.com and using the following promo codes
Direct link to this deal (our affiliate link, but you might be able to earn rewards by clicking through from a shopping portal)
Key Terms
Promo code SUMMER23 valid 05/29/2023 – 06/17/2023 for 5% off $100 Visa Virtual Gift Accounts from Giftcards.com while supplies last.
Limit 6 per order (maximum $30 per order).
Excludes Giftcards.com for Business orders.
Promo code SUMMER23 is a one-time use code and cannot be combined with other offers.
Quick Thoughts
Recent promo codes giving discounts on virtual Visa gift cards from Giftcards.com have been valid on $250 denominations, but this latest sale is only valid on $100 denominations. That makes the deal much less rewarding because the purchase fee of $5.95 is the same regardless of denomination. When buying the $250 cards, you'd make a profit with the 5% discount. With $100 denominations, you're still paying a net fee of $0.95 per card as the discount comes off the face value of the card and none of the fee.
The maximum discount from this sale is $30 per order which equates to a maximum of six $100 cards per order. If maxing out the deal, you'd be paying $605.70 for $600 worth of Visa gift cards. That's still slightly lower fees than the common $5.95 purchase fee you get on $500 Visa gift cards at many grocery stores, but your associated liquidation costs for six virtual Visa gift cards might be higher than one $500 physical card.
It might be possible to make this deal better by clicking through from a shopping portal. At the time of writing this post though, the portals I checked don't have any of these promo codes listed on them which could invalidate your earnings.
Something which should work is the Giftcards.com Citi Offer giving 1.5% back. Provided you receive the statement credit from that offer, this would be a slightly profitable deal even before accounting for the value of the cashback / points / miles you'll earn on your credit card.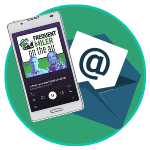 Want to learn more about miles and points?
Subscribe to email updates
 or check out 
our podcast
 on your favorite podcast platform.