I got a tip a while back from a member of our Frequent Miler Insiders Facebook group about a cool app called Too Good to Go that I've used a number of times on trips to major cities over the past year. Lately I'm really starting to dig this app and I have come to realize that beyond the United States, this app can also be used in a number of European countries. I love the concept, enjoy the adventure, and have been generally pretty impressed with the value. This won't be for everyone, but I think it's worth downloading the app if your travels take you to cities where the app has a presence. To be clear, we have no affiliate relationship here, nor am I aware of any referral deal with Too Good To Go — I've just enjoyed using this app lately and thought that some readers may find it as useful and fun as I have.
What is Too Good to Go?
Too Good to Go bills itself as an app built to reduce food waste. The basic concept is that you pay $3.99, $4.99, or $5.99 (tax inclusive, price varies by restaurant) for a surprise "grab bag" from a restaurant or in some cases even a local grocery store that you pick up within a specific window of time (usually around closing time). The restaurant gives you some of their leftover items that would have otherwise gotten thrown away. This app doesn't exist in many US cities yet, but in places where they have a presence, there are a broad range of restaurants including both some traditional full-scale restaurants as well as pizzerias, pastry shops / cafes, food trucks, and more.  The idea is that you get more than $5 worth of food, food waste is reduced, and maybe the restaurant picks up a new customer since presumably most of the people using the app are "locals".
Where is too good to go?
Too Good to Go doesn't provide a simple list of cities within the app, but you can "browse" around the map and see that most of the major US east coast cities are included. I only yesterday realized that Too Good to Go actually started in Europe, so you can additionally use this app in quite a few major European cities (including many Germany cities and even traditionally expensive Scandinavian cities like Copenhagen and Oslo).
According to an article I read last fall, it was (as of that time) available in Austin, Baltimore, Boston, Chicago, the D.C. area, New York, parts of New Jersey, the San Francisco Bay Area, Los Angeles, Portland, Philadelphia, Providence, Seattle, and a few more places. Since the fall, I've seen them expand from just New York City to also include Long Island, parts of Westchester, and even a bit farther north of New York City and also cover a lot of the northeast corridor between major metropolitan areas.
Additionally, as noted above, you can find it in quite a few European cities. According to Wikipedia, the app was originally developed in Denmark and grew to have a presence in France, the UK, Austria, and Spain. As noted above, I found it in cities beyond those countries as well.
Does Too Good to Go code as "restaurants"?
Yes, in my experience so far, my purchases from Too Good to Go have coded as restaurants. I've paid with my Amex Gold card via Google Pay within the Too Good to Go app and it has coded for 4x for restaurants and also triggered the 20% statement credit at restaurants that was part of the welcome offer when I applied for the card.
How good is Too Good to Go?
Again, there is a wide range of restaurants and offerings can vary form day to day in terms of what you'll get, when the pickup window is, which restaurants are participating / available, etc. I've found this a fun way to try out a place in the neighborhood where I'm staying for just a couple of bucks or to pick up a surprise snack. It's a gamble because you may end up getting, for example, just side dishes from a restaurant. However, on the whole, I've been happy with the portions I've gotten, the value as compared to cash cost, and the adventure of picking some random place to pick up leftovers.
On my recent two trips to New York City (last Thursday and over the weekend), I used Too Good to Go a few times.
On Friday morning, my wife had a video conference from 9:30am-10:15am, so I paid $3.99 for a Too Good To Go order from a food truck / food cart called Greek on 6th with a pick up window of 10:15-10:30am (note: that's the shortest pickup window I've seen. Usually the window is at least 30 minutes and sometimes it is an hour or more). I showed the app when I got to the food cart and the guy opened a brown paper bag and proceeded to fill it with 6 different nice-sized pastries. The value was good considering the size of the baked goods and those that I tried were pretty tasty. It wasn't the best I've gotten from Too Good To Go, but I didn't feel like I made a bad deal.
On Sunday, I did better. After overspending by quite a bit on breakfast at the Conrad New York Downtown, I wasn't interested in spending another $84 on breakfast on Monday. I looked in the Too Good to Go app for a bagel shop and found one in Rockefeller Center. That's not right around the corner from the Conrad Midtown (there actually was a participating bagel shop much closer), but I knew my wife and 4yr old were going to visit the Lego Store at Rockefeller Center anyway, so it was easy enough for them to pick up the order. Black Seed Bagels provided an assorted mix of a half dozen bagels and two small containers of cream cheese — certainly not a bad deal for $4.99 (if that doesn't sound like a deal, consider the fact that I paid $10 for a medium-sized tub of cream cheese from another bagel shop on Monday). The cream cheese from the bagel shop was enough to cover two full bagels — so I essentially covered breakfast for myself for Monday morning for $4.99 and I also had a bagel on Sunday and a couple more at home this week.
Late on Sunday night, I decided to try a pizzeria a few blocks from the Conrad Midtown. There was pizza closer to the Conrad, but I was curious as to what I'd get for $4.99. When I arrived at Fiorentina Pizza, they told me I could pick any 2 slices I wanted. A number of the specialty slices were $5 to $6, so you could score a moderately decent deal (there are a number of pretty busy specialty slices not shown here).
I asked for one slice of cheese (not a good value, but I'm a purist and want to know what their base level pizza tastes like) and he gave me 2 slices of cheese and said they'd count it as one. I added a "Grandma" Sicilian slice. My net value wasn't the highest it could have been (the three slices would have been $9.95), but it was more than enough to satisfy a midnight craving for pizza after the Mets game.
I have also used Too Good to Go on several previous trips to New York City and mostly been pretty happy. Customers can rate restaurants on a scale from 1-5 and leave feedback about what they liked, so you can kind of get an idea as to which restaurants offer good value for the money. I think it's worth also checking Google reviews. When things are rated on a scale of 1 to 5, I normally avoid anything with a rating less than 4. Fiorentina Pizza had a 3.9 rating in the app. However, on Google, they have 4.6 stars our of 5 with plenty of reviews. I almost skipped it because it had what I perceived to be a lowish rating in the Too Good to Go app, but I'm glad I didn't. Here are some example listings:
That last one above is the restaurant inside the Moxy hotel in Chelsea, a Marriott property. I picked up a surprise bag there on a trip to New York City in March. For $4.99, I got a loaf of freshly baked bread, a scone with clotted cream, and some really tasty bar-shaped baked good.
I wouldn't have necessarily bought this exact combination of items, but I kind of enjoy the surprise of not knowing exactly what I'm going to get at this price point.
To find participating vendors, once you load the app, you can let it geolocate you or you can enter a city name and then scroll around the map.
The app can show you lists of restaurants:
But personally, I prefer to hit the "browse" icon at the bottom and scroll my way around the map, pinching and zooming to see what's available in different neighborhoods.
The color coding system shows whether and how much is available. Blue dots have 5+ bags available to be purchased. Yellow dots have fewer than 5. Grey dots are sold out for today (you can choose to hide sold out restaurants if you want). The app is fairly intuitive to use from there. Note that you can buy more than one bag in most cases if you want more food.
As noted above, Too Good to Go also exists in quite a few European cities. I checked a number of random cities and thought it was cool to find lots of participating venues in cities like Oslo and Brussels (shown below) as well as most major German cities, parts of Austria, and more.
And even within the US, it is mostly only available in major cities, though offerings have been expanding. For instance, in addition to New York City, I now see a number of locations in Long Island.
Overall, I find Too Good to Go to be a cool concept. I enjoy the sense of adventure in a cheap grab bag and while experiences are sure to vary even from the same restaurant on different days, I think it's a nice option when I want something but might otherwise be tempted to tell someone to "surprise me". While I wouldn't count on Too Good to Go to replace meals, and I wouldn't want to travel somewhere only to eat bakery leftovers, I think it can be a cool way to save a little bit of money and a little bit of food waste at the same time. I'm really glad that a member of our Facebook group mentioned it because I'm really enjoying it. While the app isn't available in the rural area where I live, I look forward to my next trip to a larger city and whatever surprise bag it brings.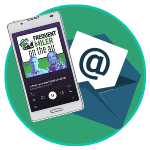 Want to learn more about miles and points?
Subscribe to email updates
 or check out 
our podcast
 on your favorite podcast platform.