Last month, I wrote about my wife calling Hilton and getting extensions for both of her expiring free night certificates. Over the weekend, we put those certificates to use at the Conrad Downtown New York and the Conrad Midtown New York. I enjoyed both hotels for different reasons (one for great service, the other for a great upgrade, etc), but the pandemic-era changes Hilton has made to the former breakfast benefit for elite members still left a sour taste. There is a lot to love about the Conrad New York Downtown, including the fantastic welcome we got and great rooms, but ultimately the route that Hilton Honors has decided to take with elite benefits will probably steer me elsewhere on future trips.
Conrad Downtown: Great base rooms and delightful service, but watered-down Hilton Honors elite benefits disappoint
Bottom line: This was our second time staying at the Conrad Downtown. We really enjoyed it the first time and I still very much like the property and location. This is not a place to stay if you're a tourist looking to visit Midtown Manhattan sites. The closest subway stop is several blocks away and you'll be on the train for at least 20 minutes to get to most of the major sites.
However, if you need to be in the Financial District or if you've been to New York a number of times before and you're primarily interested in a comfortable room (the standard rooms are suites at this property) and/or you are interested in a quieter part of Manhattan, this could fit the bill.
Points Price: Varies, but was 80,000 points on the night we booked.
Cash Price: Varies considerably. The standard room rate was north of $500 per night when we booked, but I have seen this property in the low $200's during the winter (especially on weekends).
Points Value: When rates are high, this is a pretty good value. If the cash rate were $500, that would yield about 0.625c per Hilton point, which is ahead of our Reasonable Redemption Value. Considering the fact that we used a free night certificate from the Hilton Aspire card, we were very pleased.
Resort Fee: None on an award stay.
Parking: Valet parking starts at $65 per night plus tax (I expect there is an additional fee for oversized vehicles). I used ParkWhiz and booked a garage for about $50 per night all-in (I saw one option nearby this hotel for about $40 per night).
Turndown service: Yes, but this only involved closing the curtains and placing a mat and bottles of water by the bed. There was no chocolate / treat.
Housekeeping: We only stayed one night and therefore didn't need housekeeping services.
Internet: Very good.
Dining:

Breakfast is served in Atrio, the lobby restaurant. They also offer room service, but note that the Food & Beverage credit that Hilton Gold and Diamond members get can not be used for room service. This was noted on the electronic menu online and we double-checked with the front desk and were told the same.
There is also a small rooftop bar. I went to check this out and it had a nice view, but I didn't stay for a drink.

Spa: None.
Fitness Room: There is a fitness room, but I forgot to check it out.
Hilton Diamond Elite Benefits: 

Upgrade: No upgrade was given in advance nor offered at check-in. That said, rooms at this property are all suites, so I wasn't really looking for an upgrade. The room they originally had blocked was not yet available when we arrived, but they assigned us an available room without issue.
Club Lounge: None.
Breakfast: Breakfast was expensive. Even after our $50 food and beverage credit ($25 per registered guest up to two), breakfast still cost is more than $84. Coffee alone for two adults was $16 plus tax and tip — meaning that just coffee for two cost us more than $20. And that wasn't specialty coffee like a cappuccino or something, just two regular coffees. In fairness, we did each get our own little pot with enough coffee for at least two cups, but the fact that one of our two F&B credits was nearly wiped out with coffee alone seemed ridiculous. We each had an adult entrée, each kid had an entrée from the kids' menu, my wife and I had coffee, and she ordered an orange juice. Spending $84 on that — after $50 was deducted — was enough to turn me off on a return visit despite excellent service.

Would I stay again?  Maybe, but only if I were going without the kids and planned to use the F&B credit at the bar / get breakfast elsewhere. Since you can't use the F&B credit for room service and kids can't go to the bar, it's just not practical to use the elite benefit when traveling with a family (because I'm not spending $84 on what amounted to a just okay breakfast again). Service was great and we love the rooms and location, but it's hard to return here when Hyatt Globalist status would get me free breakfast at any Hyatt property (and free parking at most of them!).
Conrad Downtown New York pros:

Base rooms are suites (you don't really need an upgrade)
Amazing service (more on this below — we got a very warm welcome from Sabri in guest relations).
Love the location even though it is far from major tourist attractions. This neighborhood feels like a different city in some ways.

Conrad Downtown New York cons:

Lobby has immeasurably low ambiance. This is not just due to the current construction, but rather it's the way it's constructed. The shape is weird and the fact that the huge atrium with "hallways" that wrap around it all the way up makes it feel more like a convention hotel than a luxury one (though the rooms are very luxurious and that is likely more important).
The way the restaurant is kind of open to the lobby makes it feel more like an airport restaurant. This doesn't really matter, it just doesn't have the ambiance of a restaurant like breakfast at the Thompson Central Park did.
Breakfast was way too expensive in my opinion, even after the credit. Coffee cost more than $20 for two adults after tax and tip. Orange juice was $8++ and wasn't even fresh-squeezed.
Location isn't right near a subway stop, so you have to walk several blocks to get to one (though there are a few different lines that are just a few blocks away).
Personally, I love seeing something different now and then and I can be happy exploring almost any part of the city. On this trip, we drove down to the city on Saturday, but we were really there to see the New York Mets baseball game on Sunday, which had gotten moved from a 1pm game to a 7pm game, so location didn't matter much for Saturday night. We just didn't want to have the kids sit in the car for 3 hours to get out and sit at a baseball game and we had free night certificates to use anyway. Thus, the location didn't make much difference to us. While we could have used our two free night certificates for a 2-night stay at one of many different Hiltons in Midtown, we decided to hotel hop.
I love the rooms here as they have a living room and bedroom that are separated by a large area for a separate bathroom and large shower space (with a door!). There are pictures of the living room and bedroom above. Here are some more pics of the room: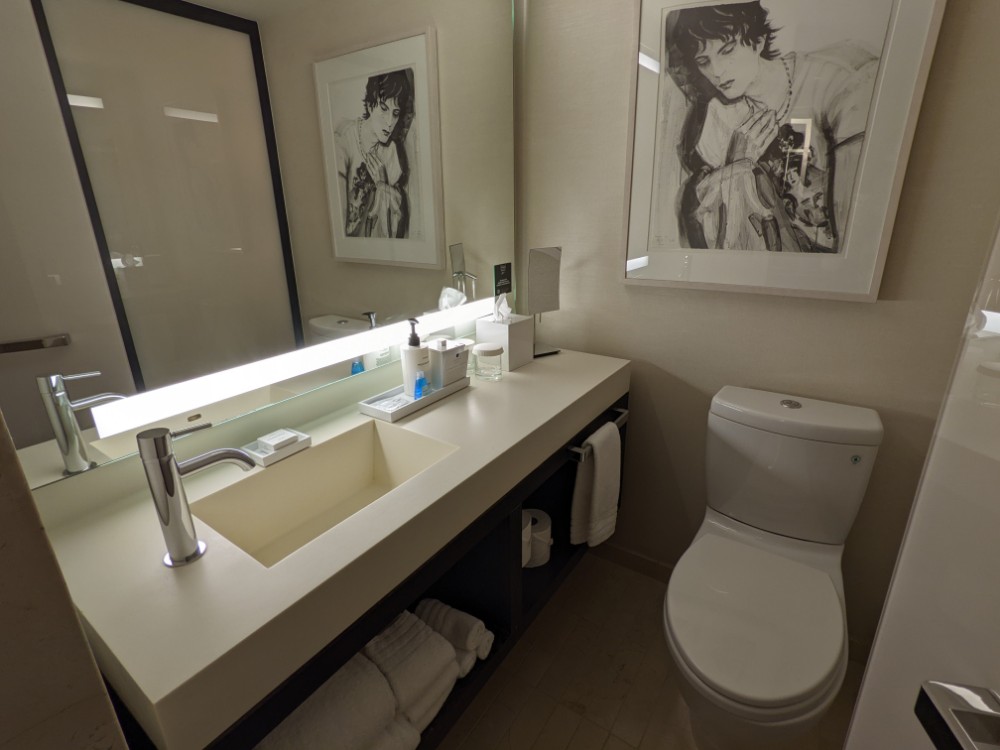 While the walkways from the elevator bank to the rooms is kind of cool since they are in front of a large glass wall with a decent view, I just don't like the lobby here very much. The high atrium and "hallways" that kind of wrap around it just don't convey a sense of luxury. I don't know how to explain it and it really doesn't matter much since the rooms are great, but it definitely doesn't have the feel of most luxury hotels when you walk in.
The Conrad Downtown is set on a quiet street on the western side of Manhattan around the cusp of Tribeca / Battery Park City / the Financial District. The hotel is located just off the Hudson River and we enjoyed a lovely stroll along the river after getting settled in to the hotel. We walked to Hudson Eats, a food court not far away, and very much enjoyed the ambiance of the flower gardens outside and along the water before continuing on the walking path. We stumbled on live music and enjoyed a great sunset.
As noted above, the hotel gave us a very warm welcome. Long-time readers may remember why we are such big fans of the Conrad brand. My wife had emailed the hotel in advance to sort of relay the story about why we like Conrad hotels and the Conrad Downtown went over the top. Sabri from Guest Services stopped by with a huge smile and enthusiastic welcome along with basket full of a bunch of gifts for my son / us. It was over-the-top and very cute.
It was pretty crazy, really. There were t-shirts for my sons and there was a candle, selfie stick, Christmas ornament, dog bandana, toiletry bag, a really nice children's book, hand sanitizer, a compact and more. They really went above and beyond and made it special and memorable. I thought that was awesome. To be clear, I don't think this was a case of getting special treatment for being a blogger — this stay was booked in my wife's name, not mine. She sent an email in advance to mention my son's name, but she sent the same email to the Conrad Midtown (where we stayed the next night) and they didn't do anything at all. I think this was just a case of a great employee in Guest Relations being genuinely enthusiastic and excited about making our stay special. That was great and is the type of thing that makes me want to come back again.
Unfortunately, breakfast left a sour taste for us. That's because of the way that Hilton has decided to handle elite benefits. Pre-pandemic, Gold and Diamond members got free breakfast at most properties in the Hilton portfolio. While that benefit had been pretty weak at this property in the past (I don't remember exactly what it was, but I felt like we basically got a plate of pastries and coffee), it isn't necessarily much better now.
Gold and Diamond members get $25 in food and beverage credit per day per guest registered to the room (up to two). That meant we had $50 to spend toward breakfast. Here were the menus:
It would be possible to not exceed the $25 by much if you got the Bircher Muesli and coffee (which would come to $22 before tax and tip). However, basically any other entrée plus coffee puts you over the top of the daily credit.
As I mentioned in the bullet points above, coffee alone almost used up a $25 credit. At $8 each plus tax and tip, that's more than $20 for two adults to have coffee. That's not a cappuccino or a latte, just regular coffee. That made it hard to get out of the restaurant without spending far more on breakfast than we ordinarily would.
Here was the kids menu:
My wife got the Avocado toast, I got the blueberry pancakes, our kids each got pancakes, we got them milk to drink, and we ordered one orange juice and the bill came to $134 and change with tax and tip. After our $50 credit, breakfast was still $84. Contrast that to the $5 spent on half a dozen bagels and cream cheese later in the day and you can see why I'm just not interested in spending $84 on breakfast. The food was pretty good, just not $84 good.
In fairness, it's not the hotel's fault that Hilton Honors handles elite benefits poorly — and while menu prices were high, they probably aren't totally out of line for Manhattan (indeed, breakfast for two at the Thompson Central Park a few days earlier would have been even more expensive for only two people, but thanks to Hyatt Globalist status we got it for free).
Overall, we enjoyed the warm welcome and the great room at the Conrad New York Downtown. The service and quality of the room would tempt me to stay again, but given Hyatt's terrific elite benefits (including free breakfast for Globalists and free parking on award stays) and similarly broad footprint in Manhattan, I would be hesitant to return except under pretty specific circumstances. I wouldn't really want to pay the Conrad's breakfast prices in the future — I'm happy with a bagel and cream cheese from the many vendors that offer them — and since the F&B credit can't be used for room service here, I guess I'd only be using it if I were going to the bar.  I could imagine that those obstacles won't be significant for people with different circumstances, but I'd probably only return with a free night certificate and even then only when all the other stars aligned.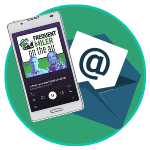 Want to learn more about miles and points?
Subscribe to email updates
 or check out 
our podcast
 on your favorite podcast platform.