Seats.aero is a mostly free tool which makes it easy to find close-in awards on long-haul flights.  I learned about this tool only a few weeks ago, and was immediately captivated by it.  This is not a polished end-user tool like Point.me or AwardLogic.  Instead, it is very much a geeky travel-hacker playground.  Every few hours the tool searches for award space within the next 60 days across a large number of routes and award programs.  The results then are available to instantly search, filter, and sort.  If you want to fly a particular product like Lufthansa first class, Qatar QSuites, etc., this tool makes it super easy… if you know what you're doing.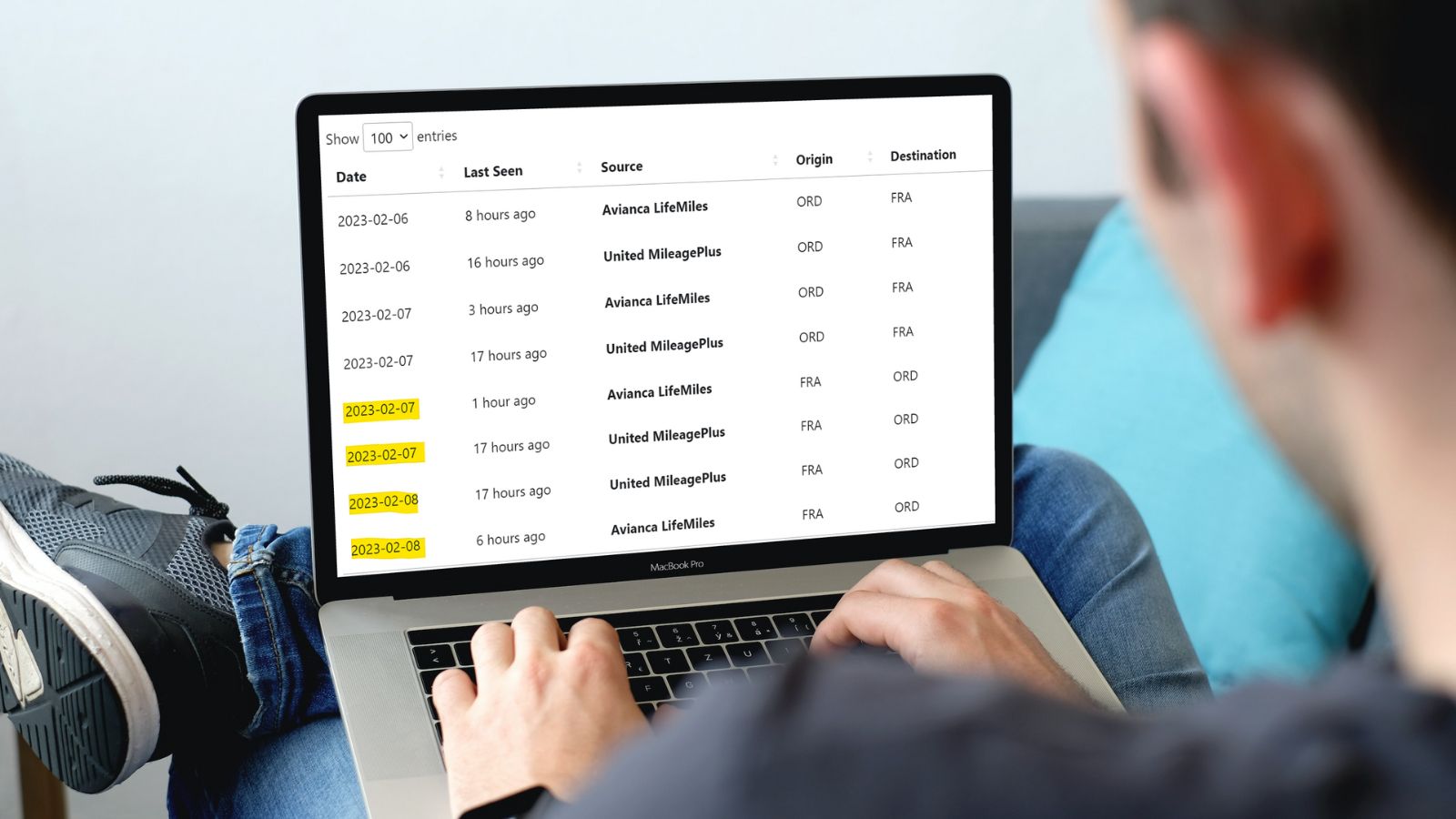 Overview
Every few hours, Seats.aero searches a wide variety of routes for award space within the next two months and provides the results in a format that is fast to search and filter.  This makes it easy to find many of the usually most impossible to find award flights.  In most cases, though, you'll have to be flexible enough to fly within days or weeks and you will likely have to book positioning flights to get to the departing airport.
Free vs Pro features
Seats.aero is mostly free to use, but if you sign up for Seats.aero Pro, you get to search some routes as far out as a year.  Plus you get unlimited alerts on extended availability, and the ability to receive SMS notifications.  After playing around with this tool a little I instantly saw how powerful it was and so I signed up for the Pro version mainly to help support the developers!
Not for beginners
This tool is not for the average Joe*.  To use this tool effectively you need to understand things like two-letter carrier codes, partner award availability, flights worth positioning for, tool limitations (i.e. not all routes are covered and most are only searched for 60 days into the future), etc.  If you're comfortable with all that, and if you care about finding great award flights, I expect that you'll be as enthusiastic about this tool as I am.
* Joe: Apologies for calling you average! You excel in so many things, including your ability to represent average people in a gender neutral way.  Tom, Dick, and Harry: I'm sorry for abandoning you.  Like Joe, you too are great at many things, but your ability to represent average people falls short in modern times.
Example: Finding QSuites
In order to illustrate Seats.aero's power, I'll step you through how the tool can be used to find QSuite awards.  Qatar's Q-Suites business class is widely considered to be one of the best business class products available worldwide.  The seats themselves are amazing; and service and food is closer to international first class than business.  At the same time, it is relatively cheap to book QSuite awards when they're available to partners.  For example, AA charges only 70K miles to fly business class one-way from North America to the Middle East or only 75K to fly onward all the way to South Africa!  British Airways also charges a reasonable number of points, especially for nonstop awards.
Note that I've separately posted how to find QSuites availability via AA's website: How to find Qatar Q-Suites award space.
In the following sections, I'll show how to find Qatar QSuites award space with some of the tool's major features: Home page, Routes, and Search.
Seats.aero Home page
1) Select American Airlines

First select "American Airlines" from the drop-down box on the top-right because AA is a OneWorld member along with Qatar.
2) Show flights from or to North America
Lets assume that we're looking for outbound flights from the U.S. or Canada.  Start with selecting "from North America" and to "Anywhere" in the drop-down boxes.
3) Search "DOH"
The home screen doesn't offer the ability to filter to specific airlines.  Since we can't limit the home screen results to Qatar, the next best thing is to limit results to Qatar's hub: Doha (DOH).  While you're at it, you can also change the drop-down on the left to Show 100 entries.
Now, sort by business class availability by clicking on the "Business" column:
Above are just the first 8 and half rows of results at the time of this writing.  Each row shows an award flight that had at least one business class seat.  On the far left is the flight's departure date followed by how many hours ago the award was found.  The more recently that the award was found, the more likely it is that it's still available.  The next two columns show the departure and arrival airport codes.
Green boxes indicate nonstop award availability.  Blue boxes indicate that awards include multiple segments.  For our purposes right now, we're only interested in the nonstop business class awards shown in green.
At the time of this writing there were 16 rows showing nonstop (green) business class awards from North America to Doha.  The latest departure date when I searched on Feb 5 was March 28.
When you find a flight of interest, click the information icon on the right to see more details and then make sure to click on the "business" tab.  I clicked on the March 28 flight from YUL (Montreal) and found this:
I clicked "Book via American Airlines" and quickly found that only 1 seat was available:
After repeating the above steps with a number of routes that showed availability in Seats.aero, I finally found a flight with more than 1 seat available.  This one happened to also be from Montreal on Feb 9th (only 4 days from the date of my search):

Caution: Booking Qatar business class awards doesn't guarantee that you'll fly QSuites.  To increase the odds, try doing a paid flight search on Qatar's website to see if the exact flights you found are advertised as being on QSuites.  Even then, there's always the chance of Qatar doing an equipment swap to a lesser product, but at least this increases your odds.
Seats.aero Routes
If you only want to search a single specific route, you can save yourself some time by starting with the Routes tab in Seats.Aero.  For this example, let's assume that you're only interested in flying from Philadelphia to Doha…
1) Select American Airlines and search for PHL
Scan the above results for PHL to DOH.  You can see that this tool searches 60 days into the future.  The clock icon indicates that Pro users have access to award availability further out (but only through the "Search" function).  For now, click "Find availability".
The next screen is just like the Home page, but with results filtered to PHL to DOH.  By sorting by Business Class, we can see that there are two non-stop business class flights available:
While the Routes approach doesn't seem to offer much above what's available directly on the home page, it does add the following capabilities:
Filter to a specific route
See which routes are supported by Seats.Aero.  There may be other routes of interest that simply aren't covered and so it's better to know that up front.
See which routes have extended availability for Pro users
Seats.aero Search
The free version of the Search function is most valuable when you're not looking for a specific carrier like Qatar.  I'll cover this more in a later section of this post.  For now, though, we're going to jump into the Pro (paid) functionality to find Qatar award space…
With the Pro version, you can limit your search to only show results with a minimum number of seats (I chose 2, above), select one or more operating carriers (I chose Qatar Airways by entering it's two-letter code "QR"), and filter to a specific class of service (I chose Business).  This lets you cut out a lot of the extraneous results that were shown on the home screen.  You do need to limit your search to a 14 day window, though, so that's a bit of a downside.  On the other hand, the results come back so quickly that it is easy to keep changing the dates by 14 days and searching again.
The most powerful aspect of the Search functionality is that results are not limited to a specific program like AA.  In this case, though, since we're only interested in Qatar award space, that aspect of the Search function is irrelevant.
The best reason for Pro users to use the Search functionality when looking for a specific carrier is to search far into the future.  For example, here's a search where I found a good amount of Qatar business class availability from Philadelphia in late October and November for 1 person: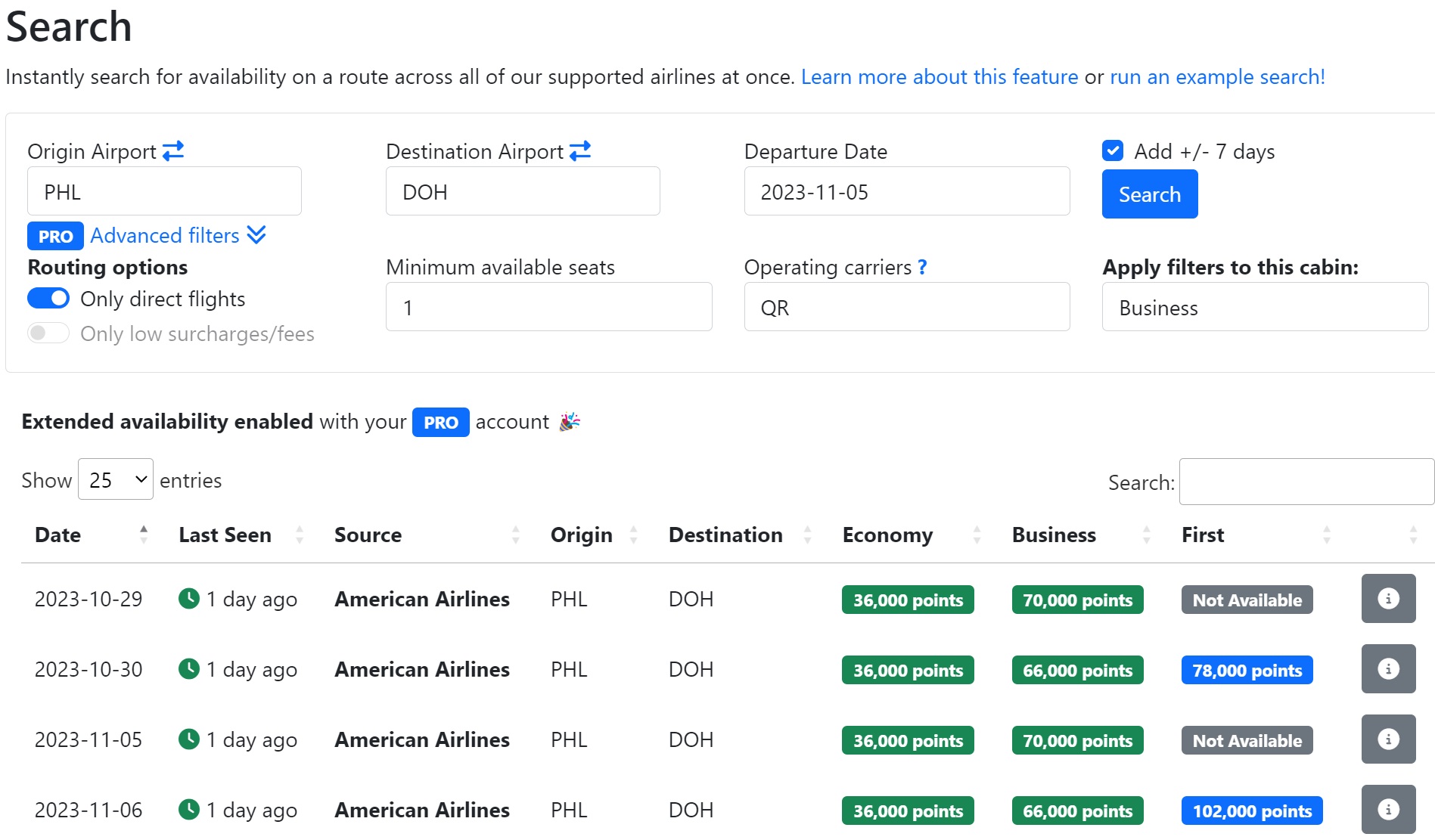 Example use: finding award space from a specific airport
My home airport is Detroit (DTW).  This FlightConnections map shows flights available from/to Detroit: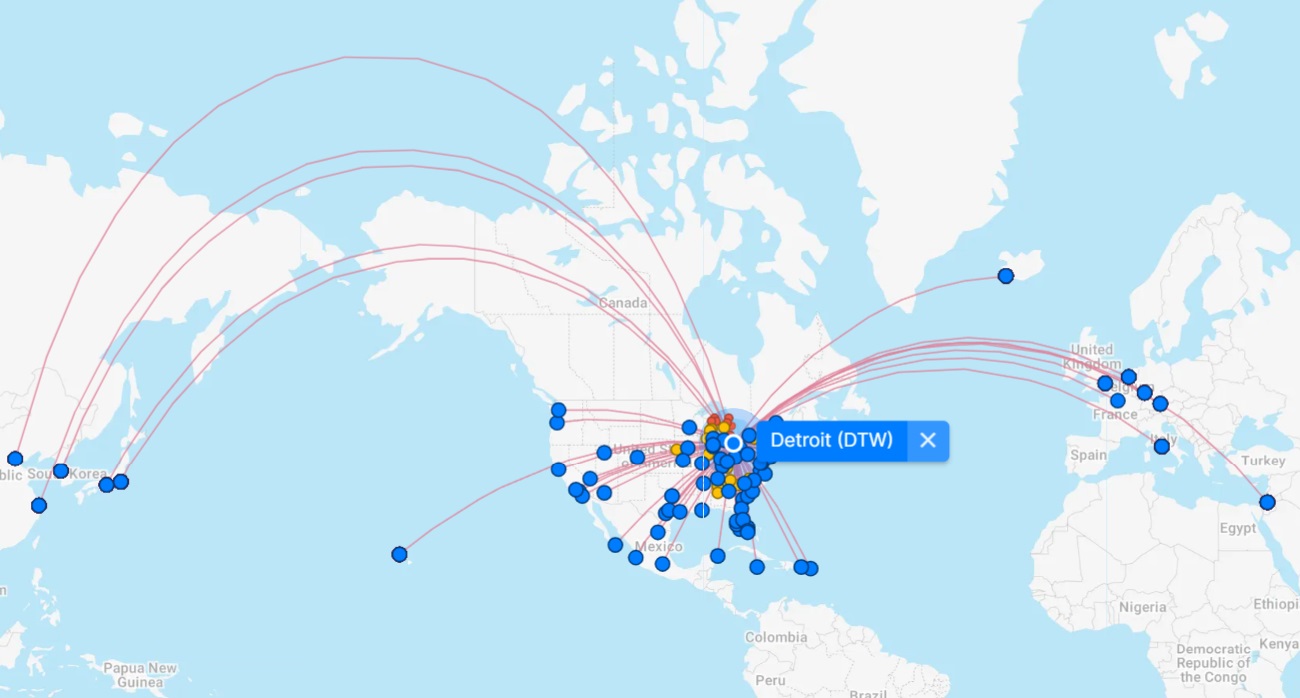 Most of the flights shown above are operated by Delta.  The only long distance flights served by other carriers are: Royal Jordanian to Amman, Air France to Paris, and Lufthansa to Frankfurt.  Sometimes Lufthansa also flies to Munich.  And we're eagerly anticipating flights on Turkish Airlines to Istanbul.
Seats.aero can be used to find great award flights from a specific city like Detroit.  Below are examples of using each of the tool's major functions to do so…
Seats.aero Home page
Look for Royal Jordanian business class…
From the Home Page, I selected American Airlines (a Royal Jordanian partner) in the top-right drop-down and then clicked to show flights from North America, and in the Search box I put "DTW".  I then sorted by Business class and found that nothing was available:
Moving on…
Look for Lufthansa business class…
From the Home Page, I selected United MileagePlus (a Lufthansa partner) in the top-right drop-down and then clicked to show flights from North America, and in the Search box I put "DTW".  Selecting Avianca LifeMiles from the top-right drop-down works too.  This time there were plenty of results.  Lufthansa has a lot of award space available on this route:
Look for Air France business class…
From the Home Page, I selected Virgin Atlantic (an Air France partner) in the top-right drop-down and then clicked to show flights from North America and to Europe, and in the Search box I put "DTW".  Next I sorted by Destination airport and scrolled to find Paris (CDG).  No business class flights were available:
If there had been business class seats available, it could have been on either Air France or Delta since both carriers serve this route and both are Virgin Atlantic partners.
Look for Delta business class…
From the Home Page, I selected Virgin Atlantic (a Delta partner) in the top-right drop-down and then clicked to show flights from North America to Anywhere, and in the Search box I put "DTW".  Next I sorted by Business class and found only one flight.  DTW to LHR (London).  This doesn't mean that there is literally only one Delta flight from Detroit that has partner awards is business class.  Remember that Seats.aero doesn't search all routes and they only look two months ahead for most routes.  So there may be other routes with award space and/or the same routes but farther in the future.
The cheapest way to book Delta awards to Europe is with Virgin Atlantic miles where it costs 50,000 points plus $5.60 in taxes.  Flights to England, though, are priced differently and have very steep fees.  Alternatively you could book with about a bajillion Delta miles.  The best way to book a flight like the one shown above to London is with Air France miles where they charge (at this time) 73,500 miles plus $10.10 in fees: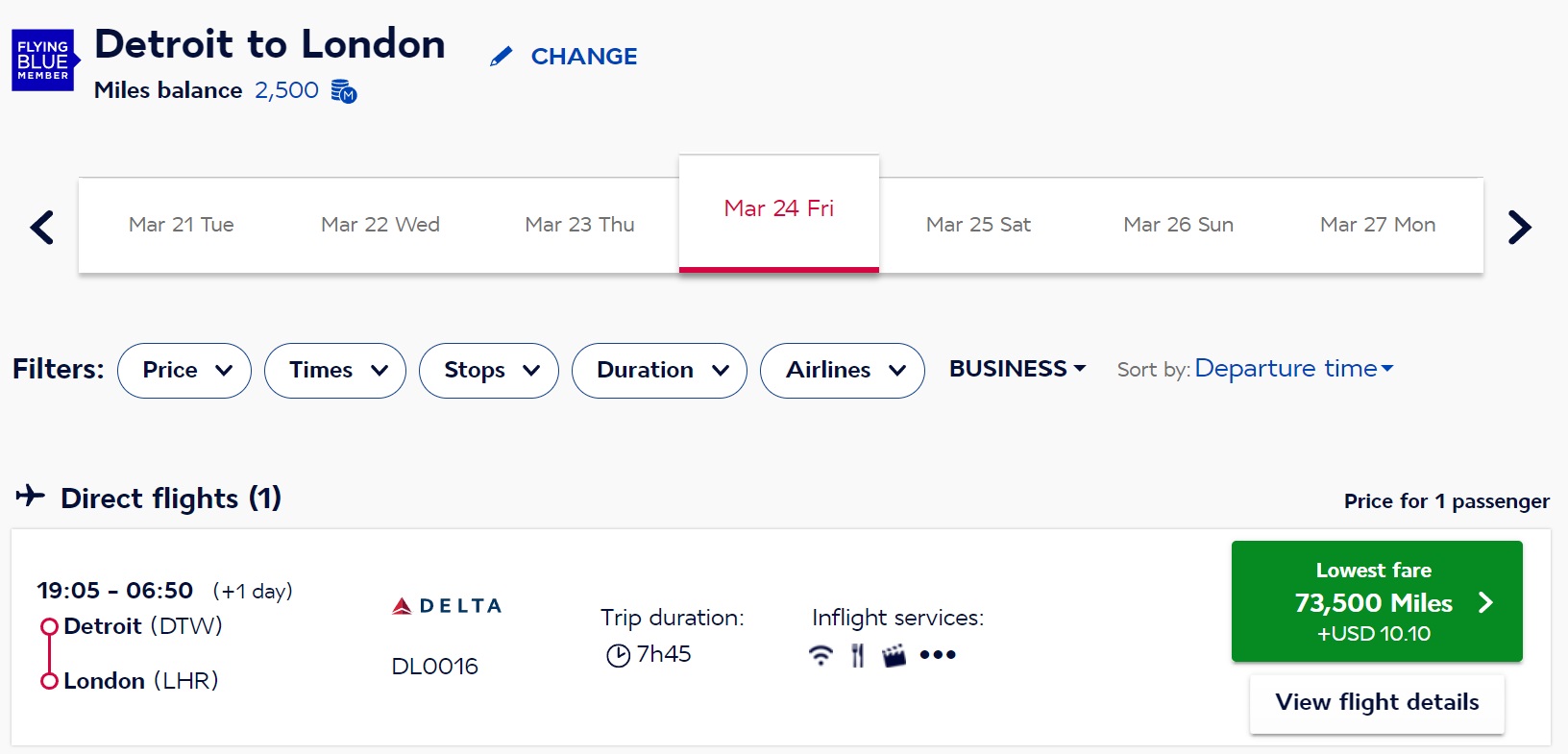 Seats.aero Search
The Search functionality is probably the ideal way to find awards from or to a specific airport.  Unlike most other functions, here you don't have to pick a specific program to search.  This screen searches all of them.  Even though it looks like you have to enter a single airport in the origin and destination fields, you can actually use some codes like "USA" to mean major US airports, "EUR" to mean major European airports, and more.  A list is instantly available by clicking on the words "Learn more about this feature" on the Search screen.
At first I tried simply searching for all business class awards from Detroit to EUR (i.e. to major airports in Europe), but I was overwhelmed by Lufthansa award availability (which is a nice problem to have!).  So, for the purpose of this post, I limited the carriers to Delta, Air France, AeroMexico, and Royal Jordanian (I didn't really need the last two to find awards to Europe, but I was simply being thorough).  I also limited the results to nonstop only.
At first, as you can see above, there were no matches.  So, I changed the date of the search to two weeks later.  Again, nothing.  I kept repeating until I got something good:
Via Virgin Atlantic there were two dates in late July with business class awards to Paris.  I searched Virgin Atlantic's website for this route and found that the July 29th awards were already gone, but July 31st was still available for two people flying Air France:
Seats.aero Create alerts
Since we're looking for cool award flights from DTW, it seems to make sense to create alerts "For specific departure or arrival airports".  You can create alerts for searching up to 5 months into the future with the free version of the tool or up to 12 months out with the Pro version.
With these alerts, you have to pick a program to search (e.g. AA, Avianca LifeMiles, Etihad, etc.).  Next you can pick an airport and specify whether you're looking for departing or arriving flights.  Next pick the date range to search.  Finally, pick which cabins interest you: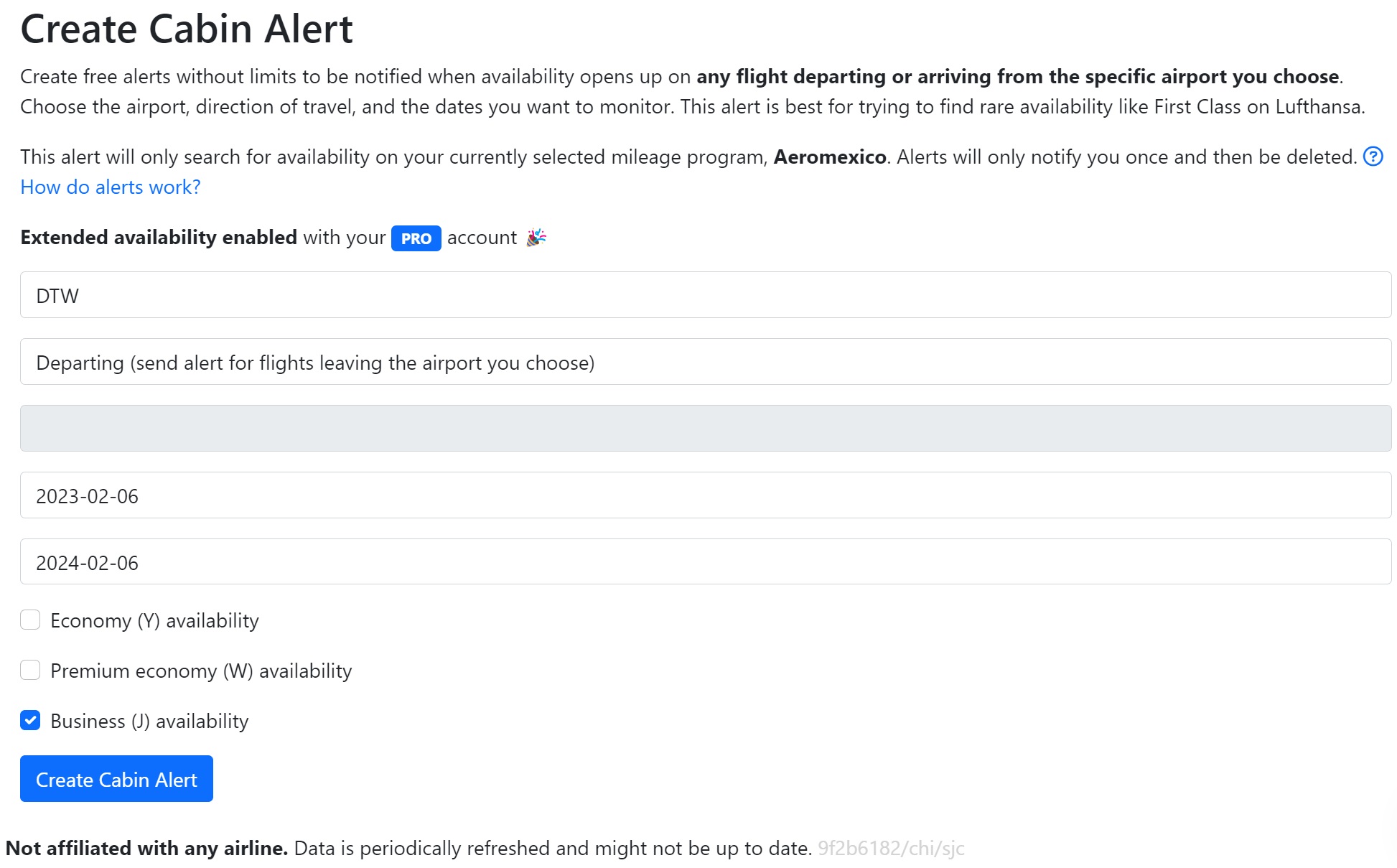 As soon as the system finds a single flight that meets your search criteria, it sends you an email and deletes the alert.  Unfortunately, there doesn't appear to be a way to specify nonstop flights only.  That's a problem because it limits the utility.  For example, I tried to use alerts to find Royal Jordanian business class flights to Amman.  The alert emailed me immediately with a result.  It said:
Good news! We discovered availability in your desired cabins for DTW->AMM on 2023-02-08. This flight should now be visible and bookable in search results on the airline's website. Please note that this is the first flight we saw that matches your criteria, but others may be available as well.
Good luck and safe travels! This alert has now been deleted from our database.
When I went to AA to find this award, I discovered that it was a 3 segment route, flying Qatar business class Boston to Doha and then regional first class to Amman:
This could actually be a fun way to fly to Amman, especially since that final first class leg would entitle me to Qatar's first class lounge in Doha.  But as a way of finding nonstop awards to Amman, this approach didn't pan out.
Tools
Delta One Finder
Seats.aero's Delta One Finder tool instantly shows all of the business class awards available through their Virgin Atlantic searches.  It's important to note that it doesn't actually limit results to Delta One.  Results include Virgin Atlantic's own flights as well as Air France and KLM.  When I looked, there were 32 results and only 1 was actually Delta One:
To find the results that offer Delta One between North America and Europe, simply look for the rows where the number of points required equals exactly 50,000.  You can do that by entering "50,000" into the search box:
Lufthansa First Class Finder
Flying Lufthansa international First Class is a truly memorable experience both in the air and also on the ground if you pass through Frankfurt or Munich.  You can avoid Lufthansa's crazy high fuel surcharges by booking through United, Air Canada, or Avianca LifeMiles.  The later offers the best first class prices, by far.  Unfortunately, Lufthansa doesn't release first class award space to partners until 2 weeks before each flight.  Still, if you're flexible, Seats.aero makes it easy to find these opportunities.  Simply select "Lufthansa First Class Finder" from the Tools menu, and you'll instantly see a large number of results.  When writing this, the tool brought up 79 entries:
Lets say you're in Europe and want to fly home to Chicago.  You can put "ORD" in the Search box, click on "Destination" to sort all of the flights to Chicago together, and then quickly see that awards are available on Feb 7 and 8 from Frankfurt to Chicago and that the flights are bookable with both United miles and Avianca LifeMiles:
Now let's assume that you're not actually in Frankfurt at the time.  That's even better.  If you can get Avianca Lifemiles to show you a route where you connect in Frankfurt on your way home to Chicago, you'll benefit in two ways: 1) the Lifemiles price will actually go down a little bit because the first leg will be in economy or business (details here); and 2) you'll get to enjoy the amazing Lufthansa First Class terminal lounge if you have a long enough layover in Frankfurt.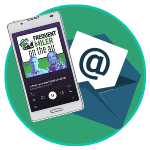 Want to learn more about miles and points?
Subscribe to email updates
 or check out 
our podcast
 on your favorite podcast platform.