A few months ago, Greg wrote a post on a really interesting and promising tool called SeatSpy, which instantly shows a year of award availability at a time (See: SeatSpy: An awesome tool for finding BA and Virgin award flights). The currently usefulness for US-based flyers has been limited because they began with award availability only for British Airways and Virgin Atlantic. They have now expanded to include Air France / KLM and are actively working on adding US airlines to the mix. While the tool was initially free, they have added subscription levels as they have expanded and are set to increase prices at midnight (UK time) on May 26th. Whether it is worth signing up before the changes is a bit of a gamble for sure, but we thought it was worth alerting readers to the coming change.
The Deal
SeatSpy is offering discounted "Founder Member" rates for their Premium (free 3-month trial, then £1.99/mo for life) and First Class (£2.99/mo for life) subscription levels until midnight (UK time) on 5/26/20
Key Terms
Quick Thoughts
It's worth noting to start that SeatSpy offers a totally free "Economy" tier for those who just want to run British Airways award searches and set alerts on BA flights. Of course, given the high surcharges on British Airways flights, that functionality is limited in its utility to US-based flyers.
However, SeatSpy also offers two paid tiers: "Premium" and "First Class". They are running special deals on those two tiers as a "Founders" deal until May 26th whereby members signing up now would lock in the current pricing for life.
It's worth noting early here two things: first, there is no guarantee that SeatSpy won't add additional tiers in future years nor is there any guarantee that they will add more useful functionality. There's a gamble at play here that probably won't make it worthwhile for all readers. That said, the cost of admission is low enough here that I might join up for a few months to see what happens since I know that they are indeed working on adding US airlines and it could be incredibly useful if it worked as well for US airlines as it does for British Airways.
On that note, here are the costs and included features:
For those of us in the US, the conversions are about $2.45 or $3.67 per month. The Premium membership comes with the benefit of a free 3-month trial before you're charged, giving a chance for a free test drive and the ability to lock in pretty cheap pricing for as long as you care to remain subscribed. That actually seems like a pretty good deal to me since it gives you a chance to see if they make any movement with US airlines in the next three months. Let's imagine that it takes them 6 months to get up and running with a US airline or two — your total all-in cost would be somewhere around $7.50 after the free 3-month trial and 3 months at less than $2.50 per month.
At the same time, I'm considering the First Class membership. I don't know for sure that SeatSpy will become a useful tool for me, but I could see them becoming worth more than $3.67 per month if they get even one US-based airline locked in the way they do with British Airways and I'm able to get instant seat alerts when the seats I want open. Like I said, I don't know that they'll succeed, but as I looked at the offerings I decided that I'd probably be willing to bet $50 with the hope that they do. That amount of money would buy more than a year's worth of months at the current exchange rate. I'd have probably spent $50 on something sillier in the travels I'm not doing this year. If they continue to expand and add more airlines, I'll be thrilled with having locked it in for cheap. If they don't, the loss is minimal. Count me very hopeful that they do indeed succeed.
That said, don't take this as a recommendation that anyone else should follow in my footsteps. I'm curious enough to consider it, but not confident enough to recommend it. It just seemed worth reporting for readers to look at and consider for themselves.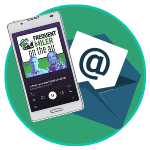 Want to learn more about miles and points?
Subscribe to email updates
 or check out 
our podcast
 on your favorite podcast platform.