Last month I wrote about a new prepaid product designed for global travelers: Revolut.  Revolut is both a smart phone app and a prepaid debit card.  Theoretically, it's perfect for global travelers: there are no fees (no foreign transaction fees, no currency exchange fees, no ATM fees… you get the idea) and it has true chip and pin capability.
Ideally, one could use the card to avoid many of the expenses associated with international travel.  You can load money before traveling, use the card while traveling, then withdraw the balance when you return home.  Unfortunately, not only is the product plagued with bugs, but if you're US based, you're likely to incur hefty fees.  I'll explain…
The company behind Revolut is based in England.  And, my guess is that the product works well for those based in the UK.  US residents, though, are likely to run into problems…
Load funds to Revolut: Pay a foreign transaction fee
Funds can be loaded to Revolut via debit cards.  Unfortunately, when I loaded funds to Revolut, my local bank (PNC) charged a foreign transaction fee.  That fee eliminated most of the point of using Revolut in the first place!  On the other hand, Revolut won't charge a fee when using ATMs (but the ATM operator often will) so there may still be savings there.  Still, most people would be much better off using a debit card that refunds ATM fees and does not charge foreign transaction fees.  A great example is the debit card that comes with the Schwab Bank High Yield Investor Checking Account.
Withdraw funds from Revolut: Pay a $20 international transfer fee
In my first post about Revolut, I described how the Revolut app offers the option to withdraw funds to a US bank account via a routing number and account number.  Unfortunately, while that option is there, it does not actually work.  Instead, you have to do an international transfer to withdraw your funds.  I checked my various bank accounts and found one that doesn't charge a fee for accepting international transfers.  I then transferred $150 from my Revolut account to my bank account.  A few days later, $130 appeared in my account.  Where did the other $20 go?
I contacted Revolut support.  In a few days they got back to me.  They said that their payment provider didn't charge a fee, but that it must have been my bank or an intermediary bank that charged $20.
I called my bank and talked to a wire transfer specialist who assured me that they did not charge the fee.  They suggested asking Revolut to put a trace on the exchange.  I conveyed that message back to Revolut.
Nine days later, I got this:
Sorry about the extremely later response our payment provider got back to me yesterday stating that there was an intermediary bank and they were the ones the charged you.
I replied:
Great. So, will Revolut reimburse the $20?  My understanding was that there would be no fee as long as my bank didn't charge a fee.  I had tried to use the built in functionality of withdrawing directly to a US bank account, but that wasn't working.
And, their answer:
Unfortunately not, we do state in out FAQs that this may occur as the route that the money has to take to get to your account is not in our control. We do pay the initial SWIFT fee for the funds to be sent from Barclays but after that we have no control of the fees or the path the money takes.
Sigh.
One great Revolut feature
After setting up your Revolut account, you can request a physical Revolut card from the app.  And, it comes in the best packaging ever.  Check this out: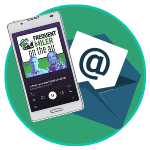 Want to learn more about miles and points?
Subscribe to email updates
 or check out 
our podcast
 on your favorite podcast platform.