There are not many of these in stock still, so I debated whether or not to post this but determined that at least a handful of readers could score a smokin' deal: some Briggs & Riley bags are as much as half off at Zappos (though most that are discounted are more like 40% off). The same bags are also available via Amazon also sold by Zappos. We just don't often see big discounts on Briggs & Riley bags, so this seemed worth posting for those who can get in fast.
The Deal
Zappos.com is offering 40-50% off on select models of Briggs & Riley bags. Colors and quantities are extremely limited
Quick Thoughts
First up: set expectations low. Then ratchet them down a notch or two further. Available quantities are extremely low (think 1-6). I would not at all be surprised if orders exceed stock and some get cancelled.
That said, it's kind of like a refundable lottery ticket: if your order gets fulfilled, you'll feel like a winner. If it gets canceled, you'll get your money back. Don't book a trip today revolving around your ability to use your new Briggs & Riley bag.
I should also note that I have not extensively shopped for a deal on Briggs & Riley. If you're aware of other places to get a deal on these bags, share with other readers in the comments.
If I hadn't just bought a carry-on earlier this year, I'd probably consider the Sympatico. Red is down to $289 (compare to $579 for the same color at eBags). The brown color is $319. While much more than the $130 I spent on my Muji bag, I might have sprung for it on these knowing the reputation Briggs & Riley has both for quality and service.
I'd be further interested since I years ago signed up for some sort of free Zappos membership that offered free overnight shipping "until the cows come home" (that's how they actually billed it at the time). If I could only figure out my account login information, I'd definitely consider ordering for (free) overnight processing to enhance my odds of winning the luggage lottery. The same bags are also available on Amazon, but fulfilled by Zappos. By pure guess is that they would fulfill Zappos.com orders first, but your guess is as good as mine.
See the link under "The Deal" to see all Briggs & Riley bags at Zappos and then hunt around for the ones on sale.
Best of luck if you decide to order.
H/T: Slickdeals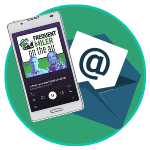 Want to learn more about miles and points?
Subscribe to email updates
 or check out 
our podcast
 on your favorite podcast platform.