Earlier, I posted some ways to stack a deal on Tumi luggage. I'm in the market for a new carry-on bag, but I won't be buying one from Tumi. I just ordered another brand on sale today that I'm excited about and I wanted to write about why. To be clear, we have no affiliate relationship here — this is not any kind of paid advertisement / commission deal, I'm just writing about this because I stumbled on this brand a few years ago and personally love it and this is a pretty rare chance to snag a deal on it. This post is half deal and half product review, so if you want to skip the story, jump right down to the section titled, "Muji sale".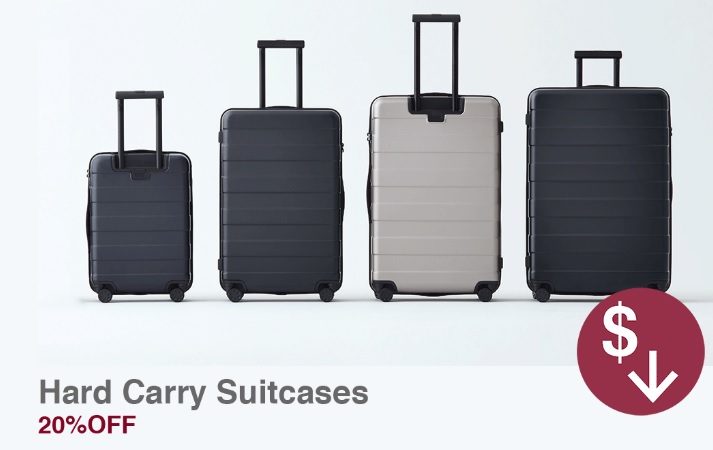 The Deal
Japanese retailer Muji is offering 20% off on their hard-sided luggage
Stack an additional 10% off by signing up for the email list (which should give you coupon code welcome10)
Why I like Muji bags
My wife and I had been together for years before we got married. When we finally tied the knot, we used our miles and points to jump off on a 4-month round-the-world honeymoon. Mere weeks into the trip, a wheel on one of our super-cheap no-name brand bags started to cave in and it locked up. After dragging it several blocks up a sidewalk in Paris with a locked wheel, the friction created enough heat to give me a nice little burn on my hand when I went to pick it up. It was time for a new bag.
We went looking at luggage stores and had sticker shock over the name brands, having long been frugal absolute cheapskates when it came to luggage. The "quality" bags we were now looking at buying in Europe would eat up several days of our food budget for the trip and we weren't too keen on that.
We managed to get by with the broken bag a couple of weeks and hobbled our way into our next stop, Japan, embarrassed as anything as the woman who greeted us at the Conrad Tokyo struggled to drag our wheel-locked duct-tapped bag into the hotel and across the floor. It was time to do something.
We went shopping in Tokyo and still didn't love the prices. Then we stumbled into a Japanese store called Muji, having never heard of it before but having seen luggage in the window. The bags were considerably more economical than the name-brands we had previously considered, but they were still more expensive than any bags we had bought previously. I was hesitant to spend a couple hundred bucks per bag on a brand I'd never heard of. What's more, we didn't love the suitcases. That made me more hesitant to spend a couple hundred bucks a bag. Was I going to spend two or three hundred bucks a bag on these and then realize in six months that I really wanted the four or five hundred dollar bags? These bags weren't as light as whatever the ultra-light Samsonite bags of the day were. At the time, Muji didn't have stores in the US, so a warranty was basically out the window (apart from the credit card of course). And they didn't look particularly stylish to me. On the flip side, they had the space we needed. They had a wheel-locking mechanism to stop the bag from rolling on a train or hill and I liked that idea. They were fine for what we needed, but I wasn't excited about them. I didn't feel great about dropping hundreds of dollars on something I wasn't excited about.
We went back to the Conrad to sleep on it. At the hotel, I checked out Muji's website and found this explanation of their products:
This is because we do not make objects to entice responses of strong affinity,
like, "This is what I really want" or, "I must have this."
MUJI's goal is to give customers a rational satisfaction, expressed not with,
"This is what I really want" but with "This will do."
"This is what I really want" expresses both faint egoism and discord,
while "This will do" expresses conciliatory reasoning.
In fact, it may even incorporate resignation and a little dissatisfaction.
MUJI's goal is to sweep away that slight dissatisfaction, and raise the level of the response,
"This will do" to one filled with clarity and confidence.
That was too funny to me as it described precisely why I was hesitant. They were right. These would do.
Years later, our full-sized checked luggage is now all Muji. We originally bought two bags. We've had to replace one bag that we absolutely abused (our fault it broke). When we replaced that bag, we actually bought two (now having a total of 3 full-size bags). We have come to love them. On our recent trip, this picture shows two checked bags weighing 48 and 49 lbs each, with a full-sized car seat on top of one and a carry-on bag of assorted baby stuff. I glided that through the airport in just my right hand.
A family member used one of our bags recently and commented on how she couldn't believe how smoothly it glided across the floor in the airport. I want to emphasize that I do not think Muji bags are "better" than Briggs & Riley, Rimowa, or the other bags that come at several times the cost. But in my opinion, they are a solid value and (I think) better than other bags in the same price range. If you're not looking to shell out $400 or $500 or more on a bag, but you want a better bag than the $89.99 3-bag spinner set you see advertised at the department store, I think these are really a decent option.
Until now, I haven't bought a Muji carry-on. I had a functional carry-on that didn't need to be replaced, so I wasn't going to spend the money on a bag I didn't need. Over the past couple of years, it's been getting worn pretty well. I spent half of January and most of February traveling, and during that trip the handle of my carry-on bag finally broke. When that happened, I got on the Muji website interested in finally ordering their carry-on….and they were sold out of it. I actually couldn't even find the carry-on size on the website. I Googled it and came across a link to somewhere on the Muji site that showed the picture, but no way to add it to the cart. I was immediately regretful and mentioned it to my wife. I hopped on Amazon and third-party sellers were offering it for $350 or $400. I think Muji bags are a deal, but that's because they don't cost that much. I'd definitely take that Tumi Alpha 2 International carry-on in the post I wrote earlier over the Muji bag if I were willing to spend that much.
Muji sale
But then today, when I was writing up the Tumi sale I posted earlier, I decided to check the Muji site again in the off chance that supply just ebbs and flows on the bags. I was pleasantly surprised when I found that not only are they stocking all of the various sizes right now (and in beige, black, and navy on most of the models), but they are on sale. And there is a stacking 10% off coupon code when you sign up for the mailing list (it doesn't look unique — welcome10 — but I'm not sure whether or not it'll apply if you don't join the mailing list). They sell the bag in 3 sizes: 35L (carry-on size), 62L, and 87L. I own two of the large size bags (plus one 102L size that they only sold in Japan). Here are the sale prices, before the 10% off and before shipping, which adds an additional cost (I believe it's a flat $18.95 under $200 or a flat $25.95 on orders over $200, meaning that the 10% discount more or less amounts to "free shipping" as the discount gets wiped out by the shipping charge).
As you can see, those are considerably less expensive than well-known brands and yet more expensive than you'd expect for something you've never heard of. I'm sure that readers will chime in with worthwhile bags you should consider instead of these, and there may be good suggestions in the comments. On the flip side, like I said, my wife and I have been very happy with Muji. Here's a review from Map Happy that was written in 2014 that sums up most of the key features of these bags and with which I'd mostly agree.
I paid approximately those crossed-out prices for my larger Muji bags. With this sale, I just bought two of the 35L carry-ons for me and my wife. I mostly bought one for her because I knew that if I only bought one, I'd end up getting stuck lugging her old carry-on as I know this will move more smoothly than that bag (my Uncle Angel always used to say, "Marriage means a $0.50 hot dog costs you a dollar because you've gotta buy one for her, too"). And what's more, two bags with shipping and tax (Muji now has a store in my home state) comes to less than the cost of one of the Tumi bags I wrote about earlier.
Bottom line
While the prices in this sale are likely higher than you'd expect for a brand with which you may not be familiar, I think these are a solid value for those not looking to spend Tumi / Briggs & Riley-level money. These bags are not as durable as what I imagine a Briggs & Riley or Rimowa bag to be, but at this price point they don't have to be. They're decently durable and very functional and they don't attract as much attention as a fancy brand name bag. They're not exciting, but they'll do for me.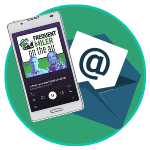 Want to learn more about miles and points?
Subscribe to email updates
 or check out 
our podcast
 on your favorite podcast platform.