For our Party of 5 trip this past June, our whole team traveled together for 2 weeks, starting with a flight from San Francisco to Tokyo on a Japan Airlines Business Class flight which Tim reviewed here. Check out his post for a full review, but in this post I'll give a super quick "how to" for requesting a special menu in advance, and what I would do for my Vegetarian meal next time.
How to select a Vegetarian meal on a JAL flight
Selecting your special meal online for a JAL flight is pretty simple. If you're making this selection after your initial purchase like I did, you'll want to pull up your flight on JAL's website by entering your flight details (flight number, boarding date, first and last name, and reservation number) and clicking "Booking Details".
You'll see your flight on this page, and from there you'll want to click the "Services (seats, in-flight meals, optional extras)" button.
From the next screen, you'll have to scroll down to the 'Show Details' button. Then, you'll be able to pick from a large variety of special meals. (So many in fact that you may want to visit this page to understand which kind of special menu you want.)
I went with "Vegetarian Lacto-Ovo Meal", which represents my version of Vegetarianism (allowing for eggs and milk.)
What did I get for my Vegetarian Lacto-Ovo Meal?
As I was getting settled in, the flight attendant introduced herself and confirmed my special-meal status. She also confirmed that eggs and milk were ok with me.
Hors d'oeuvre: Everything started great with hummus that tasted homemade, and sliced veggies.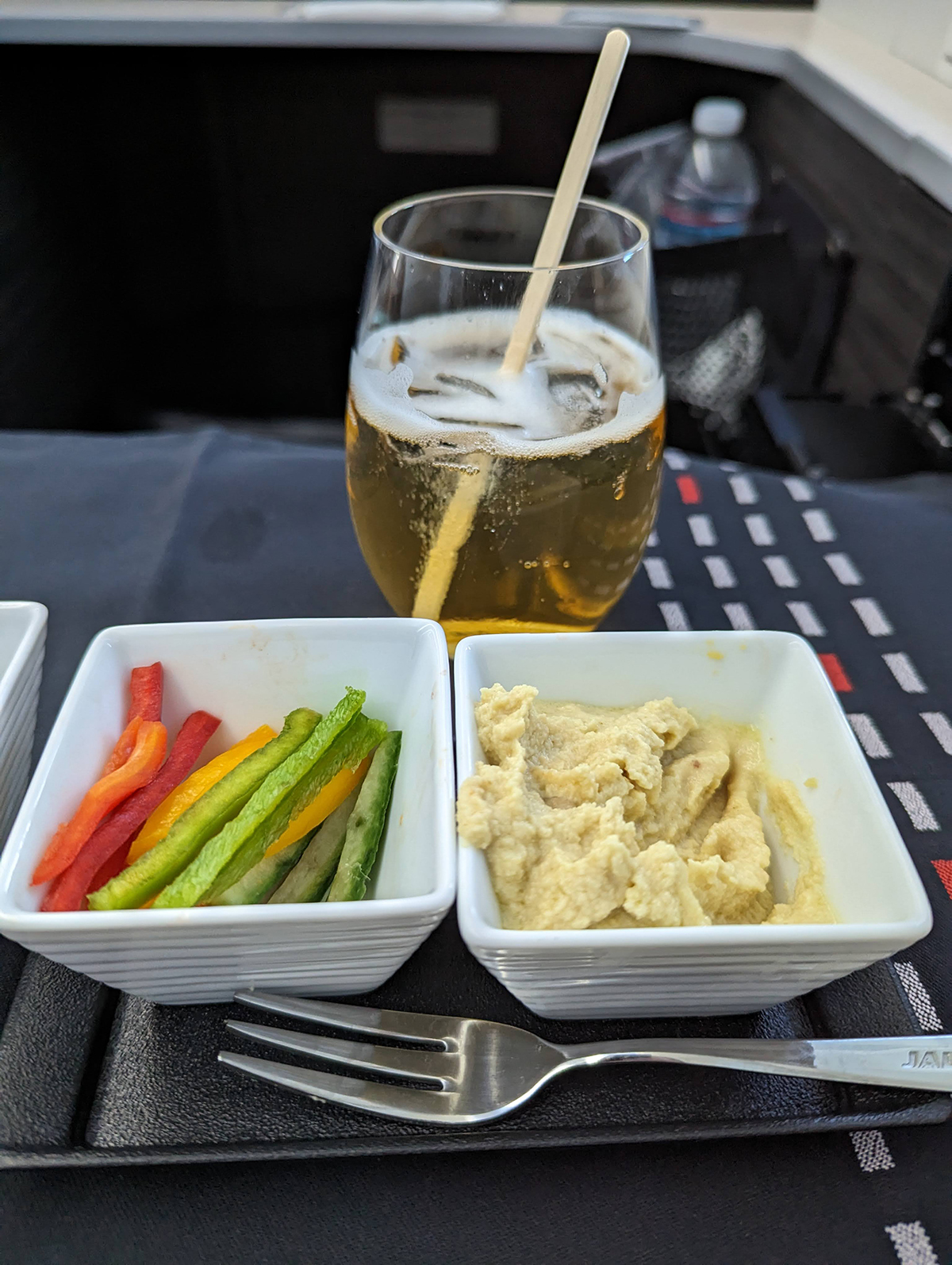 Salad: Next up was a very simple salad which was essentially steamed veggies and cucumbers on lettuce and an olive-oil and balsamic vinegar dressing. This came with a roll and a butter-substitute.
It's not uncommon for restaurants to lump Vegan and Vegetarian dishes into one to kill two birds with one stone so to speak, and that's the vibe I was getting from my meal, despite the flight attendant clarifying with me that eggs and dairy were ok.
This made me curious what the main meal would be.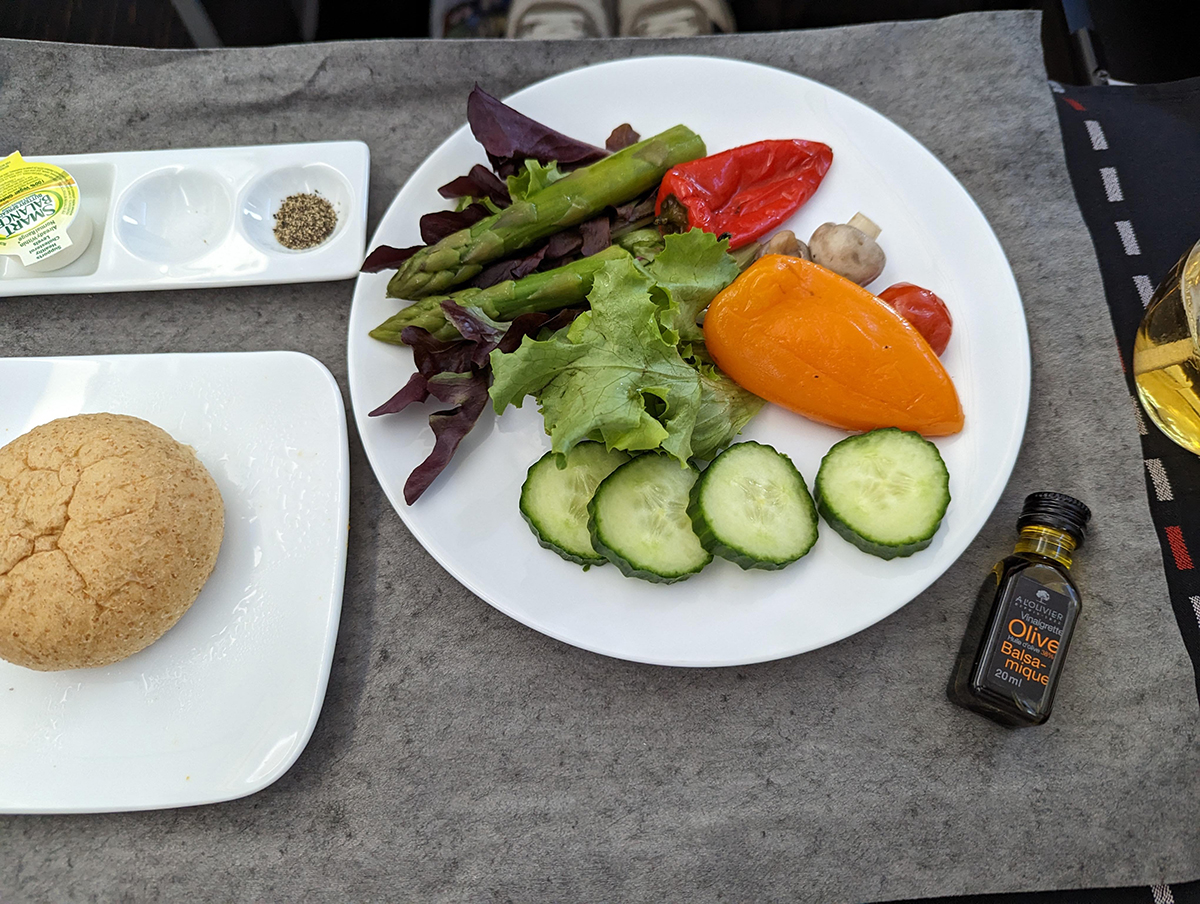 Main Meal: The main meal was, again, really more vegan than vegetarian, even though the website and the flight attendant indicated dairy and eggs could be included. I have no issue with Vegan food. My main disappointment was that there wasn't any kind of seasoning, or flavoring. Thankfully I had some balsamic vinegar left from my salad.
(To contrast this, a week later on our ANA first class flight in "The Suites", despite the rest of the gang being overall disappointed with the catering on that flight, I was thrilled their Vegetarian dishes were thoughtful and flavorful.)
Here's what I'd do next time…
For the next meal I simply requested a Vegetarian risotto from the "Anytime You Wish" menu.
I know some folks have to be strict with their Vegetarian diets, either for reasons of health, religion, or just principal. So the following strategy wouldn't work for everyone. But for me, I can gamble a bit. I'm not a very big eater anyway, so I would have preferred starting with the standard menu and just leaving out whatever I couldn't eat.
For instance as you can see on the "Western Menu" below, the Vegetarian Tomato Kale & Orzo Risotto is actually offered as a main dish selection option. And I could have simply requested to skip the hors d'oeuvre, which was not Vegetarian.
The Tomato & Kale Orzo Risotto (which I ordered from the "Anytime menu" was significantly better than the plain rice and steamed veggies.
What's your preference?
I don't know how many Vegetarians we have out there in our readership, but for the folks who also have these kinds of special-menu decisions to make, what's your preference? Do you gamble with the standard meals, or do you special-request in advance?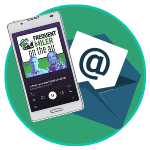 Want to learn more about miles and points?
Subscribe to email updates
 or check out 
our podcast
 on your favorite podcast platform.