Elite status in the right loyalty program can make a trip smoother, more comfortable, or sometimes save you money. Ordinarily, earning elite status requires loyalty to one company over others, but sometimes there is a shortcut: turn status you have (perhaps thanks to a credit card or promotion) into the status you want. If you shop your status around, you might even be able to move your way up the loyalty ladder without any travel at all. That's exactly what I helped my mother-in-law do recently, starting with zero car rental status and making her way up the ladder to top-tier Hertz President's Circle status without leaving home.
Despite some recovery of the leisure travel market, travel on the whole (and especially the lucrative business travel market) is way down over a couple of years ago. As a result, companies are creating shortcuts to elite status like increasing earnings and rolling over credit into next year, giving extra credit for last year's activity, or adding ways for credit cards to help. It should therefore come as no surprise that status matching opportunities abound right now.
My family has a wedding to attend this fall and my in-laws, who aren't frequent travelers, will need to rent a car. Since we recently convinced my mother-in-law to take a swing at travel rewards with the Amex Platinum card (under the expectation that she'll cash out via Schwab down the road). I know that the Platinum card comes with rental car elite status, but I wondered whether we could parlay the free status into even more meaningful elite status — and we did. Here's the story of how we shopped around my mother-in-law's free Hertz Five Star Status to bring it full circle back to Hertz President's Circle status.
Have: Hertz Five Star; Want: Hertz President's Circle
Rental cars are expensive right now (I don't need to say that twice for anyone who has traveled lately). As it turns out, Hertz is the most reasonably-priced out of the options that fit my in-laws' needs and wants for their upcoming rental. The Amex Platinum card gives my mother-in-law Hertz Five Star Status, which means she can rent a midsize car (thanks to Thomas in the comments) and then choose from the Five Star section at the airport. I've gotten some reasonably nice cars in the past with Hertz Five Star status.
However, top-tier President's Circle status would provide the widest choice selection, possibly giving my in-laws the chance to drive a more exotic car than they ordinarily would (obviously selection could be absolutely no cars these days or very run-of-the-mill sedans, but you've got to be in it to win it). Luckily, Hertz offers a status match from some competing programs. To that end, the Amex Platinum would give her National Executive status, but that only matches to Hertz Five Star according to the Hertz Status Match page.
In order to get Hertz President's Circle, I would need to get her high-level status in Avis, Enterprise, or National (the latter would need to be National Executive Elite, which is higher than what you get with the Platinum card). A couple of years ago, there was a promo for Amex cardholders to get National Executive Elite status with any Amex card and that status has stuck around for my wife and I, so we found the match to Hertz President's Circle very easy for us, but for my mother-in-law it would require a few more steps.
First, she had to sign up for a Hertz Gold Plus account. She logged in to her Amex Platinum account, navigated to "Benefits", then "Premium Rental Car Status" (click "learn more" in that section). From there, Amex provides a link directly to Hertz to sign up and get your Five Star status. That only took a couple of minutes. Then the hunt was on to elevate her status beyond Five Star.
Ultimately, I had to reverse-engineer things. I looked for status match opportunities with Avis, Enterprise, and National to see what status she would need to have in order to match to one of the statuses above that would get one President's Circle and then I worked my way backwards to find a path from Hertz Five Star to get to Avis President's Club, Enterprise Plus Platinum, or National Executive Elite (the other Avis status above requires 25 rentals, so that wouldn't work). I ultimately decided that the easiest path would be to get Avis status, but that involved a sideways slide into Sixt status for starters.
Matching Hertz Five Star (from Amex Platinum) to Sixt Platinum
Sixt rental car offers a status match whereby they'll quickly match your status with other rental car programs. According to the "Sixt Status Match Program" section on this page:
If you have a loyalty card from another car rental company******, SIXT can match it. Our status match program is free and lets you get a comparable SIXT loyalty card in only a couple of easy steps. Just click on the link below, choose your car rental company's loyalty status level and enter your contact information. After that, you will be matched accordingly to the equivalent SIXT loyalty status and can access your benefits right away.
Sixt offers three levels of status: Gold, Platinum, and Diamond. Gold ordinarily requires 3 rentals, Platinum requires 10 rentals, and Diamond is by invitation. Based on what I had seen on this Avis status matching page, I knew that my mother-in-law only needed to get Sixt Platinum in order to have a shot at matching to Avis President's Club. I was therefore happy to find this fine print at the bottom of the Sixt page linked above that adds a bit more detail. The bold font here is mine:
****** Here are some examples of the loyalty status match with SIXT. You can switch from Hertz Gold, Europcar Privilege Club, Avis Preferred, Enterprise Plus, and more to SIXT Gold. If you have Hertz Five Star & President, Europcar Privilege Executive, Europcar Privilege Elite, Europcar Privilege Elite VIP, Avis President's Club status or equivalent, you will invited you to join the SIXT Platinum tier.
Bingo! Hertz Five Star (free from the Amex Platinum card) would be enough to get Sixt Platinum status. She went ahead and clicked "Get matched" on the Sixt site and submitted a screen shot of her Hertz Five Star status. To my surprise, the status match was basically instant — she submitted her screen shot and then had Sixt elite status moments later. I thought to myself, "This leaves me four degrees from Kevin Bacon. If I somehow parlay all of this into her meeting Kevin Bacon, I may earn lifetime Preferred (son-in-law) status".
It is worth noting that the matched Sixt status showed up as a second profile in her Sixt account and the profile was named something like "Sixt Platinum Status Match" (under the "Profile name" section below).
I helped her change the profile name to her name (instead of "Sixt Platinum Status Match") and she added her address under the invoice address figuring that the additional identifying info would help her match this status onward.
Sixt Platinum was lightning quick. Avis was anything but.
Matching Sixt Platinum to Avis
I thought I had hit the jackpot because I had previously checked out this chart from an Avis Status Match page: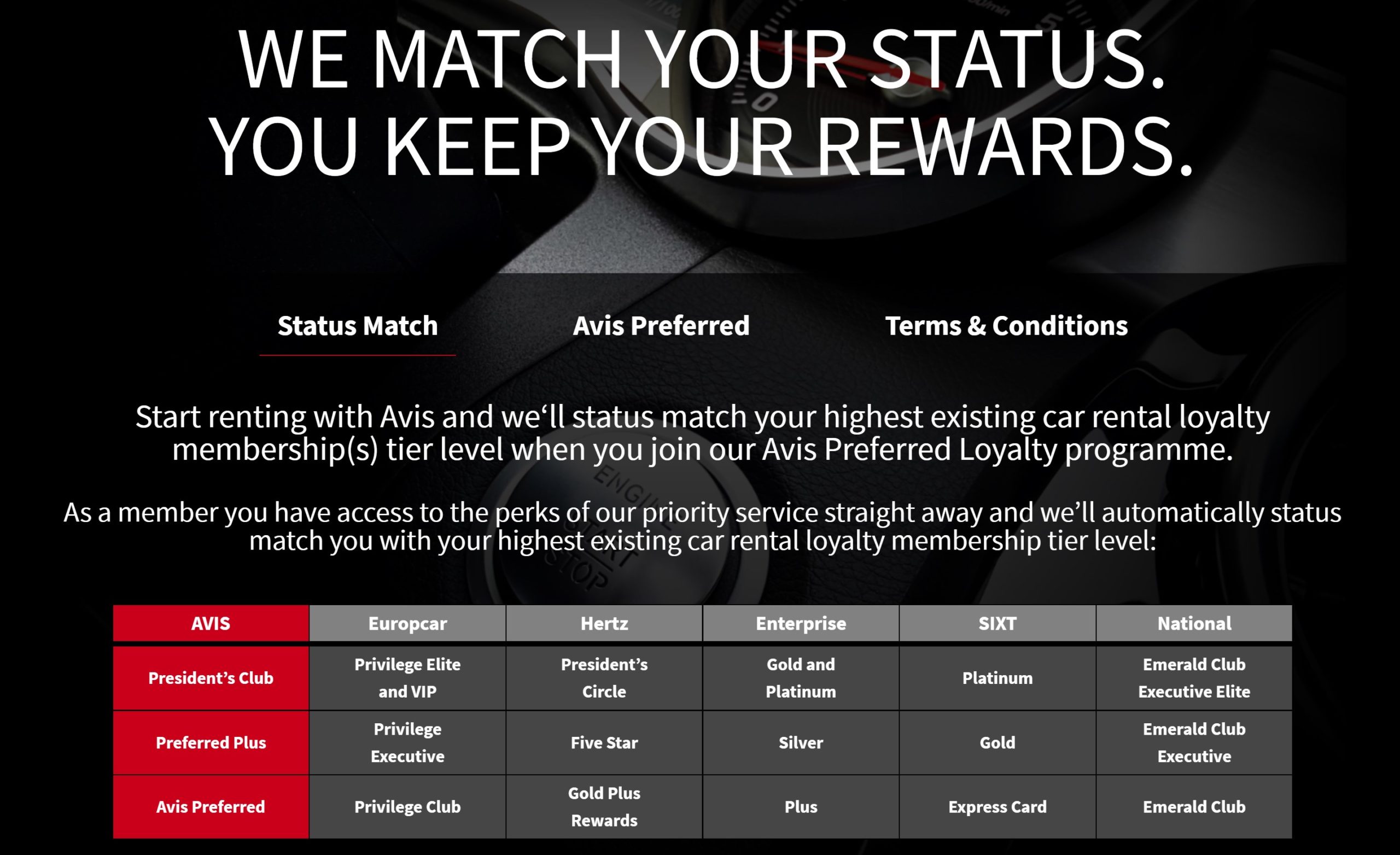 As you can see, that page shows Sixt Platinum matching to top-tier Avis President's Club. Actually, Avis also has a Chairman's Club. While Avis publishes the requirements for Preferred and Preferred Plus, both President's Club and Chairman's Club are invitation-only. Being able to match her newfound Sixt Platinum status to invitation-only Avis President's Club status sounded awesome. It looked like a slam dunk! Until….we got to the section of the form that asked for country of residence…
Apparently, I had stumbled on a status match for Avis in Europe. I found another link to status matching at Avis North America, but that form didn't indicate what level Sixt Platinum would get and I wasn't looking to get Avis Preferred Plus since Hertz would want to see 25 rentals for President's Club. We needed Avis President's Club status.
We took a swing at the Avis Europe match. My mother-in-law has some Irish blood, so I hoped we could use the residence of her ancestry and that would be good enough. It wasn't. About a week later came the email:
Dear [Name],

Thank you for contacting Avis Ireland.

Unfortunately, your profile resides in US and we don't have access to it. You need to contact your origin country customer service in search of assistance with your account.

USA contact details:
https://www.avis.com/en/customer-service
But her heart resides in Ireland! Alas, swing and a miss. Bummer. It was disappointing, but we wouldn't be deterred.
I went ahead and filled out a form for the Avis USA status match (for some reason, I can no longer find the link). After hitting "submit", it showed a message saying that someone would get back to us within a few days or it gave a contact person to reach with any questions. When my mother-in-law hadn't heard anything from Avis a week and a half later, she reached out to the woman listed via email.
To Whom It May Concern:

I am writing today because I recently submitted a status match request on the website and I haven't heard back. I totally understand how things get buried in one's inbox, so I figured I'd write one more time before I start making my fall travel arrangements.

I am attaching my Sixt Platinum card and I was hoping to be matched to 

Avis

 President's Club status based on what I had seen here: 

https://www.

avis

–preferred.com/statusmatch/

. Like many other folks, my travel came to a screeching halt with the pandemic but I am ready to hit the gas again and when I do I hope it can be in an 

Avis

 car.

Thank you very much for your time and assistance,

[Name]
Unfortunately, it seems that the person it said to contact handles business activations, not personal accounts. Predictably, she said that the page we were referencing was for Europe and she provided an email address to contact for Avis personal status matches in the US: profile.update@avisbudget.com. I've also seen that address listed elsewhere and should have just started there since the online form seemed to go nowhere.
My mother-in-law sent the same email again asking for a match to Avis President's Club from Sixt Platinum. Truthfully, I expected Avis to match to Preferred Plus status, but I figured that explicitly asking for what she wanted – Avis President's Club – wouldn't hurt. Sure enough, a few days later came the email from Avis which simply said, "I have status matched you to Avis President's Club status". Whoomp! There it is.
And just like that the mission was nearly accomplished.
Matching Avis President's Club to Hertz President's Circle
The last step of the process wasn't quite as smooth as I'd hoped, but it wasn't bad. We tried filling out the Hertz status match form on this page, but kept getting an error saying that her Hertz Gold Plus number was not on file and if it was newly created she would need to wait 48 hours. At this point, she had created the account a few weeks ago, so the error didn't make sense. We got the same error in multiple browsers and it just wouldn't submit the form (my wife and I had no difficulty with it for some reason).
I saw other similar reports of difficulty at statusmatcher.com. One person noted having emailed hertzstatusmatch@hertz.com, and that did the trick. Soon enough, my mother-in-law had gone from zero to hero on the rental car status-match-go-round with a few clicks of the mouse and strokes of the keyboard.
I've always been partial to National Executive or Executive Elite status, but in this case Hertz had a much better price (hundreds less). My mother-in-law has reserved a compact midsize car and that should enable her to pick anything from the President's Circle section when she arrives. Here's hoping for something cool on the lot on a Saturday night.
If you don't have the Amex Platinum, there may be other paths
Some readers will note that this "shortcut" involved a high annual fee given that my mother-in-law needed the Amex Platinum card to start this train in motion. Since the offer on the Platinum card is amazing right now, getting a Platinum card should be on your radar if you are eligible. However, hope isn't lost for those without a Platinum card.
National Car Rental also offers a status match. In National's case, they will not only match other car rental companies, but they will also match your airline or hotel elite status. If you have Hilton Gold thanks to the Surpass card or Wyndham Diamond thanks to one of the Wyndham credit cards, you should be able to match to at least National Executive status here. That will still leave you a few degrees short of Hertz President's Circle, but given how quick Sixt was to match to Platinum status, you may not be that far off at all.
Bottom line
While a lot of focus has been on shortcuts to elite status this year, one shortcut that is always present and is in some ways easier than ever is the status match. I wondered whether it would be possible for my mother-in-law to start with free status from a credit card and parlay that into top-tier rental car status. She now has both Avis President's Club and top-tier Hertz President's Circle status without leaving the comfort of home. Unfortunately, her rental still won't be cheap, but she'll be able to rent the almost-cheapest car category and hopefully drive off the lot with something that feels better than paying an arm and a leg for a basic car. Now it's your turn at the wheel: if you're shopping for car rental elite status, put the pedal to the metal and you just may drive away feeling like your rental car was worth that second mortgage after all.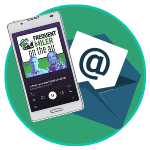 Want to learn more about miles and points?
Subscribe to email updates
 or check out 
our podcast
 on your favorite podcast platform.