Update 2/11 – Slide is selling fixed-value gift cards for Apple, Target and Dick's Sporting Goods.  The Topcashback bonus is still sitting at 17% for new users, so you can get up to 21% cashback + credit card rewards on Apple purchases when going through Slide as a new user.  Even 12% as an existing user is a level of discount that we don't often see from Apple.  If you haven't signed up for Slide yet and you have an Apple purchase on the horizon, now might be the time.
Note that, unlike most Slide brands, these are only available in fixed-value denominations (up to $500).  This means that, if you are a new user, you can only get 21% off of the first $500 in GC.  After that, you'll be an existing user and "only" get 12% (up to Slide's $2000/day maximum).  (h/t: GC Galore)
Topcashback is offering 17% cash back on your first Slide purchase or 6% cash back for existing users. This stacks on top of the standard 4-6% back on gift cards that Slide already offers, so some giftcards can be a great deal. There are a few hurdles to get through with Slide, so it's worth taking a look before you jump in.
The Deal
TopCashBack is offering 17% cash back for new Slide app users on their first purchase (note that you can't pre-fund your account or you'll be counted as an existing user and only get 6%). Existing users get 4-6% cash back depending on how they fund their account.
If you're new to the Slide app, you can get $5 off each of your first 4 orders when signing up through a referral link (and the person who refers you will also get $5 off each of our next 4 orders as well). Feel free to sign up with one of our links:
Key Terms
Pre-funding your Slide Balance is not eligible for cash back but the transaction of funding the account does count as a first transaction, therefore making the user an "existing user". Don't pre-fund for your first purchase.
New customer bonus is only valid on a single gift card purchase.
Quick Thoughts
Slide offers a standard rate of 4%-6% cash back across the board, while Topcashback normally has portal rates of 15% for new users and 4% for existing users, making this a nice offer but not as good as the 30% we were seeing at the end of last year.  Still, 12% cash back for existing users is still a pretty good incentive
If you're new to Slide, here's the basic procedure:
Sign up for Slide through a referral link and create an account (using a referral gets you an additional $5 off each of your first 4 orders)
Click through TopCashBack on your phone to go to the Slide app and buy a gift card.
When making your first purchase with the Slide app (and clicking through TCB) you should receive the following for a $105 gift card purchase:
$5 off for a net cost of $100 (instant)
$17 back from TopCashBack (can take weeks)
$4 back from the Slide app (available immediately)
If you are an existing user you would only get $4-6 back from TopCashBack (but you will get the $5 discount for each of your first 4 orders when signing up through a referral).
H/T: GC Galore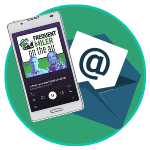 Want to learn more about miles and points?
Subscribe to email updates
 or check out 
our podcast
 on your favorite podcast platform.