Update: It turns out that these offers can not be stacked, with some people reporting that Amex has clawed back the 10% from the Amex Offer when stacking both benefits — even after the account was closed in some cases. That's both surprising and disappointing since the credits are automatic, meaning that there is no opportunity to choose which you'd like to receive. At any rate, don't expect to get both credits.
There's a new targeted Amex Offer out this morning good for 10% back at Dell. This offer is showing up on Amex business cards. I found it on a Business Platinum card, which is awesome because one of the key features of that card is a semi-annual $100 credit for purchases at Dell (once between January and June and once between July and December). If you have this new 10% back offer (good up to $1500 back), you could potentially stack it with a shopping portal and that $100 back for a great deal.
The Deal
Get 10% back at Dell, up to $1500 back, via a new targeted Amex Offer (log in to your account to see if you are targeted)
Key Terms
Expires 1/31/20
Valid only on the US website
Not valid on gift card purchases
Not valid on purchases shipped outside of the US
Quick Thoughts
Again, the key here is the ability to stack with the $100 credit if you find this on the Business Platinum card. Then you'd be able to potentially make some fantastic deals even better. Don't forget that you have to enroll in the Dell benefit before you shop at Dell to get that $100 back on your Business Platinum card. You should find an enrollment link under the "benefits" section when you log into your Amex account.
For example, right now Dell is offering the following laptop deal, which includes a $100 Visa Gift Card (issued by Metabank), for $303.79.
This new Amex Offer would give you 10% back (just over $30) plus you could get $100 back from a Business Platinum card if you still have that credit available for this half of the year. That would drop your net cost down to $173 — and you also get a $100 Visa Gift Card. While this laptop may not have the absolute hottest specs out there, assuming you liquidate the Visa Gift Card for a buck, you'd be looking at a net cost of $74 (plus tax on your $300 purchase). Then consider that you may also be able to get portal cash back based on your $300 purchase and it looks pretty hot.
Note that the terms state that you must purchase at Dell.com/amex. In the past, that hasn't been enforced on similar offers. I'd doubt it will be enforced here, either — though there's always the chance. If you don't want to risk it, you may want to skip shopping through a portal.
It's further nice that this one doesn't expire until 1/31/20. That means you could stack it with the $100 Business Platinum credit both this year and again in January since you should get 10% back on multiple purchases up to $1500 back. I'm in the market for a laptop, so I'm going to keep my eye out for an increased portal rate and the right deal as these two offers combined should work out well for me.
Surely there are plenty of other stacking opportunities. I suggest syncing this one sooner rather than later if you have it available as I imagine it will be popular.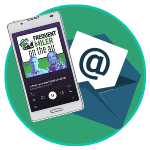 Want to learn more about miles and points?
Subscribe to email updates
 or check out 
our podcast
 on your favorite podcast platform.