Edit: My original math included buying discount gift cards to stack the savings a bit further. Unfortunately, TopCashBack's terms exclude cash back on either the purchase or redemption of gift cards. That adjusts the overall math down a few percentage points and as such I have adjusted the discount to 39.55% off. Thanks to reader Jon for the heads up!
Bloomingdale's currently has a number of discounts that can be stacked for significant savings on a variety of rarely-discounted products — including All-Clad cookware. If you saw my recent post on stacking discounts at eBags for 42.2% off or more on Tumi bags (which is still going on), my deal analysis will be cut from the same cloth, though this time we're going to stack some slightly different discounts.
This methodology will work on a wide range of products at Bloomingdale's. It is best maximized when used with expensive products that aren't frequently discounted. We'll take a look at a set of pots and pans as an example — I chose All-Clad just because it's a brand that is popular and frequently excluded from sales and promotions. This set actually isn't at the sweet spot for maximum savings — so you may do even better. I look forward to hearing about your bargain finds in the comments.  I will save you one or two searches — it doesn't work on Tumi or Rimowa luggage, though it does work on Hartmann if that's your luggage of choice :-).
39.5% off All-Clad Pots and Pans
We're going to look at how to save 39.5% off of the current price on a set of All-Clad cookware.
We're going to look at this All-Clad Stainless Steel Tri-Ply Bonded Dishwasher Safe 10-piece cookware set, which Amazon sells for $699.95:
Of course, Amazon pricing fluctuates. Sometimes, prices can change several times in one day. In order to know more about the real "regular" price, we can use camelcamelcamel.com, a site that tracks Amazon prices. Side note: I find camelcamelcamel to be a very useful tool — you can set alerts to be notified when the price of an item changes or drops below a certain threshold. This can be handy for large purchases that aren't time-sensitive.
But back to the cookware — in the following chart, the green line represents the price of this set, stocked by Amazon, since 2012:
We can see that the price is usually $700 based on data from the last 4+ years. However, it has fluctuated over the past several months, reaching a low point of $392.37. Pricing has mostly been north of $500 since December of 2012. In fact, if we look at the details, we'll find that the average of the past 50 price changes has been $575:
Based on the information above, I would say that anything better than $550 is a pretty good deal on this set. Lower than $500 would be a great deal. Those lucky folks looking at Amazon on the day it went to $392.37 got a smoking deal, and I hate to think that someone got a better deal than I did — so that's my target price.
A glance at the Bloomingdale's website and we see the price is spot on with Amazon at the moment:
---
.
Loyalist Hot Savings
Bloomingdale's Loyalist is the name of the department store's free loyalty program. In order to take advantage of the sale outline here, you'll need to register for a Loyalist account. Note that this isn't the same as having a login for checkout — you need to actually join the Loyalist program. In order to see the discounts, you'll need to be a Loyalist member by clicking here and signing up.
Bloomingdale's Loyalist is currently running a Hot Savings promotion — or, rather, three promotions. This makes it a bit confusing. The deal we're going to focus on is the one on the left in the advertisement above, which gives a tiered discount based on total pre-tax purchase price:
$600 off $2,000 or more
$300 off $1,000-$1,999.99
$125 off $500-$999.99
$50 off $250-$499.99
$25 off $125-$249.99
There is no coupon required — eligible items will automatically reflect the discount when you get to the final checkout page. To find eligible items, you're looking in the search results for items that say "Buy More, Save More":
In addition, almost every item on the site will say "Triple Points".  The triple points aren't worth much, so we'll ignore those. For the purposes of this example, we're focusing on Buy More Save More.  There is a separate promotion where you can earn "power points" that will become a gift card in the future — but that's less attractive as it involves waiting 60 days for the points to post, and those points expire on December 31st whether you use them or not. Items labeled "Buy More, Save More" should be eligible for instant discounts at the rates shown above
---
Stacking a coupon
I first saw the outline of this sale posted at The Reward Boss. He mentioned that there was a discount code for 15% off when signing up for text message alerts. However, when I looked at the site, I only saw 10% off:
Not being one to settle for less than the best discount, I tried some common tricks to see if I could get a better offer. Sometimes, using a different browser or device will influence advertisements. However, none of my devices or browsers showed a 15% off coupon. So I went to TopCashBack to see if they had any coupons. Sure enough, they did:
It says to use "code BLOOMIES when you sign up for text alerts" to receive 20% off your order + cashback. It didn't say where to send that message, but I figured it out on the Bloomingdale's website — you need to text BLOOMIES to 25666.
The problem: I hate giving away my actual cell phone number. I prefer using Google Voice when I can. I pulled up voice.google.com on my computer and fired off a text from my account:
As you can see, it worked!  I sent the code BLOOMIES. I next received a text asking me to confirm by replying with SHOP…..and voila!  I had a single-use coupon for 20% off. But would it stack?
---
 
Portal Cash Back
Most portals exclude cash back on a purchase using a coupon code that is not listed on the portal itself (though we know that in practice this is not always enforced). In this case, TopCashBack provided the code to sign up for mobile coupons and it said "20% off + cashback", so I am confident that TopCashBack will pay out cash back. TopCashBack is currently offering 8% cash back at Bloomingdales. Thus, I began my purchase by clicking through TopCashBack. If you don't have an account, feel free to sign up through our link with our appreciation.
---
Stacking deals
Once at Bloomingdale's, I added the set shown above to my cart. To my surprise, I also qualified for a free gift — an All-Clad Petite Roaster:
Note that is says it costs $2, but they also subtract that much from the total for a net cost of $0.
At the bottom of my cart, it allowed me to enter my coupon code and showed 20% coming off of my total:
It took me a little while to figure out that I had to continue the checkout process to see the dollar-off discount that I expected from the Loyalist sale event. You'll need to continue the checkout process and sign into your account. When you get to the final checkout page (the page where you enter your credit card information), you should see this on the right hand side, showing that you received a free roaster, free shipping, and $125 off in addition to your promo code:
You'll notice that the dollar amount for the 20% off coupon has changed. This is because they have first applied the $125 off promotional savings, then the 20% code. As you can see, the total is $460.28 — already a fantastic price on a set of All-Clad that is normally $699.99. After cash back, not quite the best ever — but still very good..
---
Final Price
So how does this stack up to the best Amazon price of $699.95? Let's see:
$699.99 original Bloomingdale's price
– 125.00 (Bloomingdale's Loyalist Promotion)
– 115.07 (20% off text message coupon)
–   36.82 (TopCashBack payout based on 8% of my $460.28 purchase price)
$423.10 Final Net Price
In the end, I couldn't quite beat the Amazon historic low price. Still, 39.55% off is a pretty good stack for All-Clad.
Best of luck and remember that this method will work on many other products from Bloomingdale's, though many designer brands are excluded from the 20% off discount coupon.  Do let us know what you get in the comments!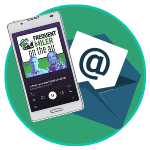 Want to learn more about miles and points?
Subscribe to email updates
 or check out 
our podcast
 on your favorite podcast platform.