A few days ago, I published a terrific one-day deal: Up to 35X Alaska MileagePlan miles at Sears! I'm pointing this out not to rub your face in it if you missed it, but rather to show how powerful deal stacking can be. Let's look first at the ideas behind that deal, and then we'll see if we can apply the same ideas to ongoing opportunities (hint: yes, we can)…
35X miles
The 35X opportunity was based on three concurrent promotions:
The Alaska MileagePlan Portal offered 8 miles per dollar at Sears (now down to 3 miles per dollar at the time of this writing)
The Alaska MileagePlan Portal has an ongoing holiday bonus. Through November 21: spend $100 earn 700 bonus miles; spend $200 earn 1,400 bonus miles; or spend $300 earn 2,100 bonus miles. By spending exactly to a threshold, one can earn 7 miles per dollar above the regular shopping portal earnings.
Both Discover and Chase Freedom are offering 5X this quarter at department stores.
Taken together, the above promotions add up to 20 miles per dollar. That's pretty darn good by itself, but it also happens that Sears allows portal points to be earned on both the purchase and use of gift cards. This allowed us to double the effective rate of the first two promotions:
Go through the portal to buy e-gift cards (or reload existing gift cards) and then go through the portal again to buy merchandise. Through this double dip, 8 miles per dollar becomes 16 miles per dollar.
By double-dipping with gift cards, one can spend half as much out of pocket in order to hit the holiday bonus spend thresholds. So, instead of spending $300 to get the 2,100 mile bonus you can spend $150 on gift cards, then go through the portal again to use those gift cards to buy $150 in merchandise. In this way, the portal holiday bonus becomes not just a 7 mile per dollar bonus, but a 14 mile per dollar bonus!
The 5X credit card bonus is not double-able, but by adding it onto the above deals, the total came to 35 miles per dollar. Yes, technically, it was 5X points or 5% cash back from the credit card plus 30 miles per dollar from the portal, but still it was a lot.
Current Deals
Let's look at a few current deals to see how we can apply some of the ideas presented above to ongoing opportunities…
ShopDiscover 25X
The Shop Discover portal is currently offering 10% cash back for Sears. Despite the terms & conditions saying otherwise, in practice the double triple dip works:
Go through the portal to buy Sears' gift cards, earn 10% cash back
Pay with your Discover card for 5% cash back this quarter
Go through the portal again to use the gift cards to buy merchandise, earn 10% cash back.
Sony 35% rebate off anything
American Express has brought back their Sony Offers For You deal. Get $25 back when you spend $100 or more. I also know from experience (and from the Frequent Miler Laboratory) that double-dips (buy and then use gift cards through portals) work with Sony.
The trick is to sync up multiple Amex credit cards with this deal (since the deal applies only once to each card). For details about how to do this, please see:
Full details about this opportunity can be found in this recent post: Sony PlayStation 4 brand new for $260. Here's how…
13% off almost anything
In the post "13% off American Airlines, Hyatt, Lowes, and much more" I showed how to stack shopping portal rebates with credit card bonuses and a current GiftCertificates.com promotion in order to receive 13% off any of the gift cards offered by this merchant. In fact, if you're considering mileage running on American Airlines, you might be interested in the AA gift cards! See: The last great mileage run.
Macy's 25% rebate (or 20X miles) + 20% discount
Here's a simple one. Amex is offering a Sync Deal with Macy's: Spend $100, get $15 back:
Combine this with the best current portal offers to get a full 25% back:
Of course, the above rebates are stackable with other discounts, such as these:
When you combine a 20% discount with a 25% rebate, you get an effective savings of 40%.
UPDATE: Also checkout this new Quick Deal: Up to 20 miles per dollar and 20% off Macys!
General approach to deal stacking
Listed above are just a few examples of stacking deals towards great savings or huge number of bonus miles. In general, here are the things to try to stack:
1. Portals and portal promotions
Online shopping portals are great ways to earn extra points or cash back when shopping at the same merchants you would have shopped with anyway. The idea is to first log into a portal and then click through to the merchant where you want to shop. In the process, you'll earn either points, miles, or cash back from the portal, depending upon the type of portal used. In order to find a good portal, I like to use CashBackMonitor to view current portal rates.
Often portals offer special promotions on top of the bonus offered for specific stores. These can be a great way to boost your rebates further.
To keep up with the latest portal offers every day, consider subscribing to Frequent Miler's Portal Alerts.
2. Gift cards
It is often possible to earn points or get cash back through portals when buying gift cards, even when the portal's terms & conditions say otherwise. Check the Frequent Miler Laboratory to see if anyone has reported experience with the store in which you want to shop. If all else fails, you can usually buy gift cards at a discount on the secondhand market. Check GiftCardGranny.com for prices and availability.
3. Credit card category bonuses
Some credit cards offer bonuses for purchases made in certain categories of stores such as drugstores, bookstores, office supply stores, etc. It's possible to boost your rebates simply by using a credit card offering, for example, 5 points per dollar for certain types of purchases. See also: Best Category Bonuses.
4. Credit card rebates
Some credit cards and credit card related programs offer statement credits for certain purchases. American Express probably has the most extensive offerings including Sync Offers, Small Business Saturday rebates, OPEN Savings, and more. Discover and Bank of America (and probably a few other banks too) occasionally have similar deals. If you have any small business Visa or MasterCard credit cards, you can also enroll them in Visa Savings Edge and MasterCard Easy Savings for automatic rebates from a variety of retailers.
5. Store rewards
Many merchants have their own rewards programs and usually these rewards stack along with all of the other rebates and discounts described here. One good example is Sears which has its Shop Your Way Rewards program. Usually, Sears offers the equivalent of 1% back in points for each purchase (points can be used to pay for future purchases), but often they'll have deals or coupons offering far more points.
6 Coupons and discounts
No matter how many forms of rebates you stack together, your goal should still be to spend as little as possible. One way to achieve that is to look for coupons and other discounts for the things you want to buy. In general, searching the web for coupons is a reliable option. I highly recommend, though, that you look for coupon codes in a different browser than the one you use to buy things. The reason is that many of these coupon sites will override any portal tracking you have in place for earning portal rewards.
Another common source of discounts is through various forms of membership. Here are some examples to look for:
Employee discounts
Student / faculty discounts
AARP discounts
Military discounts
AAA discounts
Here's one quick example: when shopping for a computer last year, I learned that Sony has a student store. While I'm not a student, my son is, and they allow parents to join! With the student store, I saved 10% off the list price of the computer, and then another 35% by stacking rebates.
Reader suggestions
Do you know of any great stacking deals available today? Please comment below.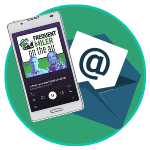 Want to learn more about miles and points?
Subscribe to email updates
 or check out 
our podcast
 on your favorite podcast platform.