Let's say your kid (or spouse?) has been begging for a PlayStation 4. And now you're ready to cave, but you really want to get the best possible price. You could wait and hope for a great deal to appear on Black Friday, but then you would have to beat the crowds to get in on what would likely be a very small supply of discounted game consoles. There's no need to fight that battle.
By stacking three deals, you can get a 35% rebate off anything sold at the Sony Store.
Deal 1: Amex Sync offer
American Express has brought back the deal that offers $25 back when you spend $100 at the Sony store.
You can get in on this offer either through Amex Twitter promotions (Tweet "#AmexSony") or, hopefully, through "Amex Offers for You" when you sign into your Amex account online
The trick is to know how to get this offer attached to all of your Amex cards, not just one. This includes primary cards, authorized user cards, Serve prepaid cards (but not Bluebird or REDbird), and Serve subaccount cards. For full details showing how to sync multiple cards to a single Amex offer, please see: Maximizing Amex Sync offers. Part 1: sync multiple cards.
Deal 2: 5% cash back portal offers
The Sony Store is available through multiple cash back portals which are currently offering 5% cash back. At the time of this writing, portals offering 5% cash back for Sony include UPromise, Shop At Home, Mr. Rebates, and Shop Discover. If you haven't already signed up for these portals, you can find signup links here. If you are a new customer with either Shop At Home or Mr. Rebates, you'll get an automatic $5 credit on your account (dependent upon meeting spend requirements).
Deal 3: Gift card double dip
I know from personal experience that you can earn portal cash back both by buying e-gift cards from Sony and by using e-gift cards from Sony. This means that it is possible to "double dip". Go through the portal once to buy e-gift cards, and then go through the portal again and use the gift cards to buy merchandise. In this way, you can double your cash back.
Put it all together: 35% rebate
Here's how to put together the deals shown above for an effective 35% rebate:
1. Figure out the total price of merchandise before rebates are considered
For example, the PlayStation 4 retails for $399.99 and Sony charges $5 for shipping, so the total cost for a basic system would be $404.99.
2. Sync multiple Amex cards to the Sony offer
For every $100 you intend to spend, make sure you have an Amex card setup with the Spend $100, get $25 back offer. So, with the PlayStation 4, make sure you have 4 Amex cards ready to go. Full details can be found here: Maximizing Amex Sync offers. Part 1: sync multiple cards.
3. Buy $100 e-gift cards through portal
For every $100 you intend to spend, go through the best cash back portal to Sony and buy yourself a $100 e-gift card. On the Sony store, you'll find a link to gift cards at the very bottom left of the site under the heading "Find it Fast". Make sure to pay with a different, synced, Amex credit card each time. This way you'll get $25 back from Amex for each of these purchases, plus you should get $5 back from the portal for each purchase.
4. Buy the PlayStation (or whatever)
Once you have all of the e-gift cards in-hand (or, actually, in inbox), go through the portal one more time to the Sony store and buy whatever it is you want. Use the e-gift cards to pay. You should get 5% back from the portal for this purchase.
Add it up:
Assuming you use the above methods to buy a $400 PlayStation 4, the math should work out as follows:
Buy 4 separate $100 Sony e-gift cards, get back $100 from Amex and $20 from the cash back portal. Total rebate for this step: $120.
Buy the PlayStation 4, get back $20 from the cash back portal. Total rebate for this step: $20.
Sum total of rebates: $140.
Portal rebates can take a while (often 2 to 3 months), but in the end your total cost after rebate for the PlayStation 4 should be only $260!
For details about how I performed the exact steps listed above to buy a computer last year, please see: Maximizing Amex Sync offers. Part 2: extreme savings.
What if you don't have any Amex cards?
The above steps are contingent upon having Amex cards to work with. If you don't currently have any Amex cards, here are a couple of options:
1) Get Serve
A simple option is to sign up for a Serve prepaid card (here). The card is free and does not require a credit check. Once your account is setup, you should be able to add subaccounts for free as well. Each primary account and each subaccount will get their own Serve Amex card and each one can be enrolled in Amex Sync Offers like the Sony offer described above.
Note 1: if you already have a Bluebird prepaid card or a Target Prepaid REDcard, you can't open a Serve card.
Note 2: Amex does charge a $1 monthly fee for any month in which you do not load at least $500 onto the primary Serve cardholders account.
2) Sign up for new cards and earn bonuses
Another option, of course, is to sign up for an Amex credit card. When doing so, you might as well get free points or extra cash in the process. You can find the best sign up offers for Amex cards here. With most Amex cards you can add multiple authorized user cards for free. Each of those authorized user cards will be eligible for Amex offers like the Sony offer described above.
Caution 1: If you sign up for a new Amex card (or Serve card) today, there is no guarantee that this Twitter Sync offer will still be available by the time you get your card. That said, new offers come all the time so chances are good that you'll be able to gain from the new card.
Caution 2: When you pay for items with gift cards, you do not qualify for the automatic extended warranty and/or price protection features that your credit card may offer.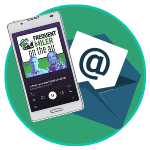 Want to learn more about miles and points?
Subscribe to email updates
 or check out 
our podcast
 on your favorite podcast platform.