Over the summer, I made a switch to T-Mobile that I thought would probably be temporary. After my recent trip to Europe and experience with T-Mobile's international service (and a number of other recent T-Mobile enhancements), T-Mobile has become too good to leave. As a frequent traveler, I think T-Mobile's strengths are so strong as to make dealing with its limitations worthwhile.
Making the switch
Until this summer, it had been more than a decade since I last had cell service with a major carrier.
However, over the summer, T-Mobile finally drew me in with a deal I couldn't refuse: they were offering 4 lines of unlimited service for $140/month total. My wife and I initially planned to go in on the 4 lines with a couple of family members, each paying $35 a month for unlimited service. That didn't end up happening — but we did put those two extra lines into use on our recent trip. The prospect of being able to listen to Pandora while working out and streaming Netflix on the road with "unlimited" access seemed appealing. It didn't hurt that I knew T-Mobile had put a brand new tower in our town about a year ago. While I had for years known T-Mobile as the little cousin of the big networks (that had no coverage in my area), I have learned that they have been aggressively expanding, now available in my tiny rural town and with a map that looks fairly impressive expected to be fully operational by the end of 2017:
Finally, we had an international trip coming up at the end of the summer/beginning of fall and I knew about T-Mobile's free international roaming in 140 countries. We wanted to try that on for size and see how it worked.
The price definitely seemed right. It was then icing on the cake when I found that TopCashBack was offering up to $200 back on new activations at the time (they're only offering up to $75 right now). The first month was more expensive because of a couple of add-ons and sim cards and the fact that an autopay discount wouldn't kick in for a month. So I initially paid $185 to open the four lines — and TopCashBack gave me $200 back:
That at least mitigated getting hit with a hard pull for account opening with T-Mobile :-).
Why international service is appealing
I've been traveling abroad for years and have long refused to buy a phone here at home that is locked to a network. Since most of the world uses GSM technology, the type of wireless network operated by AT&T and T-Mobile, I have long had an AT&T-based prepaid service here in the United States and then brought my unlocked phone abroad and simply bought a local SIM card upon arrival. This is usually easy enough to do in the airport and most countries have very reasonably-priced short-term plans for tourists. For example, I traveled to Singapore earlier this year and I think I paid around $11 for a SIM card that had 100GB of data that was good for about a week.
However, it always takes some time to get cell service set up upon arrival. There is usually a mobile phone shop in the airport, but they need your passport, sometimes there is a line in which to wait, and it just takes a a little while to get it set up. You also have the risk of losing your SIM card when you're changing out SIMs from country to country (Pro tip: use a piece of scotch tape and tape your home SIM card to the first plastic SIM card holder you buy abroad. Toss that in a zipped compartment in your bag where you won't lose it and leave it there until you're landing at home).
While I've always been fine will the steps above, it would certainly be nice to eliminate that small time suck. I've also had a few instances where I arrived very late/early or I had someone waiting for me and I didn't want to waste the time getting a SIM card set up. The idea of turning my phone on upon landing and just having it work sounded nice. It would certainly be convenient to land and pick up my bags and call an Uber without having to fiddle with a new SIM and service or connecting to airport Wi-Fi. In theory, it certainly sounded good.
T-Mobile's international service
T-Mobile offers free texting and unlimited data at up to 2G speeds in 140+ countries on the T-Mobile ONE, Simple Choice, New Classic, and Select Choice plans. You can add T-Mobile ONE Plus to a T-Mobile ONE plan to double the data speed to 256 kbps. There are a few other benefits of adding T-mobile ONE Plus to a line — including 10GB per month of tethering/mobile hotspot with the phone and free unlimited GoGo Wi-Fi on that device. It usually costs an extra $10 per month per line to add ONE Plus, but at the time when I signed up it was being offered for $5 per line, so I upgraded two of my lines to be able to compare. I actually didn't realize until researching this post that ONE Plus entitled me to free GoGo Wi-Fi for entire flights or I would have put it to use on a flight last week.
You can check coverage by clicking here and entering a country. Remember that text and data are free, but calling isn't — you can see voice rates at that link as well.
You can also zoom in and out on coverage maps. For example, I visited Mallorca, off the coast of Spain, Here was the coverage map of the island:
As you can see, there is coverage on the vast majority of the island, which I certainly found to be the case. I also used the phone in the UK, Norway, and Portugal as well as on layovers in Zurich, Switzerland and Munich, Germany. I mentioned at the outset that we had bought and activated 4 lines but were only using 2. My sister and my wife's sister were meeting us in Europe on this trip, so we gave one line to each of them to make it easier to rendezvous on arrival at London Heathrow — which worked out very well. My wife's sister also used her line in Ireland — so we had a decent sample set in terms of European countries for testing on this trip. I sent texts back and forth with her and my sister while we were all in separate countries and had no problems sending and receiving messages. Voice calls, at least from the Park Hyatt Mallorca, were more challenging, though they mostly worked if I was outside or near a window.
Speed tests
I knew that the speed of connection would be remarkably slower than at home with T-Mobile, and this was my main hesitation with whether or not this service would work for me. After all, I'm used to being able to get deal alerts on my phone and do quick research so I can post a business class error fare sale while I'm walking around an aquarium with the family (true story), so I didn't know if I'd be able to handle going back to the stone ages of 2G service. And let there be no doubt: even on the T-Mobile ONE Plus plan, data speeds are slow. However, they were more than adequate for pulling up Google maps / navigating (though it did take a while to search the maps for the place we wanted to go) and summoning an an Uber was easy. I was able to send and receive emails and texts and could occasionally look up something on the Internet, though more often than not it just spun without much happening when I tried to Google. For what it's worth, my sister and my wife's sister had no complaints about the speed of service when navigating. I think for basic web services like navigation and Ubering, the difference between 126 Kbps and 256 Kbps is not all that noticeable.
I did use Speetest.net to get some numbers for comparison's sake. These tests were taken in different countries on this trip with my phone (which has the "Plus" add-on):
For those without a firm handle on those numbers, here is a comparison to the numbers from home.
As you can see, the T-Mobile international speeds are a lot slower. It's definitely not quite as convenient as having your phone at home as you don't have access to as much capability due to the slow speed of the Internet connection.
On the flip side, with Wi-Fi at your hotel and a growing Wi-Fi presence in restaurants and public spaces, I might venture to say that many people might be fine with the slower speed for a week or two. If you don't need to post directly to Instagram as life happens and can wait until you  sit down at the end of the night to fully connect to the outside world, the slower speeds might be fine. If that describes you, and you mostly just want the ability to be able to navigate with your phone, T-Mobile's service is an excellent solution. If you want to be able to insta-post or live stream your lunch, the T-Mobile free international speeds aren't going to cut it.
In my case, I mostly needed service to be able to navigate and call a car when necessary. For those purposes, the service nailed it and worked almost flawlessly.
Other T-Mobile enhancements
In the few months since I joined, T-Mobile has made a couple of other key enhancements that I think increase its value proposition for frequent travelers. First, they have increased the throttling limit to 50GB per month. For those unfamiliar, our domestic cell carriers sell "unlimited" data packages, though this doesn't mean you will have unlimited access at full speeds. If you use too much of your "unlimited" data, the carrier may slow your service speeds down until your next billing cycle (called "throttling"). AT&T and Verizon each throttle at 22GB of data used. T-Mobile was about the same when I signed on. Then, they increased that limit to 32GB and they have now increased the throttling limit to 50GB per month — more than double the limits imposed by other carriers. For a frequent  traveler, that's huge. It means that you might listen to Pandora while you're waiting at the airport or on driving on your road trip and you could stream a few Netflix movies from your hotel room (or download them to later watch on the plane) without any real fear of reaching the cap. While there have now been months where I have come close to 20GB, I haven't come anywhere close to 50GB yet. There is some nice future-proofing in that limit.
Furthermore, T-Mobile has begun offering free Netlix with plans that cost $120+. If you're on a plan (like my $140/month plan) that costs more than $120, T-Mobile will cover the cost of your subscription for basic Netflix service (See: T-Mobile Netflix offer.). My wife streams a lot of Netflix these days without worry about whether or not she's on the Wi-Fi.
T-Mobile Tuesdays can provide some value, too
Finally, every Tuesday, T-Mobile offers some freebies as a form of customer appreciation). In the past, those freebies have included everything from free Dunkin Donuts credit (which I used last week to buy a bagel at the airport on my way out of town) to oil changes, free pizzas, and a subscription to MLB.TV. Some weekends include a free Redbox rental or Vudu rental — almost every week I get at least a couple of bucks out of T-Mobile Tuesdays.
Bottom line
T-Mobile's International coverage combined with high data allotments at full-speed here at home make the service very appealing for a frequent traveler. Whether it's the ability to stream Netflix while in your hotel or on your train or the ability to navigate your rental car to your destination hotel in a foreign land without having to monkey with buying a SIM card, I think T-Mobile is offering a lot of value to frequent travelers. When we add in the T-Mobile freebies, the price of the plans (and lack of any commitment/contract), and 5x earning on the bill with the Chase Ink Plus or Ink Cash cards, I think I'm stuck with T-Mobile.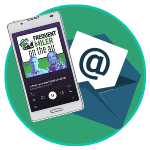 Want to learn more about miles and points?
Subscribe to email updates
 or check out 
our podcast
 on your favorite podcast platform.