Which extended stay hotel brand is the best?
That's a tricky question to answer because each brand has its own quirks, features, benefits, amenities, pricing and more, so depending on which of those you prefer, the best brand for you could well be different to mine.
This post was prompted by an email we recently received from a reader (thanks Joanne!) who asked the following:
My husband and I are snowbirds. We typically travel overseas for the winter. Due to the current state of travel, we anticipate spending this winter domestically. Since Stephen has traveled extensively throughout the US over the last several years we would appreciate his writing an article (or two) about his key learnings. For example…

1. Which brands tend to offer the best long term stay rates?
2. Does one brand tend to do long term stay better than another?
3. Which specific hotel properties have been your favorite for long term stay and why?
4. Do you prefer one loyalty program over another for long term stay?
5. Given that your travel is mostly domestic, do you find one brand's points program easier to utilize domestically vs. another program?
There's a lot to unpack there, so I thought it would be best to look at all the factors that could influence your booking decisions.
Something important to note is that these ratings are all based on my own experiences and we haven't stayed at every single extended stay brand out there. For example, we've never stayed at a Homewood Suites which is a Hilton brand. That's because we've never come across one of their properties that was cheap enough when paying cash or good enough value when using points to make it worth booking – there's always been a better value option elsewhere.
Here's a list of all the long term brands we've stayed at, so the comparisons in this post will draw from this list:
Candlewood Suites (IHG)
Staybridge Suites (IHG)
Residence Inn (Marriott)
TownePlace Suites (Marriott)
Element (Marriott)
Home2 Suites (Hilton)
Hyatt House (Hyatt)
Cheapest Paid Rate
Winner – Candlewood Suites (IHG)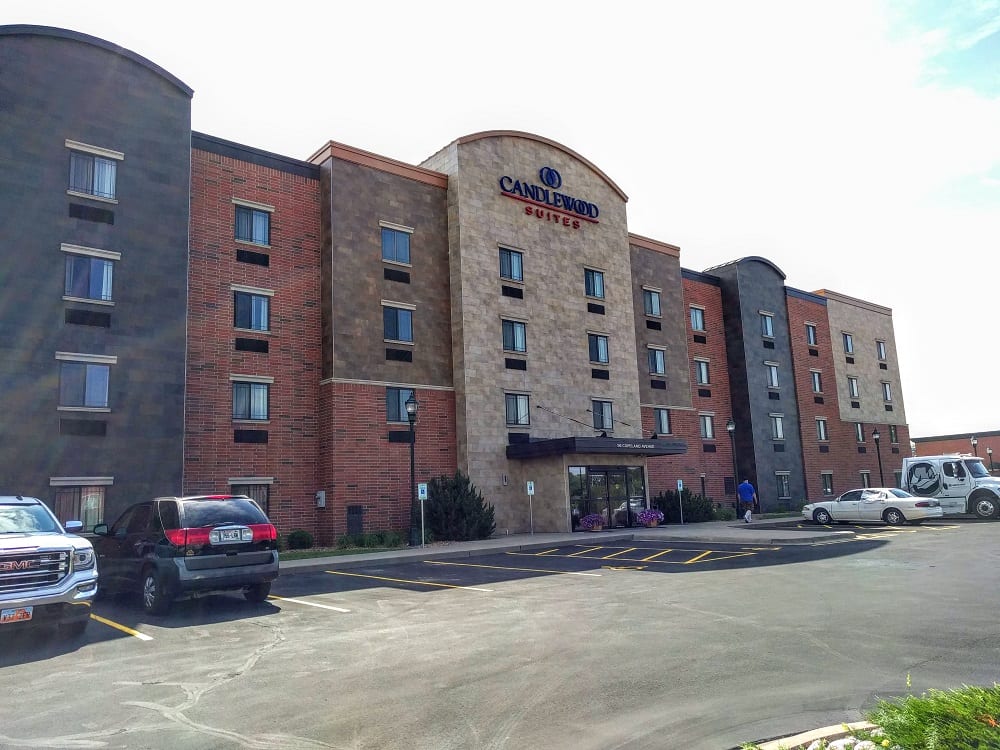 Pricing for a room at extended stay hotel brands varies depending on which location you're looking to stay in, but based on my experience I've found that IHG's Candlewood Suites brand is often the cheapest option.
This comes with trade-offs as Candlewood Suites properties don't offer the same amenities as some other extended stay brands, but if budget is the driving force for your accommodation choice, it'll be hard to beat a stay at a Candlewood Suites.
Note that in the vast majority of cases, the cheapest room at a Candlewood Suites will be a studio queen suite. If you want a king bed or a 1 bedroom suite for more space, you'll likely have to pay more, with some other hotel brands (such as Residence Inn) potentially being cheaper for other room types.
On the topic of budget, you can often get better rates at most extended stay brands when booking a week-long or month-long stay. If you were planning a 6 night getaway, you might actually save money booking a 7 night stay due to the discounts involved.
If you're planning on staying somewhere for 30 days or more, you might not have to pay the hotel taxes which can save you hundreds of dollars. Note that some hotel chains don't award points for stays of more than 28 nights, so check if that's the case if earning points is important to you.
Cheapest Award Rates
Winner – Candlewood Suites (IHG) (narrowly edging out TownePlace Suites (Marriott), Residence Inn (Marriott) & Hyatt House (Hyatt))
If you'd rather book a stay using points, Candlewood Suites will often be your cheapest option too. Many of their properties only cost 10,000-15,000 IHG Rewards Club points per night which by itself is good value.
If you have an IHG Premier or IHG Traveler credit card, you then get every 4th night free on award stays. Note that this is every 4th night, not only the 4th night. That means if you stay 28 nights, 7 of those nights will be free.
If you have the IHG Select credit card, you'll also get a 10% points rebate on your stay. If you have both the Select card and a Premier or Traveler card, you'll get every 4th night free plus the 10% rebate.
For an idea of how good that is, let's say you book an 8 night stay in a Candlewood Suites property costing 10,000 points per night. The usual cost would be 80,000 points, but every 4th night being free for Premier or Traveler cardholders reduces that to 60,000 points. For those who also have a Select card, you'd then get 6,000 points rebated a few weeks after your stay.
That makes your net cost 54,000 points, or only 6,750 points per night. Seeing as you can often buy IHG points for 0.5cpp, buying points for that 8 night stay would only cost you $270 – that's only $33.75 per night. It's hard to beat value like that.
However, I mentioned at the top that Candlewood Suites only just edged out Residence Inn and TownePlace Suites properties. That's because both of those brands can offer excellent value on award stays too as many of their properties fall in the category 1-3 range in the Marriott Bonvoy program. Marriott offers every 5th night free to all members, regardless of whether you have status or any of their credit cards, so that can help reduce the redemption cost on award stays.
Another feature I love about award stays with Residence Inn and TownePlace Suites is that many of their properties allow you to book directly in to a 1 bedroom suite with points rather than a studio suite. That's a rare opportunity with Candlewood Suites locations, although we have been able to do that once or twice.
Having that extra room makes a huge difference for me and my wife as I'm often up until 3am-4am working, while Shae is often up earlier than me to teach online. Having that separate room means we don't wake each other up while the other one is sleeping. For those traveling with a baby, that means you can put your baby to sleep in the bedroom and then relax in the living room without worrying that you'll wake them up by having the TV on or while chatting.
It's also nice to have extra room to spread out, even if you don't have any concerns about waking anyone else up.
Hyatt House gets a mention as many of those properties are available in low categories which makes for a cheap award stay. For example, at the time of writing this post there are 19 category 1 and 30 category 2 Hyatt Houses in the US which mean they only cost 5,000 and 8,000 points per night respectively.
Best For Larger Families Traveling Together
Winner – TownePlace Suites (Marriott) & Staybridge Suites (IHG)
Speaking of traveling with children, some brands are better than others if there's a large group of you traveling together, whether you're traveling with lots of kids or with friends or extended family members.
Most rooms in extended stay properties can (somewhat) comfortably accommodate four people as most suites have a sleeper sofa.
Let's say there are more than four of you though. For six people, check different brands as some might offer two queen beds in a suite along with a sleeper sofa.
For eight people, there's a good chance that TownePlace Suites or Staybridge Suites will be your best options. A lot of their properties offer two bedroom, two bathroom suites; while those room types are more expensive, it might still be more economical than booking two separate rooms.
We stayed at the TownePlace Suites Chicago Naperville a couple of years ago as my wife's parents and one of our friends were joining us for Shae's birthday. We booked a two bedroom suite which had a king bed in one bedroom and two queens in the other in addition to the sleeper sofa. While I imagine it would have felt a little cramped if there had been eight of us, it's still a good option for large groups wanting to reduce the cost of a stay.
Best Amenities
Winner – Residence Inn (Marriott)
For the sheer number of amenities (especially if you have active kids), Residence Inn tends to be the best, although Staybridge Suites properties tend to have similar amenities.
Here's what you can expect at pretty much every Residence Inn:
Sports court (always has a basketball net and is sometimes large enough to double up as a tennis court)
Swimming pool
Guest laundry
Outdoor seating area
Fire pit
Grills
Pantry where you can buy food/drinks
Business center
Fitness room
Free breakfast
Evening social Monday-Wednesday
Favorite Suite Design
Winner – A tie between Residence Inn (Marriott), TownePlace Suites (Marriott), Element (Marriott) and Home2 Suites (Hilton). Honorable mention to some Candlewood Suites (IHG).
This was a really tough category to pick the winner, hence why the list above looks more like a participation trophy. It's my party and I'll cry equivocate if I want to.
Each of these brands has something about their suites that I like, so I couldn't pick one as a standout winner. For some intangible reason, I think Residence Inn is my favorite – maybe because we've stayed at so many of them on our road trip and the suites have been consistently good quality and felt spacious. A couple of the suites we've stayed in have had a fireplace which was a nice feature to have.
I like TownePlace Suites for all its smart storage options. Their desks have a large storage hutch over them and there are usually two desks. There's one that's fixed in place as part of the furniture unit, along with a second desk on rollers which you can move elsewhere in the living room if you want. TownePlace Suites also seems to have partnered with The Container Store to provide additional storage features in closets.
For the overall design and stylishness of their suites, I prefer Marriott's Element brand. Granted, we've only stayed at an Element once for one night, but I loved the room and having looked at pictures of other Element properties, it seems like most of their suites look similar.
Home2 Suites gets a mention because my wife particularly liked the styles of the ones we stayed at in Green Bay, WI and Chantilly, VA.
Candlewood Suites gets an honorable mention because it seems like their one bedroom suites have a pantry in the kitchen. Seeing as we live in hotels and Airbnbs, having enough space to store food in a cupboard rather than leaving it in our food box is strangely satisfying. A lot of extended stay brands don't provide much kitchen cupboard space beyond that which is required for plates, dishes, cookware, etc.
Best Kitchens
Winner – Residence Inn (Marriott), but Candlewood Suites (IHG) sometimes a close runner up
When booking a stay at most of these extended stay brands, you can expect to find a full kitchen. That means you get a full-size fridge-freezer, microwave, dishwasher and stove top.
That stove top usually consists of a double burner, but some Residence Inn properties include a full range cooker with an oven and four burners. Apart from when we stay in Airbnbs, we don't often have access to an oven, so it's nice to be able to make things like roasted vegetables.
I've found that Residence Inn kitchens tend to be a little more spacious than those at other hotel brands, although the pantry in some Candlewood Suites kitchens mean it gets a mention in this category.
One thing I don't like about most Candlewood Suites kitchens is that they usually only have two place settings, whereas other brands like Residence Inn and TownePlace Suites have place settings for four people. Having more place settings reduces the need to wash dishes every single time you use them.
Be sure to check website photos of the kitchens at the hotels you're considering staying at though, as they're not created equal. For example, I don't think any Home2 Suites kitchens have a stove top. You can borrow a hotplate and cookware from the front desk, but that adds a little hassle unless you're happy only eating microwave meals.
Also note that not all Hyatt House rooms include a kitchen. If you're booking on points, some Hyatt House standard award room types don't include a kitchen, although some properties (such as the Hyatt House Charlotte Airport in North Carolina) actually let you book into their 1 bedroom suite with a kitchen using points.
Best Breakfast
Winner – Residence Inn (Marriott), with Hyatt House (Hyatt) and Element (Marriott) a close runner up.
This award is based on the breakfast which is served during normal times, seeing as buffet breakfasts aren't happening at most hotels right now.
Residence Inns tend to offer a good range of buffet breakfast options with eggs and several other hot options, cereals, yogurt, freshly cut fruit, hard boiled eggs, tortillas, salsa, breads and bagels, cheeses, condiments and preserves (including Nutella), hot oatmeal, waffle makers and more.
Hyatt House gets a mention because they normally have an omelet station.
Element gets a mention because it felt like their breakfast offering was unique the one time we stayed at one of their properties. Although they didn't have pre-prepared hot options, the morning we had breakfast there they offered freshly cooked smoked chicken sausage and sweet potato hash with kale and a fried egg. They also had other choices like raspberry turnovers, a bar where you could create your own parfait, homemade blueberry muffins and more.
TownePlace Suites breakfasts are fairly good if you're only staying one or two nights. However, it seems like they never rotate the hot options, so that gets pretty boring if you're staying for a long time.
Best Evening Social
Winner – Residence Inn (Marriott), closely followed by Staybridge Suites (IHG)
Some extended stay brands offer an evening social on some weekdays. This usually includes free soft drinks, beer, wine and hors d'oeuvres which can sometimes be enough to constitute an evening meal.
The only brands I'm aware of that offer this are Residence Inn (Marriott), Staybridge Suites (IHG) and Homewood Suites (Hilton). As mentioned earlier, we've never stayed at a Homewood Suites, so I can't say how good their evening socials are.
Of the two remaining options, I've picked Residence Inn as the winner, although that's more a function of us having experienced more of their evening socials seeing as we've stayed at that brand more frequently than we have at Staybridge Suites hotels. One of the few times we stayed at a Staybridge Suites the food they offered in the evening was fairly disappointing, so that doesn't help with my impression.
Having said that, we've had mixed experiences with Residence Inn evening socials too, so it's somewhat appropriate that their social is called 'The Mix'. Some properties have provided tasty and substantial meals along with free beer and wine, while others have given limited finger food and have charged a few bucks if you wanted an adult beverage.
Needless to say, these evening socials have gone by the wayside for now due to COVID-19.
Best Hotel Bonus Point Promotions
Winners – Tie between Hyatt, IHG & Hilton
For as much as I love staying at Residence Inns, Marriott promotions are incredibly poor, so they don't even come close to being a winner in this category.
The winner in this category is a tie between Hyatt, IHG and Hilton as they all tend to offer good bonus point promotions, although some are better for paid stays and some better for award stays.
For paid stays, IHG and Hilton tend to offer the best value. IHG has run promotions recently offering up to 4x bonus points which, when combined with 10x points when paying for the stay on an IHG Premier card and 50% or 100% bonus points with Platinum or Spire status respectively means you can rack up a decent number of points.
Hilton runs some great promotions too at times, allowing you to earn up to 54 points per dollar on paid stays if you pay with a Hilton Aspire credit card.
If you tend to book award stays rather than paid stays though, Hyatt will tend to win. That's because their promotions often work on award stays. For example, at the time of writing this post they're offering a 15% points rebate for non-cardholders and 25% points rebate for cardholders when redeeming points. On past promotions where they've offered x number of bonus points per night or per stay, that's been valid on both paid and award stays.
Hilton promotions sometimes work in the same way too, which is why I haven't been able to pick a sole winner in this category.
When calculating expected bonus points, be aware that most hotel chains halve the number of points you earn at their extended stay brands. For example, IHG, Marriott and Hilton all offer 10 points per dollar for all their brands except their extended stay brands. Instead, you'll only earn 5 points per dollar on most of the long term hotel stay brands mentioned in this post. That therefore affects bonus points earned from promotions, status, etc.
Best Shopping Portal Rates
Winners – IHG & Marriott
Hyatt is out of the running in this category seeing as they're not available on any shopping portals. Hilton is excluded because most shopping portals limit you to 1% cashback if you have any kind of status with them.
That leaves IHG and Marriott. On a day-to-day basis, shopping portals seem to offer better cashback rates when booking paid stays at IHG brands than with Marriott. However, we've sometimes seen excellent rates for Marriott on some shopping portals if you're able to book within the 1-2 day period that those increased rates are available for.
As always, you should compare rates on Cashback Monitor. Be sure to check all the different permutations of the parent company name (e.g. IHG (InterContinental Hotels Group), IHG Hotels and IHG Hotels & Resorts), as well as individual brands (e.g. Candlewood Suites and Candlewood Suites by IHG).
Best Laundry Option
Winners – Candlewood Suites (IHG) and Staybridge Suites (IHG)
IHG's two long term stay brands win this category because they offer free guest laundry at all their properties.
All other long term stay brands with other chains offer guest laundry facilities too, but they usually cost $0.75-$1.50 per load. That's still a reasonable cost versus going to a laundromat (and more convenient than having to leave the hotel to do your laundry), but you can't beat free with IHG.
Best Fitness Rooms
Winners – Most chains
Loser – Candlewood Suites
I haven't noticed much of a difference in the fitness rooms at the extended stay hotels we've stayed at. Most have a couple of treadmills, an elliptical, weights and maybe one or two other pieces of equipment, so there's no clear winner that I've noticed.
Candlewood Suites loses this category though because many of their fitness rooms are in the same area as the laundry area. I think that's meant to be for convenience so that you can easily do laundry while working out, but the heat from the dryers tend to make the exercise room exceptionally hot which makes for an uncomfortable workout.
Best Swimming Pools
Winners – Residence Inn (Marriott) & Home2 Suites (Hilton)
From what I can remember, every Residence Inn we've stayed at has had a swimming pool. I don't think that's necessarily been the case at every other brand other than Home2 Suites.
One of the unique selling points of Home2 Suites is that all their properties have a saline swimming pool which means they use minerals rather than chemicals in their pools. That doesn't make a difference to me either way, but I'm sure it could play a big factor in the decision for someone who enjoys swimming but has an allergy to the chemicals used in swimming pools.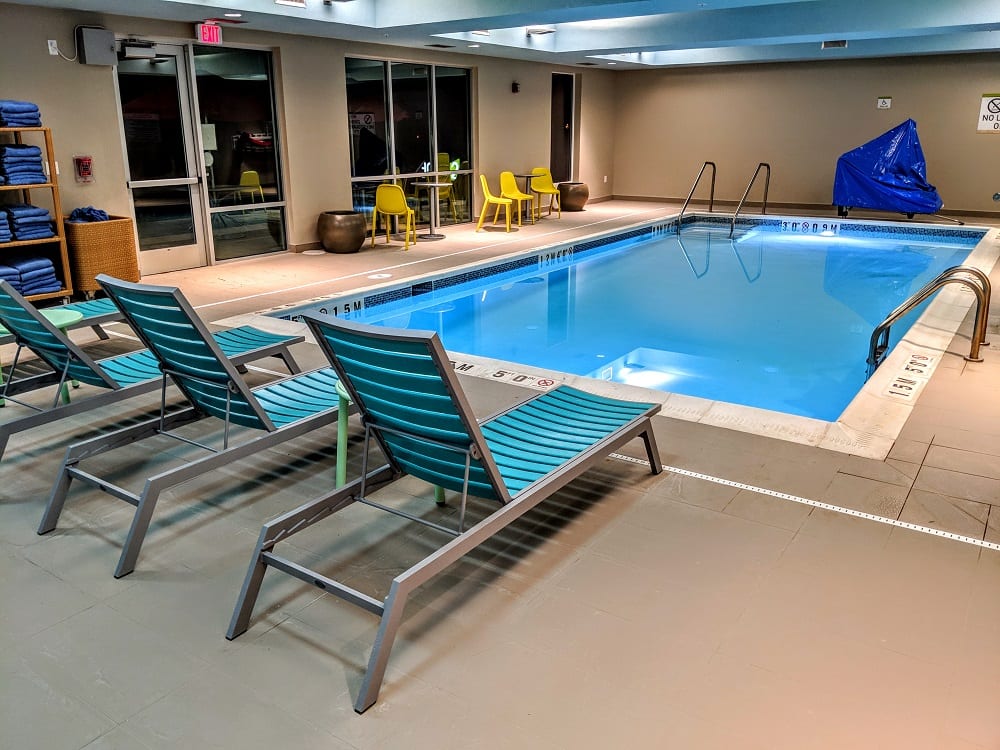 Note that some brands – like Candlewood Suites – don't seem to have swimming pools at any (or perhaps hardly any) of their hotels, so be sure to check out the list of amenities at the hotels you're interested in if a swimming pool is a must-have for your stay.
Best Common Areas
Winner – Residence Inn (Marriott) & Staybridge Suites (IHG)
If you're staying in a studio suite, you might prefer to have a little more space in which to work.
While working in a public area of a hotel isn't ideal right now due to COVID-19, I've found that Residence Inn and Staybridge Suites hotels tend to have the best areas from which you can work.
Both brands usually have large lobby areas which double up as breakfast seating and spaces for the evening socials. Those are empty during the day, so can be a good place if you're looking to work somewhere that isn't your hotel room.
Most properties for these two brands also have a fireplace which can make it nice and cozy if you're staying in one of these hotels in the winter.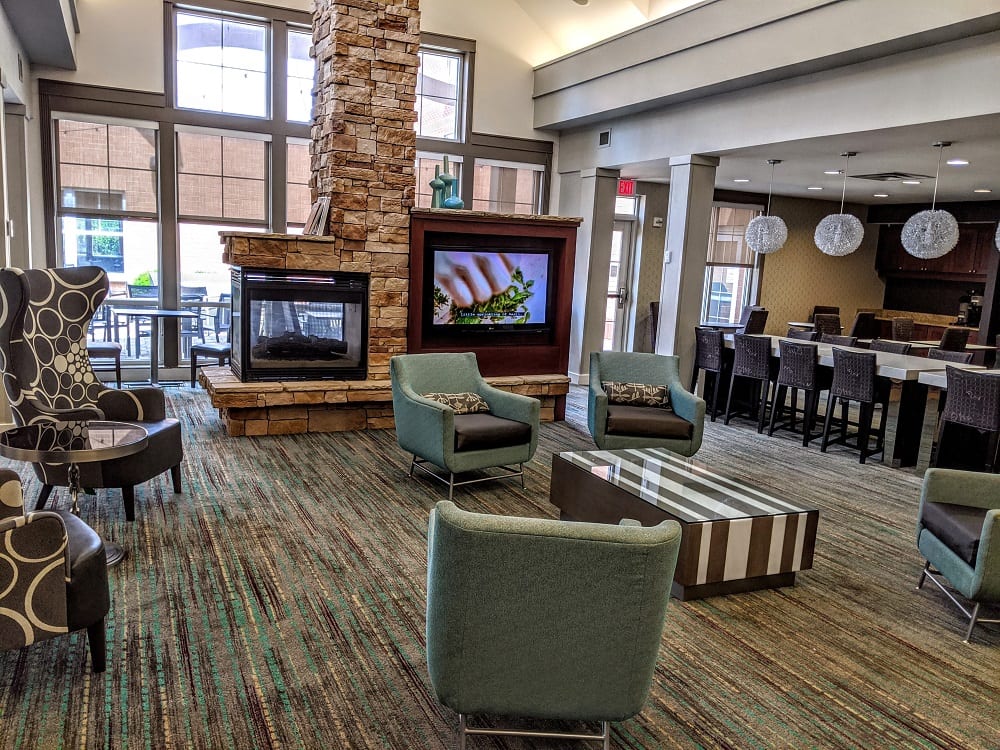 Note that Candlewood Suites properties don't have a lobby area you can work in (other than a small business center), with TownePlace Suites properties not having much of a workspace in public areas either.
Best For Room Upgrades
Winners – Residence Inn & TownePlace Suites (both Marriott)
For as much (justifiable) stick that we all give Marriott, one thing they do well is provide room upgrades for those with Platinum and Titanium elite status.
Nearly every time we've stayed at a Residence Inn or TownePlace Suites hotel in the last few years, we've ended up in a 1 bedroom suite. As mentioned earlier, we've sometimes been able to book directly into that room type as a standard award, while other times their 1 bedroom suites have either been the cheapest paid price or available for only a few bucks per night more.
In several cases though we've booked a studio suite using points, then a day or two before our stay have used the chat feature in the Marriott app to ask for an upgrade to a 1 bedroom suite. It's either been granted before we arrived, or been provided when checking in. I think there's only been one or two occasions where we've had to stay in a studio suite and that was when there simply wasn't a larger room available. Even then, on one occasion they still "upgraded" us to an accessible room type because it was more spacious than their standard studio suites.
Best For Borrowing Items
Winner – Candlewood Suites
One of the unique selling points of Candlewood Suites hotels is that every property has a Lending Locker. This contains all kinds of things that you might be interested in borrowing during your stay such as slow cookers, blenders, board games, etc. All you need to do is ask for an item at the front desk.
All suites at Candlewood Suites properties have a DVD player and most hotels have a bookcase full of DVDs at the front desk you can borrow. The selection of DVDs presumably varies by property, but most have 100+ titles you can choose from.
Favorite Specific Extended Stay Hotels
One of the questions that Joanne asked was:
Which specific hotel properties have been your favorite for long term stay and why?
We've probably stayed at 25+ long term stay properties on our road trip so far, with some being much better than others. There aren't any that I'd suggest you plan a specific trip around, but here are some of my favorites for a variety of reasons.
Residence Inn Jackson Ridgeland, Mississippi
We were able to book directly in to a 1 bedroom suite and were then able to get an upgrade to a 1 bedroom suite with a fireplace. While a fireplace isn't necessary in Mississippi if you're staying there in the summer, we visited in January when it was cooler and dreary outside.
It was also excellent value when using points. At the time of our stay it was a category 1 property and half our nights were charged at the off-peak rate. With every 5th night being free, our net cost was only 4,750 Marriott Bonvoy points per night. You can read my full review here.
Residence Inn Hartford Windsor, Connecticut
Shae and I found our three weeks in Connecticut fairly boring, although the hotels we stayed at there were a bright spot. My favorite was the Residence Inn Hartford Windsor due to the suite we ended up with.
We were booked into a studio suite and were upgraded to a bi-level loft. This had a decent kitchen with a full cooker rather than just a double stove top, with a larger living room, dining area, Murphy bed downstairs and a second bathroom. It then had a mezzanine style bedroom upstairs. You can read my full review here.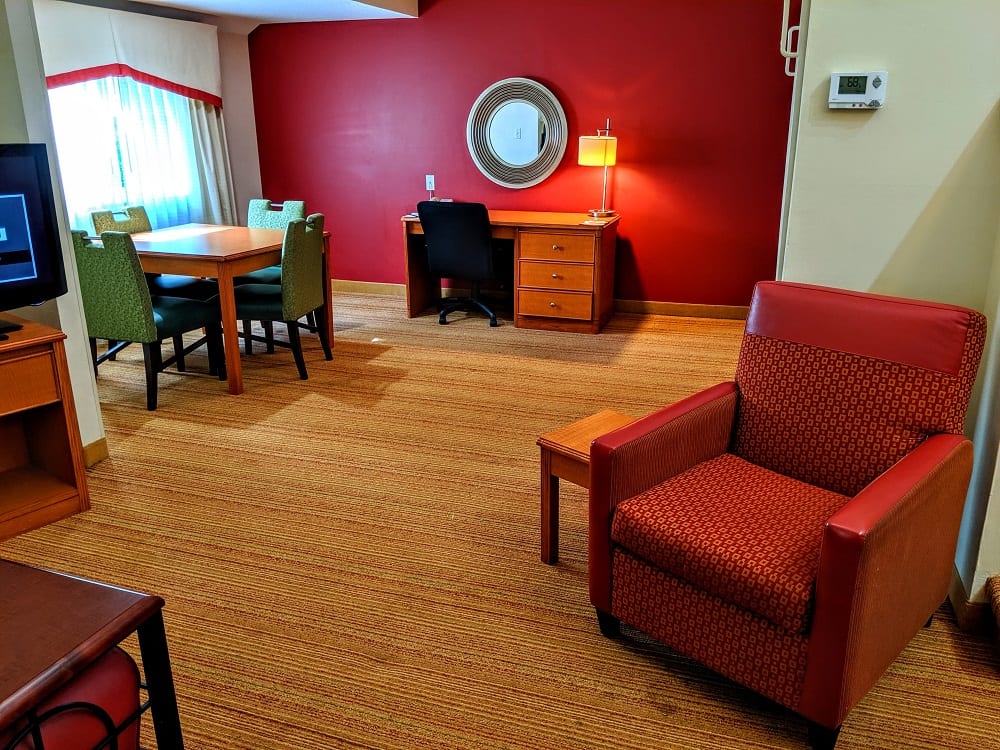 TownePlace Suites Chicago Naperville, Illinois
This was the hotel we stayed at with two bedrooms and two bathrooms when Shae's parents and our friend joined us for a few days. For $166.14 per night including tax, that was a reasonable cost given the suite's size.
The hotel had a lake behind it which was great for walking Truffles and nearby was The Morton Arboretum which is where we first discovered Thomas Dambo's trolls. You can read my full review here.
Candlewood Suites Albuquerque, New Mexico
We stayed at this hotel in mid-March just as everything started to shut down due to COVID-19. We wanted to shelter in place for several weeks and had to book this at the (somewhat) last minute after my parents had to cancel their visit from the UK.
Knowing that we'd be staying somewhere several weeks, we wanted to ensure we'd have a 1 bedroom suite rather than simply hoping we'd get an upgrade somewhere. IHG was running a promotion at the time at some of their hotels giving every third night free on paid stays. We therefore only had to pay $63.77 per night for a 1 bedroom suite at the Candlewood Suites Albuquerque which was great value. This coincided with an opportunity to earn 8% cashback through a shopping portal which made our net cost less than $60 per night, as well as an IHG promotion offering up to 4x points which, due to the length of our stay, was a threshold we ended up reaching towards the end of our stay.
Albuquerque had several large dog parks, so that helped our pup get some exercise while still enabling us to physically distance ourselves from other dog owners. You can read my full review here.
Candlewood Suites Springfield, Illinois
There are a few reasons I enjoyed our stay at this hotel. It only cost 10,000 points per night, so in itself that was great value. We booked a 'Standard Room' which I assumed would be a studio suite. I was therefore pleasantly surprised when I walked in to our room to find it was a 1 bedroom suite. IHG has been awful about providing room upgrades even when I've had Spire Elite status, so the fact that this hotel gave an upgrade without me even asking was notable.
I also really enjoyed Springfield. There are all kinds of free things you can do there, and it's perhaps most well-known as being the home of Abraham Lincoln. The city is therefore home to the Lincoln Home National Historic Site and Abraham Lincoln Presidential Library and Museum. I recommend visiting both, particularly the museum – it was one of the best and most interesting museums I've been to. You can read my full review of the hotel here.
Hyatt House Virginia Beach Oceanfront, Virginia
This property is fairly new as it only opened in April 2017. We stayed there in June 2017, 2 months after it opened and 7 months before we set off on our road trip.
It was a category 4 property at the time which meant we were able to use our anniversary night certificates from our Hyatt credit cards to pay for the stay. Despite only having Discoverist status at the time, the phone agent who booked the stay allocated a 1 bedroom suite for us which was an excellent room upgrade compared to the standard awards at this property. The suite was almost 750 sq ft, so larger than the apartment we were living in at the time!
Note that this hotel has since gone up to category 5, so it's no longer possible to use the category 1-4 certificates at this property.
One of the best features of the Hyatt House Virginia Beach Oceanfront is what its name suggests – it's on the Virginia Beach oceanfront. It's in a central location on the oceanfront between 27th and 28th St, so most activities are within walking distance. You can read my full review here.
Best For Pets
Winner – Candlewood Suites (IHG)
All extended stay brands are pet-friendly seeing as quite a few guests use it as a stop-gap when moving to a new area and are looking at properties and so want their pets to stay with them.
There's therefore no difference between the different brands when it comes to accepting pets, so the main difference is the pet fee you can expect to pay.
Residence Inn and TownePlace Suites hotels tend to charge $100 or $150 per stay. That's not bad if you're staying, say, 10 nights as that works out to be $10-$15 per night. It's ridiculously high though if you're only looking to book a one night stay.
For that reason Candlewood Suites hotels tend to be the best. Most place a limit on the pet fee you're charged at $150 regardless of your length of stay, so it'll rarely be more expensive than Marriott's brands.
Most of their properties charge less for shorter stays, although the specifics vary by property. Some charge $15 for the first night and then $10 per night up to $150 total, others charge $75 for 1-6 nights and $150 for 7+ nights, etc.
If we're staying somewhere for a week or more, it therefore doesn't make much difference as to which brand we stay at when it comes to the pet fee. However, if we're looking for a one night stay somewhere on our way through to a different destination, Candlewood Suites can often be a good choice due to the cheap pet fee and the fact that many of their properties often only charge 10,000-15,000 points per night on award stays.
Best Extended Stay Hotel Brand Overall
Residence Inn (Marriott)
If you've been keeping track of the winners in each category, you'll have seen Residence Inn make an appearance most frequently. Even if I was completely ignoring all its different category wins, I'd have picked this as my favorite extended stay brand overall as they tend to get everything right.
Of all the long term stay hotel brands, Residence Inn properties tend to have the most extensive amenities. Their suites have always been in good condition (other than the one in Oklahoma City South where the bed was awful and the room was dated), they have a good breakfast buffet and there's an evening social from Monday to Wednesday.
One of my favorite features is that fact that many of their properties allow you to book a 1 bedroom suite for the standard number of points. Many of their properties fall in the category 1-3 range which means you don't have to redeem as many points, with paid stays often being a reasonable cost too.
Service tends to be good at their properties, some kitchens have a full oven, some suites have fireplaces and their suites are nicely decorated and feel comfortable.
Having said that, we've had good experiences at Candlewood Suites, Staybridge Suites, Hyatt House, TownePlace Suites, Element and Home2 Suites hotels too, so you're generally spoiled for choice across the different brands if you're looking to book a long term stay.
Questions
Those are my picks for best extended stay hotel brands, but how about you? Are there any other categories you'd like a rating for? If you've stayed in these long term stay brands before, did you have a favorite? Let us know in the comments below.