To get a recap on what came before days 7-10 of my 40k To Far Away trip, check out the following posts:
Day 7
Day 6 saw me arriving at my parents' place where I got a great home-cooked meal and only my second bed of the challenge up to that point.
The next morning I got a fairly early start as I had to get to London Gatwick airport for my next flight. Despite having a bacon sandwich for breakfast at my parents', I took advantage of the Club Aspire Lounge thanks to Priority Pass. I wouldn't normally have whiskey at 10:30am, but I wanted to milk the visit for all it was worth.
I also borrowed Greg's strategy of making a sandwich to take with me. Rather than making a sandwich though, I just pinched a couple of sausages seeing as I already had some wraps I could eat them in.
My flight was on Norwegian heading to Copenhagen, Denmark. I'd been a teenie bit worried leading up to 40k To Far Away after reading about the dire financial straits Norwegian was in and that there was a chance they'd go bankrupt. I was therefore grateful that they were able to hold things together for at least this long, as was Greg seeing as he flew with them during the challenge too.
This was my first time flying with Norwegian and it was a good experience. They have a generous carry-on allowance (compared to some other European low-cost carriers) and the seats were comfortable. Food and beverages weren't included, but I knew that ahead of time. Besides, the flight was only a couple of hours, so that wasn't a big deal.
My original plan for Copenhagen was to get a bus or train into the city and stay at a hostel overnight. I'd walk around the city in the evening, then go on a bike ride the following day around the outskirts of Copenhagen. Taking into account the cost of the bus/train, hostel, bike hire and locker storage for my bags while on the bike ride, it was due to come to $66.53.
That plan changed though when I mapped out the bike route I needed to take. It was going to be about 40 miles which I figured would be overdoing it; even though I'd likely be riding an electric bike, that would only have a range of ~15 miles, leaving me to pedal the rest. Having since seen Nick's travails on his bike ride in New Zealand, I'm glad I thought better of this plan.
I decided instead to hire a car as I was able to get a decent rate with Sixt through RentalCars.com. Based on the research I did online, parking in Copenhagen is fairly expensive. I therefore decided to cancel the hostel, figuring I could find somewhere outside of the city to park overnight and sleep in the car. Taking into account the cost of the car rental and gas, I'd actually be saving money on my original plan, plus I wouldn't have to bike 40 miles either as I could drive the route instead.
My flight leaving Copenhagen the following day wasn't until 8pm, so I didn't want to pick up the car at 3pm as I'd have to return it by 3pm the following day. Copenhagen airport has several Priority Pass lounges, so I booked the car for 5pm, figuring I could chill in a lounge and have an early dinner that'd hopefully see me through the night.
I was a little concerned when arriving at the Eventyr lounge that I wouldn't be allowed in as I wasn't departing that evening, but the boarding pass from my arriving flight seemed to do the trick and I spent a couple of hours in the lounge eating my fill and working on some posts. (n.b. Looking back over the research I did ahead of time, the Aspire Lounge at Copenhagen airport specifically states you can access it upon arrival, but I forgot this when I was there).
I ended up leaving the lounge closer to 5:15pm. By the time I'd gotten the shuttle bus to the rental car desk and waited in line, it was closer to 6pm. I'd done a little research in the lounge as to where I should drive to and had decided to head up to Helsingør. That's a city about 45 minutes north of Copenhagen which has a castle called Kronborg. I'd planned to check it out and take some photos that evening, but alas it was dark by the time I got there and Kronborg wasn't lit up at night.
There wasn't much left for me to do, so I drove around until I found a fairly quiet and dark neighborhood, leaned my seat back and went to sleep.
Day 8
The temperature dropped quite a bit overnight, so I awoke in the night a little cold. I'd brought along a couple of Mylar blankets with me, so I covered myself with one of those and added my raincoat on top for a little extra warmth. It helped, but I had a hard time getting back to sleep.
It was getting light by that point and I needed to use the bathroom, so I took a look on Google Maps for the nearest grocery store. There was supposedly an Aldi nearby so I drove there, only to discover that Google Maps thought the Aldi was in the middle of a housing complex.
I tried a different grocery store and that took me to a shopping mall as the store was located in there. I thought Google had screwed me over again as all the stores in the mall were closed, but thankfully the Fotex grocery store was open.
One of the things I decided to do during 40k To Far Away was try the food of each place I visited. Something else I'd looked up while in the Eventyr lounge the day before had been traditional Danish foods. I knew I had to get some kind of Danish pastry, but wanted to try something different too. In the end I went for a couple of pastries and Frikadeller.
Frikadeller are basically meatballs; I got chicken ones which were fairly good, but I could've done with having something like sweet chili sauce to dip them in.
The cinnamon/Nutella pastry I got was OK, while the standard Danish pastry was amazing – I could quite easily live on those. Seeing as I'd missed out on seeing the castle the night before, I headed back there to eat my breakfast. Fun fact for any Shakespeare fans out there – Elsinore from Hamlet is apparently based on Kronborg Castle.
After breakfast it was time to make my way back down to Copenhagen for something I was really excited about. If you read my post recapping days 1-4, you'll have seen that I went troll-hunting in Boom, Belgium. The guy who created those – Thomas Dambo – is Danish and he's created several trolls all around Denmark. In particular, there's a group of 6 trolls in neighborhoods around the outskirts of Copenhagen called The 6 Forgotten Giants.
Going on this troll hunt is what was originally going to require a 40 mile bike ride; in hindsight that really would have been insane. Finding them all by car was tiring enough as I still ended up walking 10 miles as some of them were off the beaten path and others took a couple of different attempts to find.
It was well worth it though as each of these trolls were magnificent in their own way. I can't decide which my favorite one was – I loved Oscar Under The Bridge…
…but Teddy Friendly had a kind and wise face.
Finding all the trolls had taken longer than expected, so once I was done finding them it was time to head back to the airport to drop off the car. That gave me a few hours back in the Eventyr lounge before my flight that night.
The Eventyr lounge at Copenhagen airport has showers, but you have to pay 50 DKK to borrow a towel. I thankfully had my microfiber towel with me, so I was able to use the shower free of charge so that it wouldn't affect my budget.
My flight that evening was also on Norwegian, only this time I was heading to Madrid, the first city I'd properly visited during 40k To Far Away. I was heading back there as I'd booked a round trip flight early on in the planning process from Newark to Madrid, so the return leg was the following morning. For more on that, see How The 1st Flight Stephen Booked Affected The Rest Of His Trip.
I'd been hoping to access one of the 24 hour lounges at Madrid airport, but security wouldn't let me through even though my flight was at 10am the next morning. I therefore found a fairly quiet spot in the airport and fell asleep on the floor for a few hours.
DAY 9
Despite not getting many hours of sleep, I woke up feeling somewhat alert and headed to the Puerta de Alcala lounge in Terminal 2.
The first leg of my flight back to the US took me via Zurich on Swiss. I'd not flown Swiss before but it was a fantastic experience. Despite the flight being in economy and only lasting a few hours, they served a warm quiche and gave out some Swiss chocolate for after. Seeing as I wasn't leaving the airport, I decided to count this chocolate as my Swiss food.
I had a five hour layover, so made my way to the Primeclass lounge – another Priority Pass lounge. Along the way I passed a store that would've blown my 40k To Far Away budget (and my regular budget!)
The Primeclass Lounge had a shower, so I freshened up there as I knew it would be at least 24 hours before I'd have another chance to take another shower.
I left the lounge with what I thought was plenty of time to spare. Just before arriving at my gate though, there was a long line for passport checks even though we'd gone through passport control earlier. This ended up taking about 30 minutes as there were only two members of staff checking passports and neither of them seemed to have any sense of urgency. I arrived at my gate in time, but it's something to be aware of if you're flying out of Zurich airport.
My flight from Zurich to Newark was also on Swiss and it was another great experience in economy. The main meal was good and included a side of the most flavorful quinoa I've ever had.
My only complaint about the flight is that their IFE required a two-pronged headphone jack. That meant I was stuck using their earphones, although they weren't quite as crappy as I'd feared. I'm not normally one for watching TV or movies on the plane, but ended up watching several episodes of The Big Bang Theory as I'd not seen those episodes before.
We landed in Newark at about 8:30pm, so I made my way to Art & Lounge which is landside at Newark airport. I had to wait until 9:30pm to be allowed in (they were restricting Priority Pass members before then) and was lucky to actually get in. The person checking me in swiped my card and scanned my arrival boarding pass; she said I was only supposed to be allowed entry if I had a departing flight, but she let me in anyway which I appreciated as it meant I got to eat something other than my tuna wraps.
The lounge was packed and I'd happened to sit myself next to the loudest and most obnoxious group of people. They thankfully left after about 45 minutes, while I stayed until 11:15pm (the lounge closes at 11:30pm).
Although I didn't have any more flying to do, I stayed at the airport overnight as there weren't any buses to my next destination until the following day. I managed to snag one of the padded seats, although they aren't particularly conducive to sleeping due to the armrests. It's probably fine fitting both your legs under the armrest if you're 120 lbs, but I'm quite a way from that. I therefore slept on my side with one leg beneath the armrest and one leg over and used my small packing cube as a pillow.
Day 10
Needless to say, it wasn't the most comfortable night of sleep I've ever had, although it certainly beats not getting any sleep at all which is what happened at the same airport at the beginning of the trip. I also got woken fairly early due to a long line of passengers waiting for their flight.
I decided not to try my luck with Art & Lounge that morning, so took a bus from the airport to Newark Penn Station. Knowing that it'd be a little while until my next meal, I got a sausage and egg bagel from Dunkin' Donuts which, as it turns out, would last me much longer than expected.
I'd headed to Penn Station as I was taking a Greyhound bus down to Atlantic City, although things didn't work out as planned. I have Hyatt Globalist status which I'd already matched to M life Gold status. My plan was to go to Borgata to pick up a copy of my Gold membership card, then head to Hard Rock Casino & Hotel. That's because they match M life Gold members to Rock Royalty status in their Wild Card program. That status match comes with two free nights that can be used immediately provided there's availability.
The last three words of that previous sentence proved to be my undoing. What I hadn't realized until that morning was that I was visiting Atlantic City on the Friday and Saturday night of Columbus Day weekend. When checking for room availability online, all I saw for every room type was SOLD OUT.
Argh!
I'd known beforehand that counting on there being availability was a risk, but even though it was a weekend I figured that it wouldn't be too busy in Atlantic City on a random weekend in October. Unfortunately it wasn't a random weekend and it was busy.
The thing is, there was an outside chance that someone might cancel their room late in the day, or Hard Rock might keep a few rooms aside for Rock Royalty members. That left me with a decision to make – should I still try to make this work or should I find alternative accommodation?
In the end, I went for alternative accommodation. I had enough money left in my budget to be able to book a cheap $30 per night Airbnb which was more like a hostel inside a house.
The alternative would've been walking from the bus station to Borgata, then on to Hard Rock while carrying my 25 lb backpack to try for the free room, a route that was about 10 miles long. If that didn't work out, I'd have walked all that way that night for naught, with the Airbnb potentially getting booked up in the meantime. That Airbnb was the only one I could afford in my budget, so the thought of spending a couple of nights on the streets of Atlantic City didn't hold much appeal.
I laid down on my bunk bed that afternoon glad to have somewhere warm to stay that was somewhat comfortable. After not getting a great night's sleep at Newark the previous night, I took a nap at 4pm. That turned into more than a nap seeing as I woke up at 8pm. I considered – very briefly – heading out for a wander around, but drowsiness got the better of me and I fell asleep again, sleeping through to 6am the following morning. My Dunkin' Donuts bagel that previous morning turned out to be all I'd eat for 24 hours.
Despite not heading there the day I arrived, I did still end up status matching at Hard Rock, so stay tuned for days 11-14 to find out how I did with that.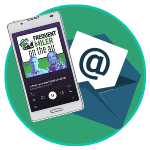 Want to learn more about miles and points?
Subscribe to email updates
 or check out 
our podcast
 on your favorite podcast platform.