A number of airlines and airports offer free tours and free lodging for those transiting through the airport on their way to somewhere else.  This can be a great way to turn an otherwise painfully long layover into a mini vacation of its own.
We've scoured the web for the best deals, but we may have missed some.  If you know of any great stopover deals that we missed, please comment below!
Istanbul: Turkish Airline's Free Tour or Lodging
Touristanbul (free tour)
Options include:

8am – 11:30am
8:30am – 3pm (includes lunch)
8:30am – 6pm (includes lunch)
Noon – 6pm (includes lunch)
4pm – 9:30pm (includes dinner)
6pm – 11pm (dinner & cruise)

Requirements:  All international transfer passengers who have flight through İstanbul can attend Touristanbul. Both flights should be with Turkish Airlines' ticket (codeshared or operated). Connection times between flights should not be longer than 24 hours and shorter than 6 hours.  Passengers may not get both accommodation service and Touristanbul on the same journey.
Stopover in Istanbul (free hotel)
Options include:

1-night stay in a 4-Star hotel for Economy Class
2 nights stay in a 5-Star hotel for the Business Class

Requirements:  Valid for stopovers of 20 hours or more.  Flights must be operated by Turkish Airlines.  Passengers cannot do both the free hotel and free tour.  See website for list of valid routes that permit the stopover program.
Tokyo Narita Airport Transit Program (free tour)
Options include: Narita-san Shinsho-ji Temple, Shibayama Town, Tako Town (walk or cycle), Cosplay in Sakae Town, Sawara Riverside District, and numerous self-guided tours.
Requirements:  The only requirement seems to be that you must be able to get to the Narita airport and you can't be a Japanese citizen.  The tour page terms state: All tours are intended to guide non-Japanese travelers who are changing planes at Narita Airport (either domestic or international flights) or who are staying in the Narita area.
Seoul Incheon Airport Transit Tour
Options include: Multiple tours are available ranging in length from 1, 2, 4, and 5 hours long.
Requirements:  Passenger must have connecting international flights within 24 hours.
Taiwan Free Half Day Tour
Options include: Morning tour (8:30 AM) or afternoon tour (2:15 PM)

Morning tour visits the Qingshui Zushi Temple, Sanxia Old Street, and Yingge Ceramics Old Street.
Afternoon tour passes lots of sights by bus and has stops at Ximending and Taipei City.

Requirements:  Passenger must have a connecting flights with a layover between 7 and 24 hours.
Air China Free Lodging: Beijing, Chengdu, Dalian, Hangzhou, Shanghai
Options include: None? I'm not sure, but it looks like the hotel may be assigned to you.
Requirements:  Must book Air China tickets transiting through Beijing, Chengdu, Dalian, Hangzhou, or Shanghai.
Details can be found here.  It's unclear if you can add a free transfer after booking or if it has to be done as part of the booking process.
Singapore Tour or Lodging
Singapore Layover Tours
Options include

Heritage Tour: 9am-11:30am; 10am-12:30; 12:30am-3pm; 2:30pm-5pm; 4pm-6:30pm
City Sights Tour: 6pm-8:30pm; 7:30pm-10pm

Requirements: You are a transiting passenger of Changi Airport and your layover period is at least 5.5 hours but less than 24 hours, and your onward flight is scheduled at least 2 hours after the end of the tour.
Singapore Airport Stopover Holiday (cheap hotel)
Options include:

1 night hotel with $10 SIM card: Starting at S$41 per person ($31 USD per person)
1 night hotel and free attractions: Starting at S$63 per person ($47 USD per person). This option does not include transportation to the attractions.
2 nights hotel plus free attractions plus Universal Studios: Starting at S$221 per person ($163 USD per person)

Requirements: Available for passengers ticketed on flights operated by Singapore Airlines (SQ), SilkAir (MI), and approved code share flights on Scoot (TR) and Air NewZealand (NZ).  Packages are available if you're stopping over in Singapore, on the way to your destination (for instance, Sydney – Singapore – London and vice versa). The stopover holiday package is valid for the duration of your Singapore Stopover only. Transport to and from the attractions is not included.
Thai Airways Bangkok Stopover (free hotel or tour when transiting from Australia)
Options include

Hotel stay:

Well Hotel Bangkok
ibis Styles Bangkok Khaosan Viengtai
Shanghai Mansion Bangkok

Tour: "Taste of the "City Tour" tour with return transfers to and from the airport. On this tour you'll enjoy Visit Wat Traimit Temple located near Chinatown and stand just a few metres away from a statue of Lord Buddha made of solid gold, visit Chinatown, the flowers market and take in the sights of the various Government offices. The tour duration is 6 hrs with pick up at Suvarnabhumi Bangkok International Airport between 08:00 and 10:00 in the morning."

Requirements: Must book round-trip travel on Thai Airways originating in Australia. Stopover must be complete by September 30 2019.  See the website for eligible final destinations.
Colombo SriLankan Airlines Free Hotel
Options include: None. Hotel is assigned by SriLankan Airlines.
Requirements: Fare must be at least $350 one-way or $700 round trip.  Passengers should arrive in a SriLankan Airlines' flight and transit in Colombo for over 8 hours and up to 24 hours, and also should connect to another SriLankan airlines flight.  Passengers should hold a SriLankan airlines through ticket under a single booking reference to be eligible.
Note: A reader reports being offered a mediocre Ramada hotel for her layover. She turned it down.
Ethiopian Addis Ababa Transit Service (free hotel)
Options include: None. Hotel is assigned to you.  Meals at the hotel are included.
Requirements: Ethiopian Airlines passengers with connecting flight between 8 and 24 hours. You are not eligible if a shorter transit was available.
Qatar's Doha Tours and Lodging
Doha Transit Tours
Options include: Many tours to choose from. Tours start at 8am, 10:30am, 3pm, 6pm, 8pm, and 9:30pm
Requirements:  Must be flying Qatar and transiting through Doha.  Departure time must be at least 2 hours after the end time of the selected tour.
Doha Stopover (hotel)
Options include: 4 star hotels start at $23 for one night. 5 star hotels start at $28 for one night.  You can book longer stays, but at slightly higher rates.
Requirements: Passengers flying on Qatar Airways through Doha with a valid pre-approved free transit visa (bookable online at qatarairways.com and valid for up to 96 hours) or nationals who are eligible for a visa on arrival or free visa can enjoy up to a four nights stay in a four-star or a five-star hotel at a nominal booking fee, starting from USD 23 / QAR 84.
Emirates Dubai Connect (free hotel & meals)
Options include: None. Hotel is assigned by the airline. "The accommodation provided will be in the Copthorne Hotel Dubai, the Le Méridien Airport Hotel Dubai, the Arabian Park Hotel Dubai or another alternative at the discretion of Emirates. We do not make any guarantee as to the accommodation allocated to you in any manner (e.g. facilities, hotel, location, star rating)."
Requirements: Must book Emirates flight connecting in Dubai for 8 to 24 hours (or 6 to 24 hours for business class). You are not eligible if a shorter transit was available.
Etihad Stopover in Abu Dhabi (free hotel)
Options include:
Requirements:
Details can be found here.
Oman Air Free Night in Muscat
Options include
Requirements: Must be flying from Europe to the Far East, or from the Far East to Europe on Oman Air.  Offer is available for the period 1st June to 30th September inclusive.
Air Serbia Belgrade Free Hotel
Options include: None
Requirements: Must fly Air Servia to or from JFK with a connection in Belgrade's Nikola Tesla Airport.  Connection time must be at least 8 hours and less than 24 hours.  Valid origins or destinations to/from JFK include: Beirut, Atina, Thessaloniki, Larnaca, Sarajevo, Skopje, Banja Luka, Sofia, Bucharest, Tirana, Ljubljana, Zagreb, Split, Tivat, Podgorica, Prague, Tel Aviv, Venice, Dubrovnik, Rijeka, Zadar, Pula, St. Petersburg, Kyiv, Krasnodar, Cairo.  Passengers have to contact the Air Serbia call center, or make an inquiry through a travel agent at least 5 days before travel.
Air Astana Kazakhstan Stopover Holidays (hotels from $1)
Options include
Requirements: Must fly Air Astana with a minimum 10 hour stopover in either Astana (Nur-Sultan) or Almaty.  Booking must be made 96 hours prior to arrival.
Air Canada Stopover: Free or Cheap Hotel in Montréal, Toronto or Vancouver
Options include: It appears that hotels are available at a range of prices starting at $0 for premium class passengers, and $49 for economy passengers.
Requirements: Book hotel at least 96 hours before traveling. Fly Air Canada with a 6 hour or longer connection through Montréal, Toronto or Vancouver.  Must be at least 21 years old.
Other notable offers
Dead deals
The following stopover deals appear to be gone at the time of writing. Please let us know if any are incorrect.
Salt Lake City: The Church of Jesus Christ of Latter-Day Saints used to offer free transportation and a free tour of the Temple Square area of downtown Salt Lake City.   It appears that free tours are still available but they do not include transportation to/from the airport.
Iceland Air Stopover Buddy: Iceland Air once offered a free service where they matched you with a local "buddy" with similar interests who would then help you make the most of your Iceland stopover.  Details here.
KLM Layover with a Local in Amsterdam: For those with layovers of 6 hours or more, KLM offered free transportation to the city and free first round of drinks for you and the local volunteer who would show you around.  One Mile at a Time offered details here.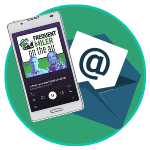 Want to learn more about miles and points?
Subscribe to email updates
 or check out 
our podcast
 on your favorite podcast platform.