---
The adventure began Wednesday October 2nd.  Nick, Stephen, and I met up in Washington DC to kick off the 40K to Far Away challenge.  Our goal?  Go as far as possible.  Our budget?  40,000 points and $400.  Who picked the winner?  You did.
Each of us was assigned a transferable points currency.  We were allowed to use up to 40,000 points, as follows:
Greg the Frequent Miler (AKA me): 40,000 Chase Ultimate Rewards points
Nick: 40,000 Citi ThankYou Rewards points
Stephen: 40,000 Amex Membership Rewards points
We purposely left the objective unclear.  Readers were given the opportunity to debate who won and why; and a reader poll ultimately decided the winner.
And the winner is…
Who do you think won the 40K to Far Away challenge?
Greg (51%, 567 Votes)
Stephen (31%, 345 Votes)
Nick (19%, 210 Votes)
Total Voters: 1,122

Loading ...
Results
Distance Results
We each traveled at least this far (estimated distances shown here do not include around town travel):
Nick: 19,619 miles 16,061 miles before he went over-budget

Greg: 18,037 miles
Stephen: 13,394 miles 
Budget Results
Nick: Spent 39,500 points (500 under budget) and $670.90 ($270 over budget). Details here.  Before going over budget he spent only 23,500 points and $398.70. Details here.
Greg: Spent 40,000 points and $397.08 ($2.92 under budget). Details here.
Stephen: Spent 40,000 points and $382.44 ($17.56 under budget). Details here.
---
Why did we do this?
We expect this to be fun!  And it was a great opportunity to highlight sweet spot awards available through each of the transferable points currencies: Chase Ultimate Rewards, Citi ThankYou Rewards, and Amex Membership Rewards.
In fact, this contest led to some awesome discoveries such as the ability to book flights to Hawaii for only 7,500 Citi ThankYou points, the ability to book super-cheap fares with Chase points, and tricks for finding 5K United awards.  More examples can be found below under the heading "What we've learned."
The Rules
The goal was to use the budget (40K points + $400) to go as far as possible.  How do we measure success?  We don't know.  We debated whether we should measure distance from origin to destination, but that didn't seem right.  After all, someone could potentially fly all the way around the world and end up 0 miles from the start.  How about measuring the combined distance of each individual leg?  Maybe, but should we really count it as going far if Stephen rides a merry-go-round 35,000 miles?  Ultimately we decided that we'll know success when we see it.  And, if we don't, it will still be fun debating it!
But we did need some rules, so here they are:
Beginning with the first mode of transportation, we must account for all costs within the 40K + $400 budget.  This means that we need to track payments for food, airport transfers (not counting the original transfer to get to the starting location), lodging, visas, etc.
This is a one-way challenge.  We do not need to return to the starting location.
We cannot accept transit/lodging/food help from

readers

.  In other words, we can accept help in terms of advice, but we can't accept a ride to the airport, lodging, food, or other types of material assistance from readers.  Note that accepting help from friends or relatives along the way is fine as long as it is the type of thing that would normally happen when traveling.
What we've learned
The challenge to come up with the best possible itinerary with 40K points has led us to many interesting discoveries.  Some are brand new.  Others were already known, but are relatively new to us.  Here are some of the gems:
General Travel
Chase Ultimate Rewards:
Etihad Guest (transferable from Amex, Citi, and Capital One)
Turkish Miles & Smiles (transferable from Citi ThankYou Rewards):
United MileagePlus:
Virgin Atlantic Flying Club (transferable from Amex, Chase, and Citi):
Media inquiries
Please contact us here: press@frequentmiler.net.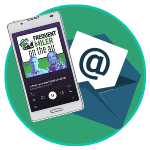 Want to learn more about miles and points?
Subscribe to email updates
 or check out 
our podcast
 on your favorite podcast platform.