Hopefully you've all gotten a chance to read Nick's excellent post about the joy (and myth) of "free" travel. In the post he does a great job outlining the pit-falls of thinking of award travel as "free". His points make sense to me and I don't necessarily have a strong opinion on this, but as the second half of a site called "Travel is Free" which bounced around the internet for a solid decade, I feel somewhat obligated to play devil's advocate a bit. During our early "Travel is Free" days after all, we used the tagline "how we the broke travel." Those early travel days felt like an especially good case study for how travel could be thought of as "free".
Let me explain…
Broke and platinum…
Drew and I used to joke (in half seriousness) about one day writing a book called "Broke and Platinum" which would outline some of our stories as a broke newlywed couple experiencing luxury travel and premium status in an often hilarious juxtaposition. We'd spend one night being embarrassingly cheap, and the next on a business class flight.
When we got married in 2011, Drew had earned plenty of miles for flights all over the world. But he hadn't learned all that much about hotel points yet. The blog was not yet making any money so we had no income, definitely no trust funds or anything like that, and despite trying to save up before we left, our entry-level jobs had left us with a savings that was quite meager. This made us feel flight-rich but broke in every other way.
For example that first year of travel had an incredible itinerary that included destinations in Asia, Australia, the South Pacific, and South America. But we were filling in the gaps by essentially dirt-bagging, (to steal a term from my rock-climbing friends). I remember arguing with a hotel owner in Vietnam for instance until he agreed to let us share a tiny twin bed so we could pay just ~$7 instead of ~$14. Then of course we spent a handful of nights sleeping in the airport in Tokyo when the accommodations were more expensive than we'd expected. And we did some couch-surfing as well – some with the actual couch-surfing website and some by just visiting friends, friends-of-friends, and sometimes friendly strangers. We also did our fair share of hitch-hiking, mostly in Europe, but also some in Asia and the South Pacific.
By the end of that first year of travel, we saw ~20 some countries and, if I recall, maintained an average daily budget under $20. (Though it may have even been closer to $10.)  Many of our travel costs had to be "free" because there was no other alternative.
When $0 is the only option, isn't that free?
You may be rolling your eyes and preparing to type in the comments: "Most people aren't willing to just hitch hike and sleep on couches."
While that is obviously true (and I'm in no way trying to sell you on this style of exhausting travel)…you have to admit it's hard to tell the person who is hitch-hiking and sleeping on couches (and using miles to fly to those couches) that their travel isn't free. That style of vagabonding costs lots and lots of energy, patience, comfort, etc. But very little money. (And when we use the word "free", we're not usually connoting those other, non-money resources.)
If you'd known us at that time and said "how on earth are you paying for all this travel?", you would have been just as likely to roll your eyes at an answer that started with some sort of explanation about how we're paying in miles and points but this shouldn't be misconstrued as "free".  When people were asking us how we were paying for all this travel, they wanted to know how much money it was costing (and where a pair of unemployed, no-trust-fund kids were getting this money.)
Again, I don't necessarily disagree with the points Nick made in his post. But I would say that if anything can ever be described as "free", then sometimes travel can be called free as well. If it's somehow not depleting your meager savings as you hop around the globe for 10 months, it's hard to know what else to call it.
Truly "free" travel is its own kind of adventure.
Even if we throw miles and points travel entirely out of the equation, a not-insignificant portion of our first year of travel consisted of truly free tactics such as those I've alluded to already. (Again, like hitch-hiking, couch-surfing, visiting friends, etc.) And while I've said that I'm definitely not trying to sell anyone on this exhausting travel style, if I'm being honest, some of our most incredible travel experiences came from that year of travel.
There are so many different and equally rewarding ways to travel of course. But for myself, I can say that traveling on a strict budget produced an entirely different (and definitely more adventurous) journey than the more stable and luxurious travel we experienced as our blog started making money.
In the first year of our travels, we found ourselves in Guam unprepared for the US-level prices and unsure of where to stay. With not many hotel points at this time, we deliberated and deliberated about what to do and finally decided to rent a car so we could explore the island and have a place to sleep. We knew of a beach area with public showers and bathrooms so even though it wasn't ideal, this felt like the best idea we had. But the nights were uncomfortably warm, the local grocery stores were not keen on letting us spend the whole night in their parking lots, and it was getting harder and harder to find places to park for the night. Luckily, we'd visited a flea market when we were scoping out cheap, used snorkel gear and we'd met a talkative and friendly vendor who'd recently retired from the Navy. On the last day of our car rental, we ran into him at the flea market again and much to our relief, he invited us to stay with him. We spent the next week and a half exploring the island in his jeep, snorkeling on base where the coral was incredibly pristine, and having endlessly interesting conversations.
That's not the only story we have like that – many times when we were just beginning to feel hopeless, a stranger would come through for us and restore our faith in humanity. The struggles were real, but the wins were all the better.
Now in my mid 30's, I don't know if I have energy to be that daring. But I don't think you have to travel like a "dirt bag" to replicate this phenomenon. Even if you have no intention of hitch-hiking or staying with strangers, we've also had incredibly rewarding trips visiting friends who live abroad. This gives a local's-view of a place which is very hard to achieve on your own, and a front-row view of a culture. We've visited friends in Cairo, mainland China, Borneo, Germany, Myanmar and all across the States as well. Some of these friends we've known very well, and some we got to know more closely once we arrived. But each time it's worth it and adds a new dimension to the destination we'd not accessed on our own.
While free travel may be mostly a myth, I have a journal full of stories from those early days of travel that really did cost $0 actual dollars, and produced incredible adventures. Truly free travel isn't for everyone, but us dirtbags know it's real.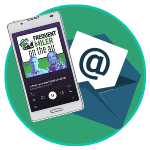 Want to learn more about miles and points?
Subscribe to email updates
 or check out 
our podcast
 on your favorite podcast platform.