Last week my wife I drove to northern Michigan for our first pandemic vacation.  Michigan, overall, has had very few COVID-19 cases in recent weeks, and even fewer in northern Michigan.  Further, hospitalizations are at record lows.  This gave us confidence that we could vacation safely.  Plus, the county we live in has also become nearly virus free, so we felt confident that we wouldn't make things worse in the north.
I know that many readers are eager to travel, but also concerned about COVID-19.  I can't answer for you whether or not it's safe.  Instead, you'll find below my travel experiences as they relate to staying safe (or not).
As I write this, there is still much more unknown than known about COVID-19, but the current evidence suggests that a combination of face masks, social distancing, and frequent hand-washing are effective in slowing the spread of the virus.  Further, it seems that it is pretty safe to be outside with others without face masks, as long as you maintain social distancing or minimize interactions.  In other words, people without masks are probably safe to pass by each other while outside, but stopping for a close-in and lengthy face to face conversation could be risky.  Whether time will prove these notions right or wrong, I don't know, but these were the understandings my wife and I had going into our vacation.
Overall Pandemic Vacation Experience
We stayed in Bay Harbor, Michigan and frequently visited nearby Petoskey.  We also spent some time in the nearby towns of Charlevoix and Harbor Springs, and drove north on scenic M-119 through the Tunnel of Trees.
We found that most businesses that we visited were very good at posting signs insisting that customers wear masks inside.  Additionally, almost all employees consistently wore masks.  At restaurants and stores, the vast majority of customers complied with the rules and wore masks while inside.  Businesses were inconsistent about enforcing the rules, though.  Specifically, the Inn at Bay Harbor, where we stayed, did not do anything to make sure that customers wore masks as required.  This contrasts with two incidents in different restaurants where we did see staff enforcing the rules when people walked in without masks.
Overall, we felt about as safe in this part of northern Michigan as we feel at home in Ann Arbor, Michigan.  It's very important to note that this area and this experience is not necessarily typical.  Our son separately visited a more rural part of Michigan a week ago and he reported that mask use was extremely rare there, even among business employees.  Similarly, Ben from One Mile at a Time, has been traveling out west and he reports that mask usage there was virtually non-existent.
What follows are our experiences broken out by type…
A safe drive
After reading Ben's experience flying (where he reported many people skirting the mask-wearing rule), I was happy that we had planned a driving trip.  Normally we would have stopped for lunch on the four hour drive north.  Instead, we ate an early lunch at home before setting out.  We stopped twice on the way, once for gas and once at a rest stop for a bathroom break.
Our return drive at the end of the week was similar.  We picked up take-out sandwiches from a local restaurant and stopped once for gas and once at a rest stop.
Pumping gas in a Pandemic
It's great that most gas stations are setup so that you can fill up your tank without going inside.  Filling up the tank was a non-event.  I was careful to use hand sanitizer afterwards.  Actually, I got into that habit a couple of years ago, so there was really nothing new here at all.
Rest stops in a Pandemic
We wore our masks into the rest stop bathrooms.  Not everyone else did though.  Still, we were in and out quickly and the bathrooms weren't crowded, so we felt safe enough.
Resort
We stayed 5 nights at the Inn at Bay Harbor.  We've been there many times in the past.  It's a nice resort in a fantastic location.  Plus, it's a Marriott Autograph Collection hotel.  Instead of paying over $400 per night, we paid 35,000 points per night and got the fifth night free.  Plus, since I have high level Marriott elite status, we were offered a welcome gift choice: 1,000 points for the stay or breakfast for two every day.  Obviously we took the breakfast.
The resort was nearly full.  We overheard a staff member saying that they were at something like 90% capacity.  This is very unusual this early in the summer, but people are clearly anxious to get away!  I think this bodes well for the domestic travel industry.
The resort's website said all of the right things about how they were handling the pandemic.  They were supposedly checking staff members' health daily.  They implemented extra cleaning procedures.  They mandated mask usage indoors for both staff and guests (when not in your own room).  And so on.  In reality, they did nothing to enforce the mask requirement and so probably about a third of the guests wandered around without them.  The two places where this was most concerning to me was in the elevators and at the breakfast buffet.
Resort elevators
The resort has two very small elevators for guests.  We usually opted to take the stairs to and from our second flour room, but when checking in and out, the elevators were helpful for moving our bags.  Once, when faced with riding the elevator with an unmasked guest, we chose to wait for the next one.  This was a very minor inconvenience thanks to the stairs-option, but I could see it being a big problem in a high-rise hotel.
Buffets during a Pandemic
At breakfast we were surprised to see that the hotel was still offering a buffet.  Their website had explicitly stated that they had moved to menu service.  Instead, we found the usual: the default option is the buffet, but you can always ask for a menu and order from that instead.  Those with free breakfasts can order up to $23 per person off the menu.  Fortunately, they don't appear to charge at all for coffee or juice, so the $23 budget is plenty to get both a main and a side.
The breakfast buffet was setup like usual with an omelette station and a long row of other options.  Unlike before, there were now plexiglass barriers and staff ready to give guests whatever food they request.  Quite a few guests disregarded signs and entered the buffet area without masks.  Sometimes the area would get crowded and it was difficult to maintain social distancing.  One particularly loud maskless guy even decided it was a good idea to lean between the partitions to point out what he wanted.  We never saw any staff members try to enforce the mask requirement.
My wife and I ultimately decided that the safest breakfast option was to sit outside and order off the menu.  Even though I prefer the resort's buffet options over their menu options, this proved to be a much nicer and less stressful way to start each day.
Eating out during a Pandemic
Given the guidance that says to wear masks indoors, eating at restaurants poses a bit of a dilemma.  The current rule in Michigan is to wear face masks when moving about the restaurant but it's OK to remove masks when seated.  Restaurants are also supposed to set up all tables to ensure a minimum of 6 feet of separation between guests.  During this trip, we ate out indoors at three different restaurants.  Two separated guests very well, the third did not.
We ultimately decided that we felt safer eating outdoors.  At some restaurants we got food to-go and found places to eat outside.  Some had their own outdoor seating. The Legs Inn had the best outdoor setup of any of the places we visited:
Once, we picked up food curb-side at a pizza place and brought it back to the resort to eat on our balcony.  The view wasn't bad:
We were very lucky weather-wise and so eating outside was never a problem.
Safe activities for a Pandemic vacation
We spent our time happily walking, hiking, biking, and relaxing outdoors.  We never felt the least bit unsafe…
Bottom Line: Conclusions About Taking a Pandemic Vacation
By visiting an area with very low COVID-19 exposure, and by minimizing our time indoors except in our own hotel room, and by wearing masks when we were indoors, we almost always felt safe during this trip.  As a result, we were able to fully enjoy this terrific vacation.
I can't tell you whether traveling now is right for you.  That's a very personal decision.  But if you're trying to decide, hopefully my trip report will help a little to get an idea of what you might face.  Keep in mind, though, that we happened to visit an area where people and businesses on the whole proved to be very good at following current best practices.  You are likely to find extremely different compliance rates in other towns both within Michigan and across the country.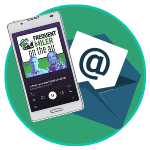 Want to learn more about miles and points?
Subscribe to email updates
 or check out 
our podcast
 on your favorite podcast platform.