Uber has sent out targeted emails offering 25% off UberEats orders when paying with Venmo and using promo code VENMOFEAST. It might be possible to stack this with this month's Amex Platinum Uber benefit to pay $5 on a $50 order.
The Deal
Pay for an UberEats order with Venmo and using promo code VENMOFEAST to save 25% on your order.
Key Terms
Maximum $10 per order.
Limit of 5 orders.
Expires December 17, 2018 at 11:55pm PT.
The user must use Venmo as the payment method for the order to be eligible for the discount.
The user also must receive this email directly from Uber to be eligible and must apply the promo code in the app before completing their order.
Quick Thoughts
With a limit of $10 back on each order, you'll max it out with a $40 order each time.
Don't forget that this month's Uber benefit on the personal Amex Platinum card is $35 (the usual $15 plus December's $20 bonus). It'd therefore be better to use up that credit before using this Venmo offer unless you plan on spending the $35 after December 17.
I'm waiting for my new Amex Platinum card so I can't check, but I'm curious if it's possible to stack both the Platinum credit and this Venmo offer. For example, let's say you place a $50 order and apply the VENMOFEAST code to get $10 off. Would it then be possible to use your $35 credit and so only have to pay the $5 balance using Venmo? I'm not convinced that'll work as I suspect you have to pay the entire amount using Venmo, but it's worth a try if you received the targeted email and have a personal Amex Platinum card.
Here are the steps given in the email for how to add Venmo to your UberEats account:
Download the Venmo app.
Tap the profile icon in the bottom right corner of the Uber Eats app and select Payment.
Tap Add Payment Method.
Tap Venmo.
Sign in to your Venmo account and tap Authorize.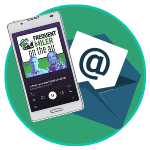 Want to learn more about miles and points?
Subscribe to email updates
 or check out 
our podcast
 on your favorite podcast platform.