Urbanr is a new site that allows you to pay rent with a credit card for a 1.5% fee. That's better than the 2.5% charged by Plastiq, though not quite as good as the lucky first 50 who use Roomipay each month with no fee. Still, Urbanr offers a great rate and the ability to split tender over multiple cards, which could make it a really attractive option to those who are trying to hit minimum spend requirements on several cards at once or who split rent with other parties.
The Deal
Pay rent with a credit card for a 1.5% fee
Key Details
Both the renter and property owner have to sign up (a renter can sign up and Urbanr will send an invite to the owner for you)
Property owner decides whether to make the renter pay the fee, to split the fee, or for the owner to take on the fee
Urbanr takes Visa, Mastercard, and Discover (no Amex) and they allow up to 3 cards to be used per transaction, meaning you can split tender over 3 cards to pay the rent
Quick Thoughts
I first saw this on View from the Wing. Gary was able to set up a referral program of sorts, so if you use the referral method indicated in his post, you can get $10 back when you pay $1,000 or more to a new landlord by May 1st and $10 per additional landlord who signs up and accepts $1K in payments by the deadline. See the View from the Wing post for more on how to do that.
Overall, this is a great option to earn some miles and/or cash back as there are many cards that earn at least 2% cash back, some that earn 3% cash back in the first year, and others that earn points that could be worth more to you than the cost of the fee (especially if you're working on a signup bonus). If your landlord is willing to split the fee, all the better. As noted in the key details above, Urbanr does not take American Express.
Keep in mind that for the past several months, Roomipay has been offerring fee-free payments to a limited number of people. This month, it has been reported that the first 50 people who make payments through Roomipay will be fee-free. However, Dave at Miles Talk reports that this month you will need to be able to provide your landlord's ACH information as payments will be electronic, which will also be the case with Urbanr.
I haven't personally used Urbanr, but it sounds like the best current option for paying rent with a credit card, bar the fee-free 50 via Roomipay. If you're looking to pay rent via credit card, it's probably worth checking it out, and the $10 referral offer through VFTW could help offset some of the fee for the first month.
H/T: View from the Wing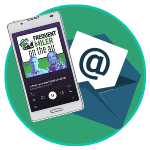 Want to learn more about miles and points?
Subscribe to email updates
 or check out 
our podcast
 on your favorite podcast platform.