This morning, Greg wrote a post called, "Loyalty alchemy. Turn Amtrak coal into United gold, and more…". In it, he explains how you can take advantage of some interesting transfer opportunities to turn Amtrak and Choice hotel points into United miles. There is some interesting value to be had for sure — see his post for more on that.
I loved Greg's analysis, and some readers even commented on their plans to take advantage of the opportunity to turn Amtrak coal into United gold. On the other hand, I'm no alchemist — I probably won't be making any transfers out of those programs right now because they can really come in handy sometimes. In fact, just last month, I used Amtrak points for a short train trip. While train travel isn't quite the same as international first & business class, I'll hang on to my Amtrak points for similar uses in the future.
Amtrak instead of a one-way rental
On my way back from Europe last month I took TAP Air Portugal. We posted a quick deal a few months ago when they were offering business class fares from Europe to the US from $408 one-way. I chose to fly back to the US from Oslo to Lisbon to Boston in order to have what I hoped would be a better shot at a flat bed (and for only 20K net Membership Rewards points at the time!). But I had flown out to Europe from Newark and as such I needed to get back home to Upstate NY from Boston. Normally, I would have booked a one-way car rental using a free day earned from the National One Two Free promo. But this time, I decided to check out Amtrak. I've never traveled more than an hour by train in the US and I've been curious about it for a long time. Cash prices on the Lake Shore Limited appeared to be a decent deal — especially when compared to the cost of a one-way rental car. These are total prices for 2 adults (not per person):
Furthermore, they were a pretty good value on points. Amtrak reward pricing is tied to the cash cost of tickets, so the number of points you'll need varies with the price of the ticket. I seem to have misplaced my screen shot of the points prices the day I booked, so I looked up a random day in the future with almost identical pricing (coach was the same, the viewliner roommette was $1 more here, a difference of 35 points). It's super easy to check the cost of rewards tickets online — you can toggle between "Dollars" and "Points" by clicking the boxes in the top left of this screen shot:
Again, those are total prices for 2 people. I could have paid 2,070 points in lieu of $48 for a coach seat at a value of ~2.3 cents per point. In the end, I decided to use 4,692 points in lieu of the $136 cash price of a viewliner rommette on the Lake Shore Limited for a value of about 2.9 cents per point. The purists out there will say that I only received 2.9 cents per point in value if I would have actually paid $136 for the roommette, and I can't disagree. If I were paying cash, I'm not sure I would have done that — it's more likely that I'd have paid $48 for two reserved coach seats. Still, the roommette was worth something more to me than a coach seat. The debatable math aside, I thought it would be fun to take the train through the Berkshires at the beginning of fall and have our own room from which to enjoy the view. I was happy to be able to use 4,692 points to do so — which I had earned on random purchases through the shopping portal now and again over the past couple of years.
Checked bags are allowed…but you should check them
Having no previous experience with Amtrak, I wasn't sure exactly how baggage worked. Coming from a couple of weeks in Europe, I knew we'd have at least one full-size bag and one carry-on each. I looked up the baggage policy, and it looked like we were good to go:
However, I probably should have clicked the link to learn a bit more about checked baggage. I didn't know exactly how it worked since you don't check in for your train at a counter like in an airport for a flight. I asked at the info booth in the Amtrak station in Boston and was told that we could just bring our bags on board with us since we had a roommette. As it turned out, that wasn't correct — we should have checked them (I'm not sure where that is done in the station as I didn't see it). I didn't realize quite how small the roommette would be. It turned out to be a squeeze even for our pretty small carry-on bags, as you can probably guess from the picture above.
Luckily, the conductor was pretty nice about it and he stored our full-sized bags somewhere during the trip. Next time, I'll make sure to look for where to check bags before departure.
The ambiance of the train
The train had a little of that old-fashioned romance of a bygone era to it. By that, I mean that everything was kinda….old-fashioned and appeared to be from a bygone era.
That said, I was happy that I didn't have to drive all the way home.
The chairs in the roommette will push together to form a bed on the bottom level and there is a bed above the seats that can pull down when it's time to sleep or push up above your heads to give the viewliner roommette a more spacious feel.
Still, it's pretty tight quarters…..especially for a toilet to be positioned directly adjacent to that chair.
There's no beating around the bush — the compartment didn't seem particularly clean. It wasn't filthy, but it has definitely seen better days. It was nice to have a sink to wash our hands before and after we ate and towels to dry off.
Speaking of food, it was free since we were had booked a roommette. The conductor told us that the full dining car doesn't come on board until Albany, but there was a smaller dining car with snacks and drinks. He said to tell the worker there that I was in a roommette and she wouldn't charge me. I'm not sure exactly how it's supposed to work, but I went down to the dining car alone and ordered a bunch of snacks and a couple of drinks. She asked if I was in a roomette and didn't charge me for any of it. I'm not sure how that works on a longer trip, but that worked out OK for this ~5 hour trip.
Bottom line
I'm glad I had some Amtrak points lying around for this trip. It definitely isn't as glitzy as some of the other ways I've used miles and points, but it gets the job done. For the price, I'm not sure I'd count Amtrak out for an overnight trip. Continuing on all the way to Chicago would have cost just over 15,700 points for two people from Boston (and less from Albany…though remember this varies based on the cash cost). My wife and I go to Chicago a few times a year and we usually drive (and stop for the night along the way). It's easy to top up an account for an award since points transfer 1:1 from Starwood Preferred Guest. In the future, I might consider an Amtrak viewliner roommette on the Lake Shore Limited. The roommette is definitely small, and it could probably use some refurbishment, but even on the trip from Boston it was nice to get some work done on my computer and doze off for a minute. If I plan in advance, a trip as far as Chicago on Amtrak would cost fewer points than a reward flight, save me from a long drive, and I'd save the cash or points I'd normally spend on a hotel. And while I wish it were a bit more modern and clean, I'm willing to bet that the experience differs with various lines, and I'd be curious to try them out. So while I can understand why some people will take part in Greg's alchemy from this morning, I'll hold onto my Amtrak points. They just might come in handy again.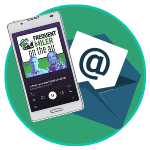 Want to learn more about miles and points?
Subscribe to email updates
 or check out 
our podcast
 on your favorite podcast platform.