A couple of weeks ago, I wrote the post "Vanilla hunt" in which I described my attempt to buy Vanilla Reload cards at a TA gas station. The attempt failed. I was told "Cash only". I continued my search, though, because there are great benefits to buying gift cards and reload cards at gas stations. In my prior post I wrote:
Quite a few credit cards standardly offer extra cash back or bonus points at gas stations (see "Best Category Bonuses") and some offer bonus points at gas stations as an occasional promotion (For example, Freedom and Discover cards offer 5X this quarter at gas stations, up to $1500 in spend).

If a gas station allowed you to buy Vanilla Reload cards with a credit card, you could do really well by paying with a card that offers gas stations bonuses. You do need to be careful, though, because some cards reportedly restrict the bonus to payments made at the pump (if you have specific experience with this, please report your findings below).
The numerically named convenience store
In the first comment of my July 3rd post, Milezjunkie named a convenience store chain that carries Vanilla Reload cards, allows credit card payments, and codes as a gas station. I decided to check it out.
My first stop was at a store with a gas station attached. I easily found reload cards on display and took two to the counter along with a bag of M&Ms. The cashier asked to see my credit card and ID, and in less than a minute I was out the door having successfully bought the cards.
My next stop was at a stand-alone version of the store. I brought one card to the counter. The cashier said "I don't know if we can take credit cards for these." She then called the store owner to ask. When she got off the phone, she said it was OK, but I had to show my ID and credit card. You bet.
At a third store I wasn't so lucky. "Cash only" I was told. I asked the cashier if he was sure about that. He checked with the manager and came back and confirmed "cash only". Oh well, two out of three ain't bad.
Gas purchases
To see how my purchases were coded, I had to wait a few days for the transactions to clear the "pending" stage. Then, since I made purchases with my Chase Freedom card, I logged into my Chase account, and clicked on "Blueprint".
From Blueprint, I selected Track It… See Spending.
There I found that all of my convenience store purchases counted as gas station purchases:
Your mileage may vary (YMMV)
Since July 3rd, I've heard from many readers about this. Many have reported success, but some have been turned away at the counter with the familiar "cash only" refrain. So, whether or not you can buy reload cards at your local convenience store will depend upon the individual store and cashier.
Even if you can make these purchases with a credit card, there is no guarantee that they will count as gas purchases for bonus points. I recommend testing this out yourself to see what happens. To see how your store is likely to code, please see this post: How to find bonus merchants.
To see which credit cards have the best on-going gas station bonuses, checkout this page: Best Category Bonuses. Also note that, this quarter, both Chase Freedom and Discover offer 5X at gas stations up to $1500 in spend.
UPDATE
This post was mostly written last week and scheduled to run today. In the meantime a number of blogs have posted similar information. For example, see here and here.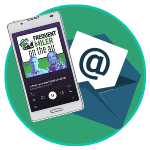 Want to learn more about miles and points?
Subscribe to email updates
 or check out 
our podcast
 on your favorite podcast platform.