Last year Walmart+ added a new benefit to its subscription service, giving 10c off per gallon when filling up at Exxon/Mobil gas stations, as well as Walmart and Murphy gas stations.
Through the middle of September, that partnership with Exxon/Mobil is twice as good as you can now save 20c per gallon.
The Deal
Save 20c per gallon at Exxon/Mobil gas stations with a Walmart+ subscription.
Key Terms
Available to paid & trial Walmart+ members from 8/15/23-9/15/23.
The 20¢ per gallon discount is applied at the time of purchase at participating Exxon & Mobil locations.
Quick Thoughts
Gas prices have dropped a fair bit over the last 12-18 months, but it's still always nice to save even more when filling up.
Saving 20c per gallon is a good offer, especially because it can be stacked with other offers like the Exxon/Mobil Amex Offer or Citi Offer. For example, let's say you have the Amex Offer giving $5 back when spending $25+ on select fuel purchases. If that fuel ordinarily cost $4.20 per gallon, its price would drop to $4 per gallon and you could add 6.25 gallons to trigger the statement credit from the Amex Offer. That means what would normally have cost $26.25 would only cost $20 – savings of $6.25 or almost 25%. That Amex Offer can be used three times, so if you have a gas tank that takes 19+ gallons, you could do three separate transactions to save a total of $18.75. It might be possible to simply spend $75 in one transaction with the Exxon/Mobil Amex Offer to trigger all three $5 statement credits, but I'm not certain that'll work.
Don't forget that Walmart+ is a free benefit on the consumer Amex Platinum cards – all you have to do is pay for a monthly (not annual) subscription on your consumer Amex Platinum card.
How To Use The Walmart+/Exxon Mobil Benefit
The procedure for getting this discount isn't too intuitive, so here are the instructions from the Walmart+ website:
Visit your nearest Exxon or Mobil station & sign into your Walmart account in the Walmart app. Make sure your location services are turned on. Once you arrive at an Exxon or Mobil fuel station, you'll get a popup asking if you're ready to fuel.
Enter your fuel pump number, select your grade, & begin fueling. Your 20¢ savings will be applied & we'll send you a digital receipt. Alternatively, select "Services" at the bottom of the screen & tap "Member prices on fuel" to launch the QR code scanner.
Or, scan the QR code that appears on the pump screen, select your grade & start fueling. You'll get a printed receipt showing your 20¢ savings when you're finished.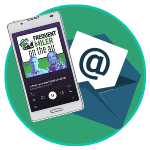 Want to learn more about miles and points?
Subscribe to email updates
 or check out 
our podcast
 on your favorite podcast platform.