When I tell people that this blog is my career, the next question on everyone's mind is how the blog makes money.  I know this because nearly everyone asks.  For readers, I answered this, in detail, many years ago: My job? I blog. Here's the answer to your next question…  In that post I described how the blog's income comes from ads and credit card affiliate links. That's still the case today.  Additionally, just as before, we only show the best public credit card offers even if it means not displaying our affiliate links.  We often sacrifice affiliate revenue to ensure that readers get the best offer.  Read that old post if you want to understand all of that better.
So that's how we do make money.  What's left to say about how we don't make money?  Every now and then someone comments that we are "shilling" for this or that company; or that so and so company must have paid us a lot for a given post.  Nope and nope.
We don't shill
Google says that a shill is "an accomplice of a hawker, gambler, or swindler who acts as an enthusiastic customer to entice or encourage others."  That's not us.  We write enthusiastically about stuff that we're truly enthusiastic about.  Occasionally we'll earn some affiliate commission from that thing, but usually not.  For example, we've written over and over about ways to get fantastic value from the Wyndham Earner Business card.  We've never had an affiliate link for that card.  When I've written about getting great value from Wyndham points for Vacasa rentals, or when Nick has written about starting with the Wyndham business card to status match your way to a dozen or more free cruises, we haven't earned a cent from the many people who have clicked through to sign up for that card.
Sometimes we do have an affiliate link for a card we're excited about.  And sometimes, that affiliate link is the best public offer for that card.  When that happens, it may seem like we're shilling for that card.  We're not.  It's just a happy alignment of interests.  In fact, on the Frequent Miler team, I'm the only one who can see how much the business has earned from any given card (and I hardly ever look at those numbers).  No one else would have any motivation to shill.  Everyone else on the team is paid a fixed salary regardless of what they write.  And I have no interest in shilling.  None.
We don't accept payments for content
We write what we want to write.  Period.  Sometimes a business will inquire about paying us to write about their product or credit card.  The answer is always no.  If we think the product would be interesting to our readers we may write about it anyway, but we won't accept money to do so.
Similarly, we won't change our content just because an advertiser or affiliate demands we do.  Well, that's not exactly true.  When an affiliate says that we have to put the registered trademark in the first use of a credit card name in any post, or write "terms and conditions apply" next to the mention of certain benefits, we'll do that.  That doesn't affect the quality of our content in any meaningful way.  But when a bank once demanded that we remove certain types of posts in the past, I said no and I lost that affiliate arrangement.  The revenue drop hurt, but not as much as it would have hurt to lose full the full control of blog content that we enjoy today.
Bottom Line
Frequent Miler is a business.  We do earn money from ads and affiliate links.  But we've been proudly separating the business of the blog from the content of the blog for over a decade now and we won't stop now, or ever.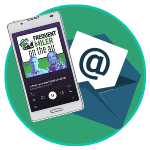 Want to learn more about miles and points?
Subscribe to email updates
 or check out 
our podcast
 on your favorite podcast platform.