---
Those who have long manufactured spend by using gift cards to purchase money orders at Walmart will now find themselves running into a new roadblock: cashiers are now reportedly being prompted by the register to ask for ID for any money order transactions in excess of $1K (seems to be nationwide) and inputting it into a Walmart database. Furthermore, registers are hard-coded not to allow a customer to purchase more than $8,000 in money orders per 24 hours. While these limits won't be too restrictive for those simply looking to use this technique to help meet minimum spend now and then, they are a sure blow to those manufacturing spend in volume.
It was reported a few weeks ago by Million Mile Guy that memos had gone out to stores about new money order limits set to take effect on October 16, 2018. However, the 16th came and went without change at many stores — including the one that I frequent most — and thus it seemed business as usual for most.
However, reports have come in both at Million Mile Guy (see his post for screen shots of the memos) and via comments at Doctor of Credit advising of the new limits being in effect at stores in various states around the country as of yesterday, November 1, 2018. This time, it looks like the limits are for real and very likely nationwide (or will be very shortly). The new money order limits at Walmart are as follows:
If a customer buys money orders in excess of $1K, the computer will automatically prompt the cashier to enter the customer's name and driver's license number into Walmart's "Know Your Customer" database (previously this happened at $3K)
That information in the system hard codes the computer not to allow said customer to purchase more than $8,000 in money orders "in a single day", which is being defined as a 24-hour period in practice (was previously $10K per calendar day, though this varied by store).
The "Know Your Customer" database entry is different from a Suspicious Activity Report, which is collected when a cashier has reason to believe you are up to no good.
The key difference between the Know Your Customer entry and the Suspicious Activity Report is that the SAR requests your social security number and is more likely to be shared with authorities for purposes of investigating money laundering, etc.
Additionally, bill pay transactions will now be limited to a rolling $8,000 per 30 days.
A few of my thoughts on this:
Not a big deal for casual MSers. If you're just doing a thousand here or there to meet minimum spend, this is unlikely to make much a difference in your life. This might even make it easier as you won't be tempted to do $2K in 4 swipes, which likely attracts more skepticism than $1K in 2 swipes.
Know Your Customer database may be a concern for some and no big deal for others. I'm not excited about the idea of supplying my driver's license number to Walmart, so I'll probably look to keep it under $1K. Reports we've received indicate that if you buy a MO for $999.12 and the MO fee of $0.88 brings you up to $1K, you'll have to enter your ID as your transaction will be for $1,000 total. Update: I've personally confirmed that an MO + transaction fee that comes to a total of $1K does not trigger the need for ID. Of course, if you regularly buy MOs that fly just under the radar, I'd wonder if an ambitious cashier might want to file a suspicious activity report. It's sort of a Catch-22 that will likely depend on the relationships you build/have built at your local store(s).
This will make liquidation slow for those doing volume. Since I don't live particularly close to any stores, I usually spend one day in a larger area once or twice a month making the rounds at a number of stores and can liquidate the volume I need to in one day. Now it will take me twice as long. That's unfortunate as I often advise people not to get stuck with more in gift cards than you could find a use for if your preferred liquidation methods dried up. To follow my own advice, I would have to reduce my purchasing…which in turn reduces my rewards….or find alternative means of manufactured spend. Luckily . .
We maintain a Complete Guide to Manufactured spending. It lists many other ways to earn points beyond the gift card / money order route. Surely there are additional niche methods that pop up for those keeping their eyes open and ears to the ground. This is a definite speed limit, but hardly the end to MS.
Bottom line
Those who only MS a thousand bucks here or there will likely not be affected by this policy change, whereas the new Walmart Money Order limits are surely a pain for those manufacturing spend in volume as this makes the already-tedious process of liquidation even slower. It also adds an element of hassle for the cashier, which isn't desirable when stores are busy and lines are long. Unfortunately, this doesn't look to be store-by-store but rather hard-coded into the system. I do not think this means stores which were previously more restrictive (e.g. did not allow money order purchases with gift cards) will change their tune. In other words, if your store(s) did not allow you to buy MOs before, this memo likely makes no difference for you. But for those with stores that were previously friendly about doing larger volume, this will add a big hurdle to volume liquidation and likely push them to look elsewhere for new methods.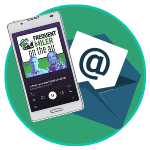 Want to learn more about miles and points?
Subscribe to email updates
 or check out 
our podcast
 on your favorite podcast platform.