Just over 6 months ago, American Express launched an incredible offer on the personal Platinum card which offered at least 100,000 bonus Membership Rewards points, as well as 10x Membership Rewards per dollar on grocery and gas spend for the first 6 months of card membership or on up to $15,000 of spend, whichever comes first.
Even better, some Platinum cardholders have been lucky enough to be able to generate referral links for that offer. That's a great earning opportunity because those cardholders earn 30,000 bonus Membership Rewards for each referral. With a maximum of 55,000 bonus points available for referrals from that card, it means you can max out that limit with only two referrals.
Here on Frequent Miler, our Best Credit Card Offers page always links to the best available welcome bonus, even if that's not an affiliate link. The Best Offer for the personal Amex Platinum card through affiliate channels is for only 75,000 Membership Rewards. That's why you'll see many other points and miles sites hawking that inferior version.
That's also why we've always provided the referral version of this offer on the site – so that new applicants always earn the best available bonus, even though that doesn't benefit our site through affiliate commission. Seeing as referral earnings are limited to 55,000 points per person and that's maxed out after two referrals, we wanted to share the wealth by using readers' referral links on the site.
As a result, back in December Greg started a thread in the Frequent Miler Insiders Facebook group asking for readers' referral links. Since then we've cycled through all those referral links, hopefully helping tons of readers max out their 55,000 bonus Membership Rewards limit on their Amex Platinum card.
We've now reached the end of that list and want to keep sharing the referral wealth, so this is where you hopefully come in. If you have a personal Amex Platinum card and haven't already maxed out your referrals on that card for this year, we'd love for you to share your link on that Facebook thread provided your referral link generates the 100k + 10x offer.
If you'd like to have your referral link shared on the Best Offers page, here's what you need to do:
Step 1: Check your referral link
You can find your referral link here, or by logging in to your American Express account and scrolling down to the 'Refer A Friend' link at the bottom of the page and clicking on that. Note that you might need to change your card at the top of the referral page so that your Amex Platinum card is selected.
Before sharing your referral link, please ensure that it generates a link to the offer giving new applicants 100,000 Membership Rewards and 10x points per dollar on grocery and gas spending. Not all Amex Platinum cardholders can generate that superior offer, so it's worth checking first. A good rule of thumb is that if you'd earn 30,000 points per referral then your offer will be for the 100k/10x offer, but please check regardless.
Step 2: Join the Frequent Miler Insiders Facebook group
If you're already part of our Facebook group, you can skip this step. If you're not a member though, you'll need to join this group. Note that you'll be asked a question or two (depending on if you try joining on mobile or desktop) to ensure you're not a bot. Please answer that question(s), otherwise you won't get admitted to the group in order to do step 3.
Step 3: Share your link on the dedicated thread
We have a dedicated thread set up to share your 100k/10x referral links, so please only share your referral links here at the bottom of the thread. We'll then work our way through the links for as long as this increased offer is only available via referrals.
Please don't share your referral link as an individual post in the group as it'll just get deleted. Please also don't share a non-100k/10x referral link as that'll get deleted too.
We've turned off commenting on this blog post so that referral links aren't shared here either. Instead, that Facebook thread is the only place we'll be accepting referral links (sorry if you're not on Facebook).
~
We tend to change referral links on the site every 24 hours or so. Due to the popularity of the 100k/10x Amex Platinum offer, many readers have maxed out their 55,000 points referral limit within those 24 hours as it only requires two successful referrals – we hope you can be one of those in the coming days/weeks/months!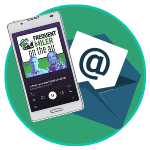 Want to learn more about miles and points?
Subscribe to email updates
 or check out 
our podcast
 on your favorite podcast platform.