Update 4/8/22: The 10 free stocks offer has been extended again through April 18, 2022 and the Apple promotion has been extended to April 30th.  Also, the highest award on the Apple shares deal has been raised from 10 shares to 15 (but 98% of people are still only going to get 1). Webull doesn't consider a referral "successful" until the deposit has cleared the bank, which normally takes 3-5 business days. So, I wouldn't use the 10 free stocks referral link after the 13th unless they extend that promotion again.
Update 3/19/22: The first part of this Webull offer which gives 10 free shares for referring one person has been extended from March 15 to March 31 – the same expiry date as the Apple shares deal.
~
The investment app Webull offers constant referral promotions, but they've got a couple of promotions running right now that stack with each other and will be particularly rewarding if you can refer three new people.
The Deals
Refer friends to Webull & earn 10 free stocks worth $3-$3,000.
Refer 3 friends to Webull & earn 1-10 shares of Apple.
Our referral links:
Key Terms
10 free stocks referral promotion

Must tap 'Participate Now' button
New user must sign up and open an account with Webull via an existing referee's link between March 1-15 31 April 18, 2022.
Eligible customers will receive 10 Reward Stocks for their first 10 successful referrals during the offer period. For each additional successful referral thereafter, eligible customers will receive 2 reward stocks per successful referral
A successful referral is a new Webull user who

Is at least 18 years of age
Resides in the United States
Opens a Webull account using the eligible customer's unique referral link during the offer period
Has a valid social security number
Has never previously applied or opened for a Webull brokerage account with that social security number
Makes an initial deposit of any amount

Referee will receive 3 free stocks valued at $3-$300 plus 2 free stocks valued at $7-$3,000
Offer rewards must be claimed through the Webull mobile app by 11:59pm EST on April 30, 2022 in the My Rewards page of the Webull app. Offer Rewards not claimed by the claim date will expire and cannot be reissued.

Apple Referral Promotion

Offer valid March 1-31, April 1 – April 30, 2022.
Limit one spin change per eligible customer. The Apple Offer Reward must be claimed through the Webull mobile app by April 30, 2022. Offer Rewards not claimed by this date will expire and will not be reissued.
Quick Thoughts
Webull always offers referral promotions of some kind, but their current promotions are particularly notable because they stack nicely with each other and don't require that you refer tons of people.
The first referral promotion offers 10 free stocks worth $3-$3,000 and only requires that you refer one person. Webull is marketing this as their 'Best Referral Promotion Yet' and, in terms of the number of free stocks you get, that's true. However, in terms of the guaranteed value, it's not. For example, a past referral promotion offered four free stocks worth at least $8. That promo would therefore guarantee that you got stocks worth at least $32, whereas this latest promo only guarantees $30 of value despite you getting 10 free shares due to each one having a minimum value of $3.
Having said that, getting a minimum of $30 in stocks isn't to be sneezed at seeing as it's earned when referring only one person and you can earn 10 stocks for the first 10 people you refer. It gets even better if the person you refer is in your household because they'll also receive free shares – three shares worth at least $3 and two shares worth at least $7. That's a minimum of $23, so between the two of you you'd earn at least $53 in free shares.
Something important to note is that this first referral promotion requires that you click the 'Participate Now' button in the app to activate it. To find that, tap the circular person icon in the top-right corner, tap the 'Refer 1 Friend, Get 10 Free Stocks' promo, then scroll down and tap 'Participate Now'.
If you can refer three people, it gets significantly better. For starters, you'll earn a total of 30 free shares from the aforementioned referral promotion, so at least $90. You'll then also qualify for a separate referral promotion awarding you 1-10 shares of Apple. You're guaranteed to get at least one Apple share and that's by far the most likely outcome as there's a 98% chance of that. If you get lucky though, you'll be among the 2% of people that receive 2, 3, 5, 7, 10 or 15 shares of Apple. As of right now, Apple shares are worth ~$162, so referring three people will earn you stocks worth more than $250 at a minimum when taking into account the 10 free shares you also earn for each of those people. That's a fantastic return for not too much effort if you can refer those people with ease, especially if one or more of those three people are part of your household too. Unfortunately new Webull customers have to be 18+ to be eligible for this referral promotion, so signing up a couple of children along with your partner wouldn't earn you the three referrals needed.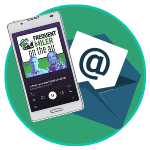 Want to learn more about miles and points?
Subscribe to email updates
 or check out 
our podcast
 on your favorite podcast platform.