This week at Frequent Miler has been all about status: how to get it easily and cheaply and how to rock it once you've got it — or how to put your points to use to enjoy an elite vacation, no status required.
For some, status is about comfort (unlimited complimentary upgrades, lounge access), for others it's about convenience (waived award redeposit and same-day change and standby fees, a VIP phone line).  The more generous among us may chase status for what it allows them to give to others (upgrade certificates, gifted Gold status).Whatever your reason for reaching top-tier ranking, real big ballers can rejoice: Despite premature reports of its death, the path to Delta Diamond status for a hefty six figures in credit card spend is still alive and well. And if you're going to do it, there's no time like the present.
Do you have family members who couldn't care less about miles, points and status? Exploit them Employ their help in achieving Star Alliance Gold Status. Why do you want Star Alliance Gold status? Mostly for lounge access and priority check-in/security/boarding for those rare occasions when you're not flying up front. Is it worth chasing this one? Nah. Is it worth signing up your parents and your kids so you can reap the benefits of their summer vacation? I'll leave ethics to The Ethicist. But seriously….not only is the status easy to achieve, the award chart looks totally reasonable. (Note: Those award prices are round trip; a one way can be booked for half the cost.)
The Amex Platinum card is all about status. Let's face it: at 1X earning on most purchases, you probably won't find anyone paying the $450-$550 annual fee for an Amex Platinum card who isn't in it for the status. Whether we're talking SPG Gold (and therefore Marriott Gold), Hilton Gold, National Club Executive……or whether you're after a dedicated concierge team, Priority Pass and Centurion lounge access, premium benefits at Fine Hotels & Resorts, skybox seating at the Barclays or Staples Center…….or perhaps you just want a heavy metal card to plunk down on the table to authoritatively say, "Put your plastic away. Dinner's on me," — select your status symbol and Amex Platinum cards deliver. Do you know what's better than all the aforementioned big baller benefits? Getting them cheaply. In this post, we explore the ways to enjoy all of those benefits without paying sticker price. (Note: Only the personal version is metal, not the business version)
If your status is "Fairmont credit card holder", you're in luck. Turns out the attractive list of benefits is even better than expected. With a little bit of creative stacking, you can score a great deal at a Fairmont. If only I had heeded Greg's advice……Read on to the comments for further discussion on maximizing your benefits if you locked down this credit card before it disappeared.
We normally do a month in review at the end of the month, but with some major changes coming to a couple of popular credit cards (including one big change beginning this weekend), we thought a status update was prudent in the middle of the month. Get a look at the landscape and upcoming adjustments to some of our favorite benefits, as well as a recap of our month thus far.
So what's the status of Greg's 7-night Category 1-5 hotel certificate? Upgraded! Read on to find out how he did it and what you need to know so you can, too. Continue on to the comments for discussion on extending the validity of your certificate well beyond its original expiration.
If you're looking to maintain the status quo by keeping up with the Joneses, there's no doubt that you're going to have to spend some money. And if you're going to spend some money, you may as well get back every penny the bank is willing to give you. Amex Offers are a great way to do that — but often times, the best ones are targeted. Read this piece for the scoop on how to get and sync as many of the great offers as possible. Amex Offers are like a fountain of savings — and I like to keep that faucet running,
Do you have a big balance of Chase Ultimate Rewards points burning a hole in your pocket? Check out this introduction to a new resource page built to show you a brief comparative analysis of the wide range of Chase transfer partners. If you're not sure which partners offer the most bang for the buck, learn how to fly up front for less and which hotel transfer partner can get you a night in the hotel shown here. After all, if your points can put you poolside in the picture above, that's probably all the elite status you need.
---
Those are the highlights for this week at Frequent Miler. Coming soon is a week in review around the web, and keep your eye on the site for deals and posts throughout the weekend.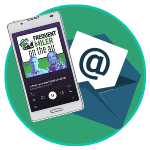 Want to learn more about miles and points?
Subscribe to email updates
 or check out 
our podcast
 on your favorite podcast platform.