Welcome to this week's Frequent Miler around the web, where we recap some of the most interesting stories we came across around the Internet. Enjoy!
Before discovering miles and points, my wife and I spent about six years of our lives working 70 to 80 hours a week (often 7 days a week for months at a time) in order to finance our travels to more than 40 different countries across 4 continents. We spent a lot of those early years sleeping on top of the sheets in $3 a night hostels and occasionally getting lucky by Pricelining a night in a fancy schmancy hotel for the Motel 6 rate. Ah, romance. This article from ground travel meta-search engine Wanderu brought me back to the ole days — but it's a great reminder of how accessible the entire continent of Europe can be once you arrive. With the numerous airfare sales to Europe that we've seen just this month, whether in economy or business class….with discounted saver seats on miles or cheap flights from budget carriers, there is almost always a way to get to the continent on the cheap. Traveling by bus once you get there can be a way to see some of the beautiful landscape along the way.
Thankfully, miles and points have opened up the chance to sleep a bit more comfortably over the past several years. Here, Miles to Memories reviews some of the best Hyatt Category 4 hotels on the list — properties where you can potentially maximize the value of your Hyatt Credit Card annual free night certificate. Several of the properties on the list caught my eye. While I haven't stayed at the Park Hyatt Goa (my Goa trip was back in the pre-points days), I wouldn't hesitate to recommend Goa for someone seeking a laid-back Indian destination to contrast with the bustling vibe of cities like Mumbai and New Delhi.
On my recent round-the-world trip, I did stay at two of the properties on the list — the Grand Hyatt Melbourne, where we used a Citi Prestige 4th Night Free combined with a decent promo rate to get the room for an average cost under $150 a night. I then used a Hyatt Diamond Suite Upgrade (now a Globalist suite upgrade) to be upgraded to a very large two room suite (sorry, seem to have misplaced the pictures!). On the same trip, we spent one night at the Park Hyatt Saigon (also a Category 4 and pictured above) en route to the JW Marriott Phu Quoc. We used cash and points for our one-night stay. Without using a DSU, we were upgraded to a suite that wasn't quite as large, but still beautiful and very comfortable. Breakfast was excellent as well. I'd read about some Diamond Globalist members being offered the choice between room service and the restaurant, but if spending one night I would recommend the restaurant. Check out the Miles to Memories article for some more great spots to use your certificates.
Undoubtedly, one of the things I love most about using points is the ability to stay in a nicer hotel than I would consider based on cash rates. And the reason why I enjoy that: A luxuriously comfortable bed — which is why I was shocked to read Brett Holzhauer's article at Bald Thoughts about "New Bed Syndrome", where many people apparently have trouble sleeping in a strange bed. I think at least 80% of my most restful nights have come in comfortable hotel beds! I'm a discount shopper and rarely consider paying retail price for most products…..but I'm not going to lie, I've talked about buying a hotel bed on more than one occasion. Have you bought a hotel bed? What did you think?  Which one did you get? Check out the Bald Thoughts article for more on this.
When I finally stir from my comfortable slumber, one of the things I love to do on vacation is eat! My wife and I always say that we like to cook….because we love to eat. Which is why I'm perplexed as to why we haven't taken more cooking classes in our travels. We recently learned to make a passion fruit creme brulee and Vietnamese coffee in Phu Quoc, Vietnam — but The Food Girl in Town gives us plenty of good reasons to get out of the hotel and into the city to explore a cooking class. Fair warning: don't read this one on an empty stomach.
In order to enjoy the comfortable travels afforded by miles and points, we have to amass them in quantities matching our appetite for travel. One of the easiest ways to do so is through new credit card sign up bonuses. But that is not the only low-hanging fruit: this week Angelina Travels reminds us that it never hurts to make a phone call to retention to find out what your continued business is worth to the bank. You may not knock it out of the park every time — but you can't hit a home run if you don't swing the bat.
Finally, on a serious note, one of the perils of a particularly enthusiastic interest in collecting miles and points through credit card sign ups and spending bonuses can be an American Express Financial Review — but it doesn't have to be as ominous as some would believe. Here, Esther of 'Dem Flyers opens up about her experience with the process and some survival tips for those who hit this speedbump along the way.
That's it for this week around the web. Keep your eye out next for this week's last chance deals — with the end of the month coming, there are a number of deals ending this week that you won't want to miss.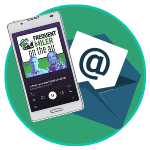 Want to learn more about miles and points?
Subscribe to email updates
 or check out 
our podcast
 on your favorite podcast platform.