Ketchup or mustard? Paper (check) or Plastiq? First class 777 or A380? Life is full of tough choices. In this week in review around the web, we bring you some information on making good choices — or avoiding bad ones.
If you're relatively new to redeeming points and miles for first and business class, it's important to know that not all premium cabin seats are created equally. That awesome enclosed suite you saw online probably isn't available on every plane in the fleet — and maybe not even on every plane of one particular model. Yet the price in miles is likely the same. So choose wisely! Drew at Travel is Free gives us a good look at the tools to use to make sure you get what you expect.
This one slipped in under my radar last Friday, but knowing that Hawaii is the type of destination people save up (both money and miles) to visit, I thought this is a question many readers may have at some point. I went to Maui last fall on a family trip and spent a lot of time reading the Flyertalk threads while trying to make a choice between the Andaz Maui and the Hyatt Regency. We ultimately went with the Andaz and while I have no regrets, I was curious about the new club lounge at the Hyatt Regency (it was scheduled to open the week of our stay). An added bonus for Globalist members these days would be that parking should be free on an award stay, and there would be no resort fee — not an insignificant savings in Hawaii. Here, Summer at Mommy Points helps you make your choice with a balanced review of both properties.
Perhaps the first choice in travel planning is where to go. Gary Leff at View from the Wing reminds us to double check the arrival airport we've chosen before booking.  This one made me smile — not at the misfortune of the travelers in question, but in laughing at some of my own travel mistakes of yore. I recall landing in Oslo around 11pm or midnight one night (after a delayed flight), ready to get to the airport hotel I had booked for our late arrival — only to learn the lesson that budget carriers like Ryanair sometimes use secondary airports quite far away from the city. I recall it being something like 45 minutes on a train just to get to the other airport — and then an awfully expensive taxi ride for the 2-mile journey from that airport to my hotel. But I'll never remember that story in self-pity again after reading this article!
I once saw a politician on TV say that the lottery "is a tax on stupidity". And my response has always been, "at least I enjoy paying this one!" This review of the Long Game Savings App from Money Metagame is a long read, but I think this app is a great answer for the many people out there who enjoy the gamble of the lottery but would make better use of their money by saving it (read in between the lines: everyone who plays the lottery). Money Metagame provides a fantastic analysis of an app I would have assumed was just a gimmick for suckers if I hadn't read the full story. Don't look at it as a way to earn more interest, but rather a way to make your leisure time more productive and satisfy the urge for a scratch-off lottery ticket without spending money on it.
Speaking of taxes, at this time of year, this topic always stirs some debate and discussion. Chuck at Doctor of Credit always provides thoughtful analysis of the landscape, and this is a topic that might be of interest for many who collect large piles of miles, points, and cash back.
This is a terrible reminder to stay on top of account security by changing your information periodically. That said, I'm really disappointed in IHG's response to the situation — I doubt the author could have done something more to prevent this. Furthermore, I can't imagine it would be challenging to determine that this was a fraudulent use of the account nor would it be that expensive for IHG to make it right. In the response to Brad's article at Travel Codex, a comment from Ric Garrido of Loyalty Traveler really stuck out at me:
I wasn't that surprised — on more than one occasion, I've been able to change/cancel an IHG reservation over the phone without verifying anything beyond my name and confirmation number, so it's not at all far-fetched to me that nefarious folks could do damage here. This story reminds me of a time I rented a car through an airline program and I was given the wrong contract. When I got the right contract, I realized that not only did it have my frequent flyer program number, but it also had every piece of identifying information that the airline would have for me — like name, address, DOB, phone number, driver's license number, etc. How easy it would have been for a dishonest person to call and hijack my account. I'm not sure what the right answer is for account security, but this much I know: IHG doesn't have it. And so my choice will be simple: I won't be collecting mass amounts of points in IHG until/unless they institute better account security.
That's it for this week in review around the web – check back soon for this week's Last Chance Deals!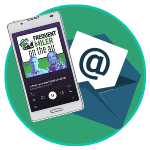 Want to learn more about miles and points?
Subscribe to email updates
 or check out 
our podcast
 on your favorite podcast platform.