It wasn't technically Halloween when we went live to answer reader questions yesterday, but we love an excuse to goof off, so we all put on zoom costumes for this episode. As usual, our listeners brought up some fascination discussions with questions about how the recent Hilton Aspire annual fee changes impact those who got in on a no-fee targeted offer in 2020, our favorite East Coast destinations, and what inspired Stephen's road-trip lifestyle.
You can watch the full episode below, or click on the timestamps to navigate directly to a specific question within YouTube.
02:50 – How can I meet the spend requirement for a credit card's welcome bonus if I don't spend that much money?
05:15 – Do each of the FM team members specialize in a specific niche?  i.e. Nick is the cruise expert, Greg is the Delta guy, etc…
07:10 – What are you going to do after your sail on all your free cruises? Would you pay to go on any of the cruise lines again?
10:28 – Typically how long would it take for the 10k miles to post for Venture X card members after their first year?
11:22 – Greg, what did you decide about the great Delta mileage run? Are you going for it for yourself?
13:11 – Any general advice on overlapping bookings? Booking two positioning flights on the same airline same day, or booking the same flight twice using different programs.
14:42 – If you were planning a trip to Japan, which airline would you pick and which major Japanese cities would you want to visit?
19:18 – Which oneworld airline program would you consider for ultra long haul business class (5k miles or more) if you do not have access to American Airline miles?
21:12 – What is everyone's favorite place to visit on the east coast and why?
27:19 – Struggling to find awards availability at Waldorf Astoria Maldives, been searching for weeks! Ive got 450k Hilton points and 2 free night certs from Aspire and Surpass Any advice?
28:55 – Are you grandfathered for the $99 Alaska Airlines Companion certification w/o the $6K spend if you had the card prior to the most recent change?
31:42 – How often do all of you pay cash fares for flights? Are you 100% points or do you pay cash for repositioning or other cheaper flights every now and then?
38:31 – Hello! how do you think the recent hilton aspire annual fee increase from $450 to $550 will impact those that got in on the no fee targeted Aspire upgrade (honored marketing mistake) back in dec 2020?
42:04 – ​I would love to hear more about Stephen's nomadic lifestyle living in various states. What motivated it? How do you make it work financially? Anything really you want to share 
46:04 – ​I just got the Hyatt business card – but should I just wait until Jan to put lots of spend on it because it resets in January
48:06 – when would you consider cashing out Membership Rewards points through Charles Schwab? I know it's come up before
50:15 – ​If I use my points to book flights for my daughter (Air France ) and they cancel, where do the points go?
50:43 – I'm at 5/24 with Chase (just turned down) and pop up jail on American Express. In 6 months 2 of those come off chase. Is it better to take a vacay and let those 2 drop off or can I hit business cards when at 5/24?
52:41 – ​I have both the $95 personal and business American Express Marriott cards. I am also at 5 American Express credit cards. Any tips for getting the Brilliant card and/or the Ritz card?
55:35 – Speaking of the Ritz card, if I'm a hotel free agent, is it still worth having the Ritz card even if I don't care about the Marriott specific benefits?
57:07 – Player 2 planning for 2 Southwest cards and Companion Pass. Originally was getting Performance Business first and then a personal card 2nd. With new elevated offers on personal, what order would you go?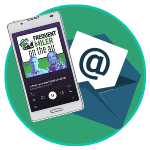 Want to learn more about miles and points?
Subscribe to email updates
 or check out 
our podcast
 on your favorite podcast platform.