Finnair business class award space from Stockholm, Sweden to New York looks to be wide open through the end of October 2022. I was particularly surprised to be able to successfully ticket four passengers in business class during peak summer travel time just now. I initially expected that what I was seeing had to be phantom space, but it checked out via other oneworld partners and I went ahead and booked it. Originating from Helsinki with a nearly 24hr layover in Stockholm saved me a small amount on taxes, paying 57,500 miles and $44.57 per passenger from Europe to the US (versus $63.57 in taxes if you book from Stockholm). I get errors leading me to believe that the space departing New York for Stockholm may be phantom space, but I'm not sure that it isn't bookable over the phone in that direction.
The Deal
There is wide open business class award space from Stockholm, Sweden to New York (JFK) on Finnair until the end of October 2022. This space can be booked with:

57,500 American Airlines miles + $63.57
61,000 Cathay Pacific Asia Miles + ~$87
62,000 British Airways Avios + $235.37
75,000 Qantas miles + ~$83.38
Quick Thoughts
Finnair is known to have glitchy phantom award space that shows up on AA.com all the time, which made me hesitant about writing this quick post until I'd booked it for myself. There were also reports a couple of years ago that Finnair business class space was only available to partners 60 days in advance at most, but I booked summer 2022 travel today so that no longer appears to apply.
Often, when you try to book what turns out to be phantom space, you get a message well before the final checkout page saying something like this:
While I did not get that error on searches from Stockholm to New York, I did get that message on all of the dates I tried departing New York despite AA.com showing just about daily availability for four passengers from New York to Stockholm. The US-to-Europe space may be phantom, though I did get all the way to the payment page via Alaska Airlines on itineraries from New York to Stockholm, so I wonder if it may be possible to call American and book in that direction (perhaps asking them to long sell it?). I don't know for sure in the US-to-Stockholm direction.
However, as we talked about on this week's podcast, I frequently book separate one-ways to and from my destinations rather than a single round trip because that often opens up all sorts of interesting possibilities, so I wasn't afraid to book a one-way for my "ride home" from Europe, getting to Europe with a separate award ticket (and in this case I'd already previously booked a flight to Europe).
I initially assumed that the space departing Stockholm for New York was likely phantom space also. I cross-referenced it at British Airways and sure enough British Airways also showed four seats.
Qantas told the same story, with business class availability for four passengers on the same dates.
You can also find this space via Cathay Pacific Asia Miles. I see award space via all of those engines in both directions, but as noted above I get errors when trying to move past flight selection on AA.com and BA.com when departing New York. However, Stockholm to New York did not give me an error on quite a few test dates, leading me to believe that the Stockholm-to-New York space is indeed real and plentiful.
That seemed encouraging since American Airlines is showing almost daily availability for four passengers in business class all summer long on this route. For example, here's a look at August 2022:
June and July aren't quite as plentiful as August for four passengers, but they still have excellent availability. July has the least availability for four passengers in the summer months, but still looks like this:
However, that's for four passengers. I saw availability for two passengers on all but one day in July.
Again, I would think that to be phantom space if not for the fact that I ticketed four passengers already (booked, got my ticket numbers, and selected seats on the Finnair site).
Given that I bought miles so cheaply during the SimplyMiles bonanza at the end of 2021, these seats cost me roughly $240 worth of miles each. Since I am departing Helsinki, my taxes were only $44.57 per passenger rather than the $63.57 you see above. That means my all-in cost was about $285 per passenger in business class. That's obviously phenomenal for those of us who jumped on that Conservation International donation deal.
My youngest son would still qualify for a lap infant ticket on this trip, so I initially planned to book only 3 seats. However, American Airlines charges 10% of the adult revenue fare for a lap infant. When I looked up cash prices for this route, adult fares were north of $5,000 departing from either Helsinki or Stockholm (one way). It just didn't make sense to pay 10% of that ($500+) for a lap infant when I could get him his own seat for $240 worth of miles and $45 in taxes. We probably won't even use the seat, but it was the far cheaper choice.
Personally, I've wanted to visit Finland for a long time as I have a small percentage of Finnish lineage. Given my collection of AA miles, I figured I'd check for business class availability from Helsinki since Finnair is a partner. When I found these connecting itineraries through Stockholm, I decided it might be cool to build in enough of a layover to see something in Stockholm. I was excited to see that on many days there is an itinerary that includes a nearly 23hr stop in Stockholm. This should give us enough time to spend a night and see something interesting in Stockholm. There are itineraries out of Helsinki with same-day connections, I just found this long layover preferable.
My travel plans are of course subject to change given the uncertainties regarding COVID restrictions, but since American Airlines (like most of the US-based carriers) has eliminated change / redeposit fees, I was happy to lock up a flight in the hopes that we can make the trip happen.
Again, note that Finnair is well known for phantom space. However, since I know that many readers are probably flush with American Airlines miles (and may be flush with other oneworld miles from cancelled trips), I thought this was worth reporting since I booked it successfully. Finding business class award space for three or four passengers during peak summer dates, even in these very uncertain travel times, is often difficult.
If you successfully book New York to Stockholm, please let us know in the comments and we'll update the post. Keep in mind that travel restrictions and situations can change unexpectedly — I'd be very hesitant to transfer miles to other oneworld programs to book international travel right now, but if you already have miles with a program that won't penalize you for changing or cancelling, this seems like a potentially good opportunity.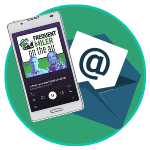 Want to learn more about miles and points?
Subscribe to email updates
 or check out 
our podcast
 on your favorite podcast platform.