In this week's "Ask Us Anything, Live", we answered all sorts of fun questions about Tokyo recommendations (33:54), honeymoon destination ideas (37:37), and the notion of returning to Necker Island (14:12). Watch the full episode brelow:

You can also click the timestamps to navigate to a specific question in YouTube.
2:49 – Any tips on how to get targeted for NLL offers from Amex? I feel like I am the only one who didn't get targeted for the business checking and business platinum bundle offer.
5:55 – When do you think the Chase hyatt offer will improve? Also why do you think it's been so bad for so long?
6:42 – My annual fee hit on my EDP so I downgraded it to the no annual fee Amex ED. Come to find out, I only had the card alive for 11 months so the RAT clawed back my 40k upgrade offer. Are those long gone?
7:55 – Nick, what was your favorite thing in Cebu? Besides cnt lechon
9:45 – Anyone have new ideas to get to $15,000 in 3 months. Thx!
12:11 – I've heard you mention that when you apply for a new card, you unfreeze your credit report; apply and then re-freeze it. What service do you use for that?
13:08 – Player 2 recently signed up for a Carter's credit card (to save $23, lol). It's a store card. Does that affect 5/24? Will chase ignore it like AU cards?
14:12 – Will Greg be returning to Necker Island?!! Will anyone on the team be going for the first time?
19:02 -​If You make a 3x purchase on CSR and downgrade to CF and make a 5x purchase all in the same statement cycle, will you get all those points after the statement closes?
20:20 -Aeroplan stopover awards: can you add multiple stopovers to an award booking for 5k each stopover, or only one stopover allowed per itinerary (in addition to layovers)?
20:45 – ​how often have you used Priority Pass restaurants? Many people were angry about it being taken away from Cap 1 Venture X.
22:15 – Best strategy to travel to South America?
23:05 – Can you meet Amex MSR by credit card funding a checking account?
24:48 – If I cancel a BA award ticket where I used fewer miles and paid higher cash, do I get refunded "all in miles" like IHG cash/points award stats when refunded or just the points and cash I actually paid
26:05 – ​Just product changed Marriott Bonvoy to the Ritz card today. Is the $300.00 incidental credit on a card year or annual year credit?
27:20 – ​How long before the departure time can you cancel JetBlue points bookings and get your points back? Does this change when your flight is delayed?
28:45 – any downside to only signing up for NLL Biz and Chase Inks right now? Am I missing something?
29:40 – ​Is there a huge risk to signing up for 2 Chase Ink cards in a 30-day period? P2 got approved for first Chase biz card, and don't want to miss out on the 90k offer for a second card.
31:09 – Can a person with lifetime silver medallion get his MQM ROLLED OVER without requalifying for even regular silver medallion status
31:35 – I have 3 chase cards but I have yet to qualify for any of the special spending bonuses they occasionally run. How widely are these things targeted?
32:48 – What would actually need to happen for Marriott to enforce what Bonvoy is actually supposed to deliver and not let hotels get away with whatever they want? The size of Marriott has so much promise…
33:54 – Going to Tokyo in June. Whats your favorite attraction/excursion there?
37:37 – What would be everyone's top rec for a honeymoon destination? And any particular flights you would take or hotels you would stay at?
42:26 – Any automated way to make 5 transactions on BILT rewards?
44:45 – ​Where's Dr. Pepper right now? He's cranking red bull at 9pm! ​
45:36 – Suggestions for sweetspots for AirCanada redemptions in Emirates?
47:03 – I'm over 5/24. Currently only in Amex and Chase ecosystems. Any value to exploring Citi Thank You or Cap One Venture miles? Should I keep Amex and get 90K for Gold, or 80K Citi, or 75K CapOne?
49:31 – I have never booked hotels with points. I only have Amex Plat hotel status but no hotel cards and several K in various points. Focus on Hyatt? Get the Aspire? I need about 20-30 nights in 2023.
53:59 – What was the band you mentioned in a podcast like a year ago that had like 50 million amex points that they cashed out at a terrible rate. This has been bothering me all day
54:48 – ​Are status benefits available when booking Friends and Family rates ?
55:20 -Just got my VX card and so far accumulated over 103k points. I have no ideas how to do a transfer partners to fly to Japan.
57:48 – ​Tim, are you half full or half empty on Matt Ruhle heading to Nebraska?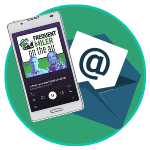 Want to learn more about miles and points?
Subscribe to email updates
 or check out 
our podcast
 on your favorite podcast platform.