Online flower delivery stores frequently offer eye popping deals to earn miles when shopping.  "30 miles per dollar!" sounds fantastic… until you dig until the details.  Once you add shipping and handling fees, and sales tax, to your $35 order, you'll likely find that the total charge is closer to $60.  And, since miles aren't earned on the shipping & handling & tax portion of an order, the actual miles per dollar earned is much less.  Given the huge shipping & handling fees, It takes a really special deal to make ordering flowers just for miles worthwhile (ironically, we reported one deal that may be worth paying shipping & handling just yesterday: Earn 60x Delta SkyMiles On FTD Purchases).
1-800-Flowers used to be an exception.  They offer an annual subscription to Celebrations Passport for about $30 (but it is usually available for less).  Celebrations Passport gives you free shipping and handling.  Celebrations Passport free shipping used to be stackable with promo codes offering lots of airline miles.  And, at times the deals were so good that it was worth buying stuff just to get miles.  Sadly, many readers have written in to inform me that this is no longer the case.  You can no longer combine promo codes with Celebrations Passport free shipping.
Celebrations Passport is now dead to me.
Easier Extreme Stacking (forget miles, go for cash back)
Stacking deals with 1-800-Flowers and it's associated brands (Harry & David, Wolferman's, Stock Yards, etc.) used to be quite profitable under certain circumstances, but it was complicated.  You had to decide whether you wanted to use a promo code or a shopping portal.  That then informed which option to use for free shipping.  And the promo code route drastically cut down on your shopping options since many items are not available for purchase with most promo codes.
Now, there's only one reasonable path towards extreme stacking 1-800-Flowers:
Sign up for free shipping through ShopRunner via Amex, World Mastercard, or Paypal.
Enroll your credit card in a cash back offer for 1-800-Flowers (such as the current Amex Offer: Spend $50, Get $15)
Find the portal offering the best rate (use CashBackMonitor). eBates is currently offering 30% cash back!
Buy stuff.  Keep in mind that when you click through to 1-800-Flowers from a portal, you can still buy things from other tabs on the same site: Wolferman's, Harry & David, etc.
Example: With the current deals, it's possible to save up to 60%
Shop through eBates for 30% cash back
Buy exactly $50 worth of stuff with a credit card enrolled in the Spend $50, Get $15 Amex Offer
If delivery is to a state with no sales tax for the type of merchandise purchased, then you would get $30 back for your $50 purchase.  That's 60% off advertised prices.
Is it worth it?
You can always save much more money by buying locally.  But, if you need gifts delivered, this could be a good way to save some money.
See also: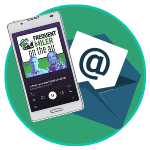 Want to learn more about miles and points?
Subscribe to email updates
 or check out 
our podcast
 on your favorite podcast platform.