Start warming up those Clear credits. United Airlines and Clear are back with another promotion that gives a boatload of miles to Mileage Plus members who sign up for Clear. Premier members will earn 15,000 United Mileage Plus miles when they sign up for CLEAR between 5/27/22 and 7/9/22 and, this time, non-elite Mileage Plus members can join the party, receiving 10,000 Mileage Plus miles when signing-up.
The Deal
United MileagePlus Premier Members who sign-up for CLEAR will receive 15,000 United miles.
Non-elite Members who sign-up for CLEAR will receive 10,000 United miles.
Key Terms
Offer for new CLEAR members only.
Must be a MileagePlus Premier member or cobranded cardholder to qualify for 15,000 miles.
General MileagePlus members will receive 10,000 miles.
Offer valid from May 27, 2022 through July 9, 2022.
Members must enroll in CLEAR through the offer landing page in order to qualify.
Tips
You are limited to one promotion per MileagePlus account.
In past promotions it wasn't necessary to go to the airport to finish registration despite what the t&c said.
Quick Thoughts
Mileage Plus members can sign-up for a year of Clear for $119, while elite members get an even lower price of $109/year. United miles are worth 1.3 cpp according to our RRV's, so even with no credit, 15,000 miles for $109 is a pretty clear (no pun intended) win.  Delta and United cardholders also get discounted Clear memberships at $109/year which would stack with this offer, although 10,000 United miles for $109 isn't nearly enticing as 15,000 for $109.
Where it gets really good is if you have an annual Clear credits through one of American Express' Membership Rewards-earning cards:
Amex Platinum and Business Platinum get up to $189/year
Amex Green gets up to $100/year
Some people have a targeted AMEX offer for 50% off of a one-year Clear membership, which would bring the cost for co-branded cardholders and/or Mileage Plus members to $55-$60.
These credits will stack with the bonus offer, meaning that Platinum cardholders can get the mileage bonus at no cost after the credits are applied and Green cardholders get the mileage bonus for either $9 or $19, depending on whether or not the person signing up has elite status.
Remember, the AMEX credits apply even when you are paying for another person to sign-up for Clear. I can pay for a Clear membership for my wife (or son, daughter, brother, sister or neighbor) and get the cost reimbursed, so long as I haven't used the credit already. The miles will go into that person's account, however, so keep that in mind before standing in front of the Clear line at the airport offering to pay for strangers. Unfortunately, the miles post slower than molasses on a winter's day; most people have found that it's somewhere between 6-10 weeks. But they do post eventually.
This is an easy win for folks with Clear credits to burn and it's great to see that both elite and non-elite Mileage Plus members are eligible this time. Maybe this will finally be the straw that brings Nick into the ranks of the retinally-scanned?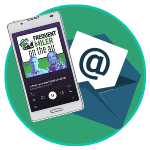 Want to learn more about miles and points?
Subscribe to email updates
 or check out 
our podcast
 on your favorite podcast platform.