Although Wyndham Rewards is far from being my favorite hotel loyalty program, they're the best when it comes to stackable promotions.
They've opened registration for a brand new promotion offering 8,000 bonus points when booking a stay of two or more nights using their app which, at the time of publishing this, could stack with three other bonus points offers.
The Deal
Key Terms
To qualify for this Offer, a Wyndham Rewards Member must: (i) first register for the Offer by completing the registration process via wyndhamhotels.com/wyndham-rewards, wyndhamhotels.com, any of the official brand websites of any participating Hotel Chain, the Wyndham Hotels & Resorts App, the official toll free reservation number of Wyndham Rewards or any of the participating Hotel Chains, or the "My Promotions" section of his/her/their Wyndham Rewards Member account, in each case, between May 26, 2022 and May 30, 2022; then (ii) after registering but no later than May 30, 2022, book one (1) Qualified Stay at a Participating Hotel in the United States or Canada of two (2) or more consecutive nights on the Wyndham Hotels & Resorts mobile app; and (iii) begin the stay no earlier than May 29, 2022 and complete it no later than June 30, 2022 (the fulfillment of all of the foregoing requirements, collectively, the "Qualifying Activity").
Maximum of one (1) Bonus per Member, regardless of how many stays are completed by a Member during the Offer period. A no-show will not count toward this Offer.
For clarity, Members must register before booking and completing the applicable stay in order for it to count toward this Offer, and any stay with a check-in date before May 29, 2022, and/or a check-out date after June 30, 2022, will not be counted towards this Offer.
Stays at Participating Caesars Entertainment Properties, vacation club resorts and vacation rentals, are not eligible for this Offer.
Go Fast and Go Free award stays are also not eligible for this Offer.
A Member who is eligible to receive a Bonus pursuant to these Offer Terms will typically receive it within two to four weeks after the completion of the applicable Qualifying Activity.
Bonus will be awarded in the form of Wyndham Rewards points, even to Members who have elected to earn airline miles in their Member profile (although their base earnings will continue to be awarded as miles).
Quick Thoughts
Only needing to stay two consecutive nights in order to earn 8,000 bonus points is a decent deal, especially seeing as you're not forgoing shopping portal cashback by booking through their app because Wyndham isn't available on portals.
Wyndham is marketing this offer as a way to earn a $25 gift card. However, the promotion doesn't actually give a $25 gift card – it gives 8,000 bonus points, with a $25 gift card being on of several redemption options for those points. Redeeming points for gift cards provides poor value though, so don't do that.
What makes this offer particularly great is that it has the potential to stack with three other existing Wyndham promotions.
The first is this offer giving 2x-5x bonus points when staying 2-5+ consecutive nights. Stays for that promo have to be completed by May 31, so you'd need to be staying within the next few days to take advantage of that one.
The second deal is this one that awards 7,500 bonus points when staying at least one night at a Trademark Collection property. Although Caesars stays are excluded from this new promotion booked using Wyndham's app, I believe that Trademark Collection stays are eligible, so booking a two night stay at one of those properties would earn you 8,000 bonus points from this new promo and 7,500 bonus points from that Trademark offer.
The third concurrent promotion is this deal that offers 7,500 bonus points when staying twice by September 6, 2022. Note that this other offer requires two separate stays, so if stacking with this new app promotion you'd have to stay at least three nights total – 2+ consecutive nights for the app promo and a second stay of at least one night for the additional 7,500 bonus points.
If you managed to stack all four promotions, you'd end up with the following:
8,000 bonus points – app promotion
7,500 bonus points – Trademark Collection promotion
7,500 bonus points – two stays promotion
2,000 base points minimum (the first stackable promotion listed above offers 2x bonus points, but Wyndham offers a minimum of 1,000 points per stay, so you'd earn at least 2,000 base points from the two stays)
Total = 25,000 points
Here are all current hotel promotions: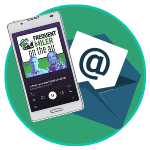 Want to learn more about miles and points?
Subscribe to email updates
 or check out 
our podcast
 on your favorite podcast platform.